Awesome 3-in-1 Lego Creator Sets (2020): Get Your Creative Juices Flowing
These make and create toy pieces can be used by both adults and kids who love to see their creative juices flowing. The creator sets come with a huge range of toys, for example, buildings, vehicles, and wildlife just like in the real world. They also come in unique and bright colors helping kids and adults alike, have their imaginations growing and stay stimulated in the long run.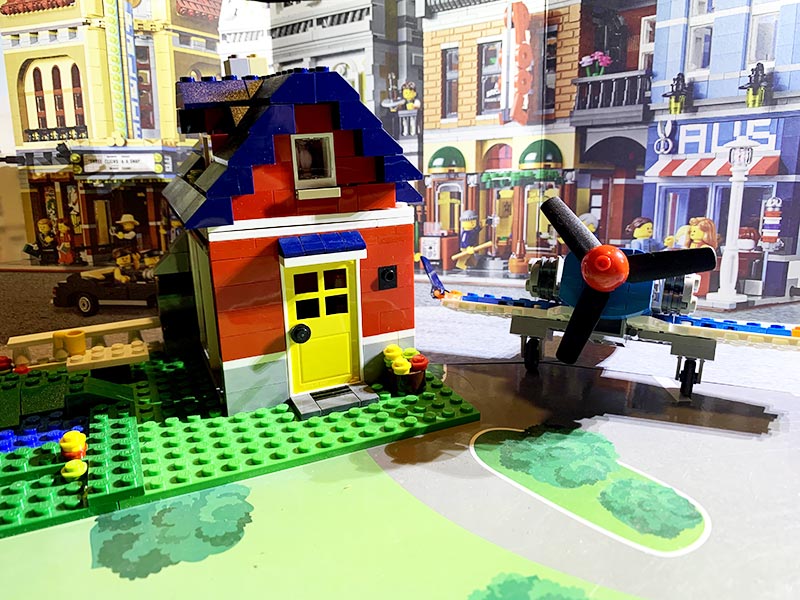 The benefit of these sets is that they can be easily and quickly converted to a number of structures or characters (3 times) thanks to their 3-in-1 building system. This brings in new and exciting adventures to users, enabling their imaginations go a notch higher.
Also it's a high-value playable Lego set as you can break off the set and build 3 times differently. It's worth the money you spend.
Below are some of the awesome Lego Creator sets to be used for play in the holidays.
Top Rated 3-in-1 Creator LEGO sets 2020
Once you're done building the three concepts the set was designed for, you can get creative with something custom! Plus, you can even populate your town with the two mini-figures included with the set. There's even a rocket ride for your LEGO figures to ride in outside of your cafe!
This 31090 Set is an excellent choice if you want to explore an underwater fantasy. The 3-in-1 kit lets you make a submarine, seabed crane, or deep-sea robot. With specialized and posable joints, you can create models you'll have fun with. In total, there are 207 LEGO pieces to experiment with.
If your favorite genre is fantasy, this is the LEGO set for you. This Fire Dragon kit allows you to build a fire-breathing dragon, a scorpion, or a saber-toothed tiger.
You can even use other items in this LEGO kit to add extras, like a treasure chest for your dragon to protect!  
For an underwater adventure, this Deep Sea Creatures Set lets you make a variety of sea creatures. You can rule the ocean with a great white shark, explore depths building an angler fish, or step on shore as a crab. It even has special features like refletive eyes and sharp teeth for the shark.
This LEGO set lets you create a scene of city life. The 31097 has all the pieces to build a bank, market street, or pet store and cafe. You can even populate the town with minifigures including people, a dog, mouse, and toucan. This gives you the supplies you need for hours of entertainment.
You can take to the skies when you build this flying aeroplane. You'll have the chance to construct a propeller plane, a helicopter with its own launch pad, or even a jet plane.
This includes detailed pieces such as a propellor for the plane and helicopter as well as solid black cockpit windshields.
Transportation is the name of the game with this LEGO set. The 31091 allows you to build a shuttle transporter and the shuttle itself, a helicopter transporter, or a car with a caravan.
This set includes wheels for your vehicles, a working crane, satellite, and opening payload bay doors for the shuttle.
For a faster experience, you could have 31089 to create a few different vehicles to speed away in. For an on-road experience, there's the Sunset Track racer or a classic race car. You can even take things to the water by rebuilding the LEGOs into a speed boat.
To step into space, the 31107 set takes the builder to the moon. It offers the pieces to construct a space rover, rebuild it into a space base, or venture off-planet in a space flyer. You can even spruce up the scene with a mini figure of an astronaut or even an alien.
This 3-in-1 LEGO set comes with 766 pieces and lets users create the camping trip of their dreams. You can create a lighthouse, camper van, or a caravan and retro car. It also features three mini figures and three different animals you can build to set the scene.
Popular Creator Sets in the Previous Years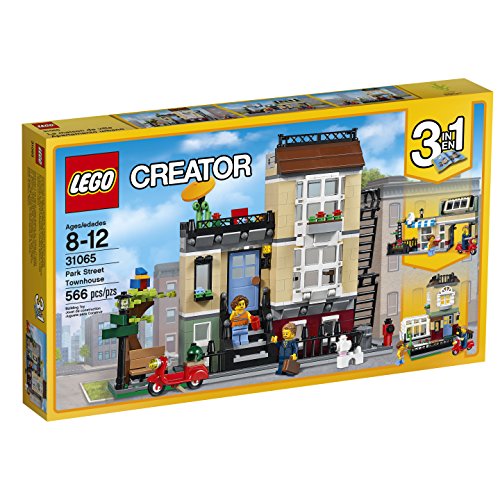 This set is inspired
by the many captivating and rare Manhattan townhomes
that are still standing and provides lots of play scenarios inside and out. The Park Street Townhouse has three impressive levels, designed with an authentic old-world front facade in classic shades of beige, white, brown, and black, with sand-green and red accents.
You can walk up the front stairs, peek in the basement windows or hang out on the balcony. You can also stroll over to the park next door and sit under the street light on the bench.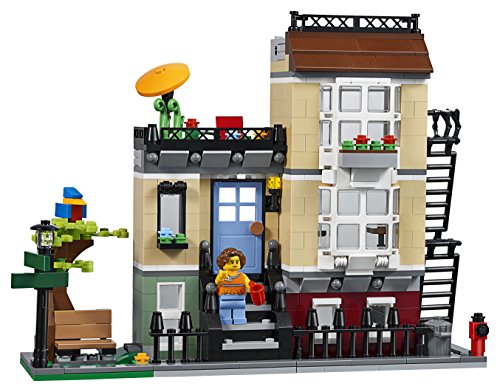 And when you're ready to head inside, the townhouse unfolds, so you can relax in front of the flat screen TV or huddle around the fireplace on a cold winter's night. There's also a complete kitchen and bedroom area, and when you're done you can convert it into the City Café or a Suburban Home with greenhouse. This set includes:
Two mini figures
Classic urban design and color scheme with stylish blue door
Townhouse with interactive interior, including a flat screen TV, sofa, and fireplace
Exterior with a bay window, railing, balcony and park scene
Complete set measures; H x L x W: 20 cm x 24 cm x 7 cm.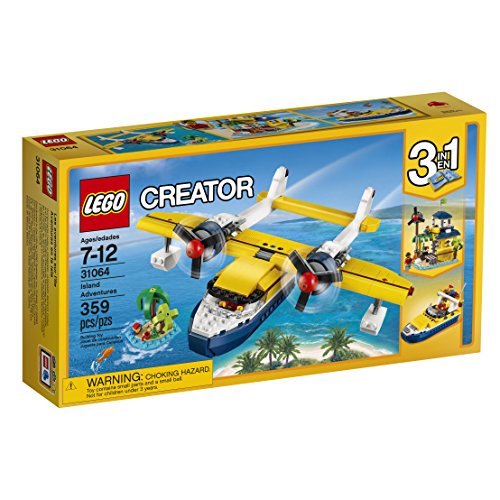 Sail to new heights with this cool 3-in-1 seaplane
, which converts into an island hut or a  speedboat. The seaplane has a bright yellow and white color scheme with sharp navy accents, giving it a vibrant look that will draw kids in. It also has several working components, from twin engines with spinning propellers to a detailed cockpit, landing floats,  and a cargo hatch that opens.
The island hut, meanwhile, boasts 2 palm trees, map accessories, and an empty bottle. Kids can build the island from scratch then explore for gold! And when they're done they can take it apart and construct the speed boat. The speed boat has a fully detailed cockpit that your mini figure can sit in and "steer." And the mini figure has a clean or shaven face; so kids can have him looking scruffy when he's stranded on the island.
This set includes:
Island hut with a map and palm trees
1 mini figure
Complete set measures; H x L x W: 17 cm x 16 cm x 13 cm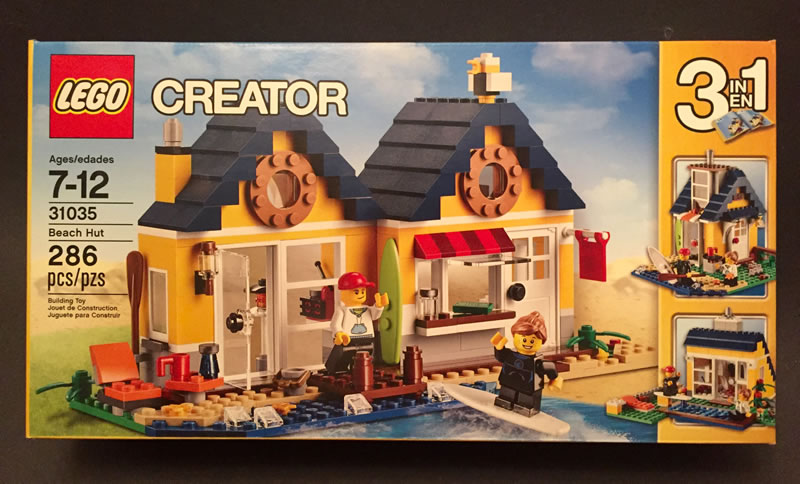 Go about your summer holiday on the beach, thanks to this 3-in-1 Beach Hut. Spend your days on the seaside with two mini figure friends and enjoy surfing in the radical waves. If you tired of surfing, engage in paddle boarding on the calm ocean.
Afterward, rebuild your summer cottage to a beach front surf shop and let vacationers rent sea accessories boards. Additionally, let them have a refreshing cold beverage on the seating as you offer lessons in surfing. Put up a summer cottage again and add an outdoor swimming pool for swimming laps.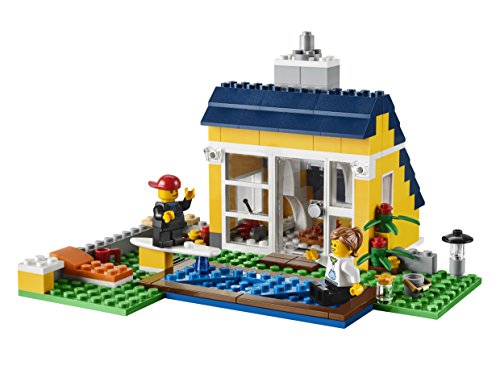 The lounge beside the swimming pool can be used for cooling during the hot summer. Such kind of creativity and imagination can be achieved using this Beach Hut set. Its features include:
• 286 piece sets to bring out creativity and imagination.
• Convertible 3-in-1 beach house; summer shack with swimming pool, summer cottage beside the sea.
• Two mini figures to help you go about the aquatic activities.
• Interior accessories; floor lamps, radio, bottled beverages and a cash register.
• Exterior accessories; Bucket, blue sea, green grass, brown decking, seating, two surfboards, tan sand.
• Wildlife; seagull and starfish.
• Beach hut measurements; H x L x W: 13cmx10cmx10cm.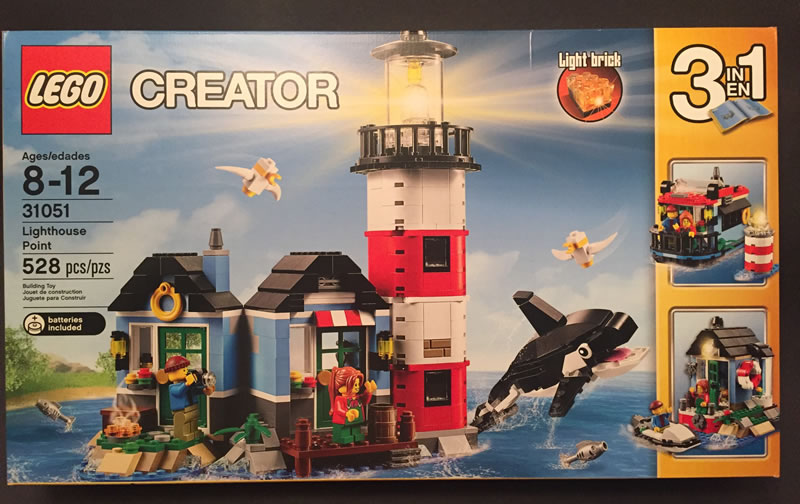 This is cozy Lighthouse Point, which forms the main portion of this play set. It has a large red and white striped lighthouse tower, coming with a light up brick beacon on the top of it. The base consists of a little house that can be easily swiveled open or closed, to suit the needs of the player. There are two mini figures; male and female who are lighthouse keepers.
There are other brick build creatures, a killer whale, seagulls and a couple of little fish pieces. An alternate built to the lighthouse is a neat ferry boat. The floating buoy will have a light up brick on top of it.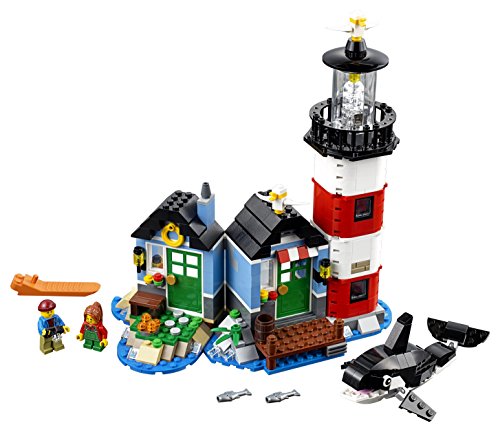 Users can convert the lighthouse into a bigger lighthouse keeper house. Just bring down the bricks on the lighthouse tower and add them on the sides with a pier. You can also create a boat house, since the killer whale can be converted to a speed boat.
The features in this set include: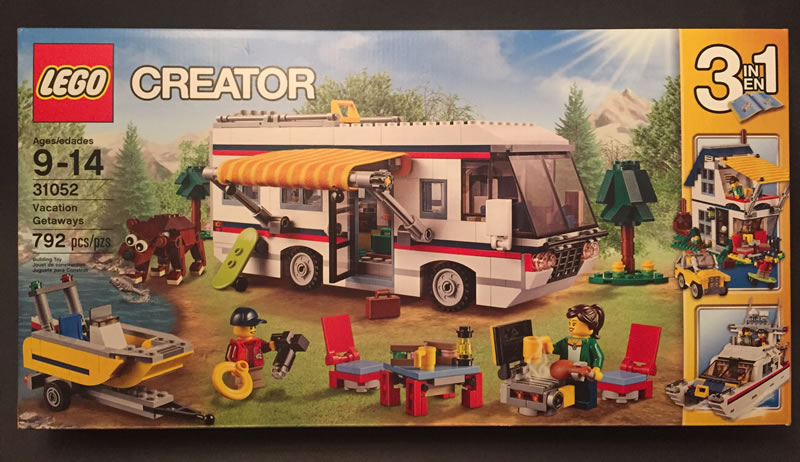 Go about your vacation activities using this complete set of camper facilities. It comes with a speed boat, a trailer and a number of break and build brick accessories. To begin with, you can design a camping trailer in order to move to your seaside vacation destination.
Remove the roof, rear sectio, and windshield of the trailer to convert the set into a summer home. The interior has a toilet, fold up bed, kitchen, TV set and a sofa. Set your motorboat beside the home.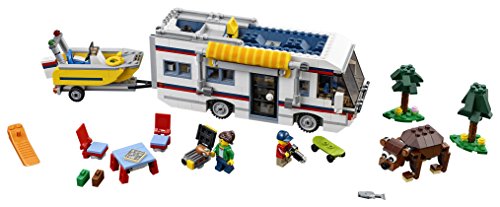 Alternatively, convert the set into a yacht, get to the sea and enjoy your holiday onshore. Let either of the mini figures captain the yacht. Remember to carry have the speed boat onboard. This set features:
• Two mini figures.
• Easily convertible set; summer home, trailer and yacht.
• White color scheme with dark blue and red stripes,
• Accessories; yellow striped fold out awning, a detailed interior including a toilet, fold up bed, kitchen, sofa, TV and luggage.
• Wildlife and Vegetation; A brick built bear, two little fish, two trees, grass, and flowers.
• Complete set measures; H x L x W: 10 cm x 36 cm x 8 cm.
Why You Should Buy These Creator Sets
To begin with, all the above Lego Creator sets come with alternate models. You will be sure of enjoying playing with your little one when it comes to building the brick sets over and over again. Through this, as a player, you will easily get your imaginations in to use, while getting those of your little one flowing.
Secondly, this playset is cheap and they come with Lego Creator discounts. For example, the Creator Beach Hut goes for about $20, Creator Leuchtturm Insel and Creator Vacation Getaways Building kit all coming with warranties. Buyers will not be disappointed by buying any of the three sets, considering the many configurations this kits can be turned into, it is totally safe to say these brick toys are totally worthy their price.
Last but not least, the Lego Creator sets come in excellent packaging. They come in a large lightweight box. Remember, this set is easily portable since these small pieces are measures even before being packaged. In addition, they come in with extra pieces just in case some get lost, you can find other pieces for replacement purposes.
LEGO Inc. has strict standards when it comes to manufacturing and grading of Creator sets, so you will surely not get disappointed upon purchasing these play sets.
In conclusion, these toy sets are meant for children between 7 to 12 years. This is the ripe age to help these kids to get creative in whatever they do, seeing the world in different angles and come up with different solutions to certain problems.