Being Bad is Fun With The Joker Notorious Lowrider (LEGO Batman Movie 2017) Review
As Gotham City sleeps, the Joker and Harley Quinn are about to wreak havoc once again. These evil pranksters are planning to unleash a plot that is anything but funny, and take over Gotham once and for all. Too bad for them, Batgirl is onto their scheme, and has what it takes to stop them! All she needs is your kids, who can bring this scene to life with the new Lego Batman movie set!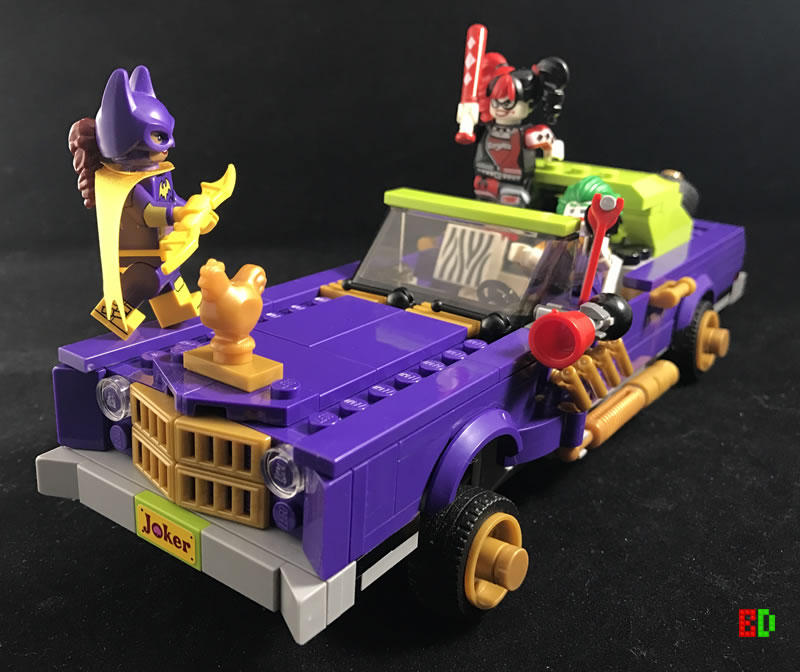 Joker and Harley are 2 of the most whimsical villains in the Batmans saga, so it makes sense that this collection features bright colors and cool, eye-catching accessories, which are perfect for kids big and small. Check out my review of the Joker Notorious Lowrider 70906 and see for yourself what makes it so unique.
Kids may root for the good guy, but they all want the freedom and fun gadgets that the bad guys have, which is why the Joker's Lowrider is such a big hit. Between the vibrant purple color and all the jaw-dropping extras, it's hard to say what kids love best.
For me, the feature that stands out the most is the bouncing suspension. Not only does it add a layer of graphic animation, but it is also a cool prop for Harley to hang onto as they speed away from Batgirl. And to continue the fun, the trunk opens, revealing hidden double spring-loaded shooters to fight the good guys. Finally, the cockpit opens so kids can seat the Joker and there is a stereo element so he can rock ou while plotting the city's destruction.
The Joker, Harley & Batgirl: Good Vs. Evil Just Got A Lot More Fun!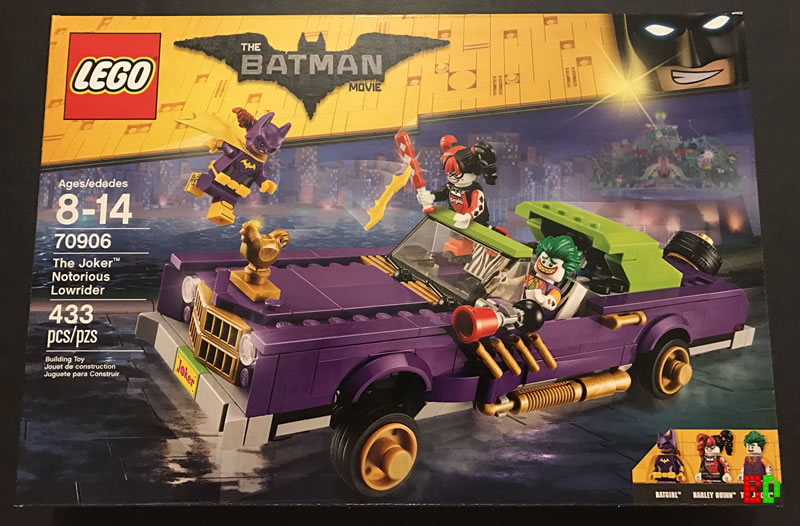 The Joker and his "girl," Harley Quinn, may be dangerous, but they sure are fun, and this set proves it. Just look at Harley, who comes with roller skates, so she can cruise around the city, weaving in and out of traffic as she tries to lose Batgirl.
Harley has a quirky red and black outfit little girls will love, along with pigtails to complete her eclectic look.
As for the Joker, he comes with a gun that shoots out a banner that says "pop," for innocent battle play kids can enjoy. He also has a colorful outfit with a rainbow of colors, flaming green hair, and of course, that famous grin.
Finally, Batgirl and her yellow Batarang are an inspiration to girls everywhere, as she alone stands up to this diabolical couple. And she looks good while doing it with her funky yellow cape and stylish purple Batgirl suit.
I hope my review of the LEGO Batman Movie Joker Notorious Lowrider Set has you running to buy one for your kids. This set is full of dynamic characters and fun pieces that will have your kids battling for hours. You can use it alone or combine it with other kits, for endless possibilities. No matter who you get it for, it's guaranteed to transport them to a magical world where anything is possible. Check out other Batman Movie LEGO Sets here.