Best LEGO Gift Ideas for Valentine's Day (2019)
It is February, and the Valentine's Day is on the 14th of this month. Do you have a Valentine in mind that you are thinking of buying a gift for? Of course you can buy the typical items like, chocolates, flowers or even a romantic dinner at a restaurant. Well, if you valentine is into Lego, we have some suggestions for you!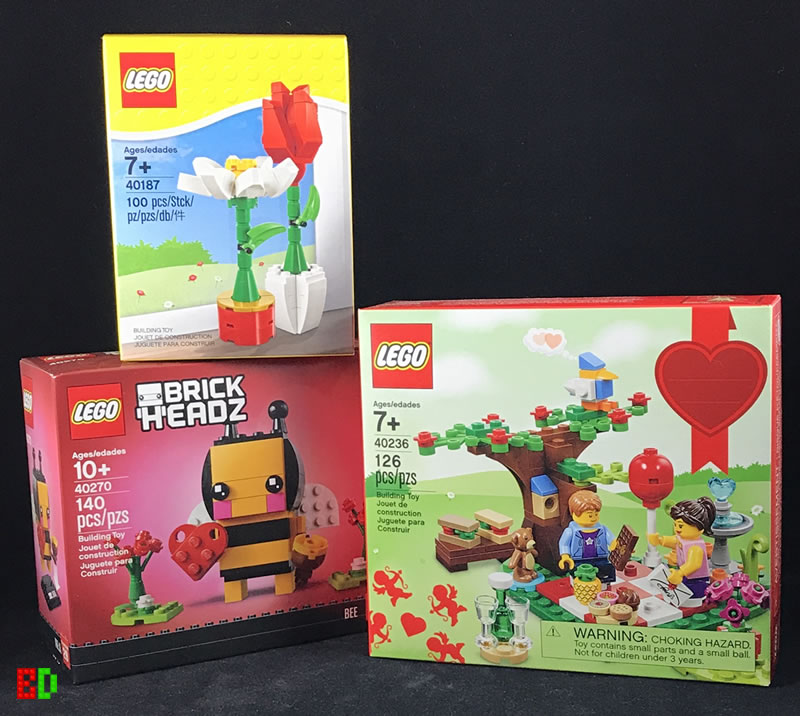 LEGO Ideas for Your Valentine's Day Gifts
Here, we have 3 Lego sets for this occasion – 40187, 40236 and 40270.
This is a small set with the least number of pieces among the three sets. At 100 pieces, this set builds into two single-stem flowers, a red rose and a white daisy, both with a base (vase). Though this set does not have many pieces, it does make good use of the slope pieces to form the intricate rose petals as well as the daisy petals. I can see that this set will be a perfect gift for the moms and grandmas as a desktop display!
As the set name implies, it is a vignette set of a romantic picnic. Imagine taking your valentine to an outdoor picnic. You get to build a serene setting of a red and white checkered table cloth on a patch of green pasture. Surround by a small water fountain and a small tree, a blue jay chirping a spring melody on the tree branch, beautiful flowers enhanced the setting. For the occasion, you have brought some homemade sandwiches, chocolate, some fruits and drinks. You even got your beloved a teddy bear, a red balloon and a Valentine's Day card that expresses your affection….how romantic!
This new addition to the Brickheadz series breaks away from the tradition of the previous sets, which consists of Superheroes, animation characters. If you have seen the Funko Pop! figures and like them, believe me, you will love these Brickheadz sets! This time, you get to build a cute honey bee, that has a honey jar in one hand and a heart shaped piece on the other hand. And as if that is not cute and sweet enough, there are also two bouquet of flowers that can either be placed on the side or can be hold by the Brickheadz figure!
So, for this Valentine's day, Lego has got you covered!!