Lego Ninjago movie Manta Ray Bomber Set 70609
The Lego Ninjago Movie is scheduled to hit cinemas in September 2017, and there is a wave of themed Lego sets coming out just before the movie. The Manta Ray Bomber is one of them and kids are going to love it.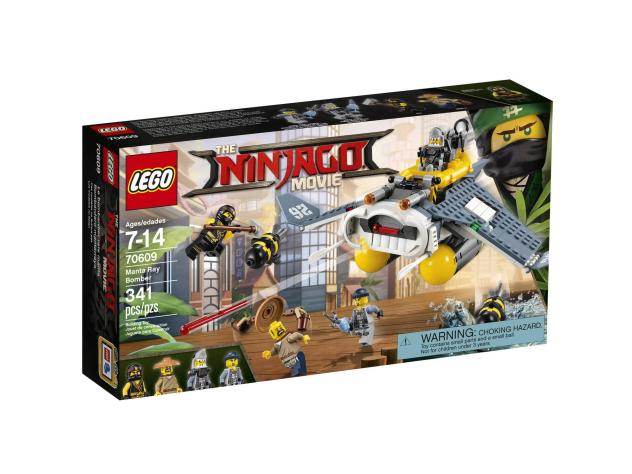 The Manta Ray Bomber set has four minifigures – Great White, Shark Army gunner, Cole and Shen-Li, along with the bomber itself; the bomber is a black, yellow and gray flying vehicle of evil, ready to drop bombs on all the innocent citizens of the city. Kids can help Cole and Shen-Li get the citizens to safety and stop Great White from destroying the city.
The Manta Ray Bomber actually looks like a Manta Ray in shape, with angled wings, and a control deck on top. It also has an impressive gun turret at the back.
Aimed at kids over seven, it encourages creative and imagination play. Kids can drop bombs on unsuspecting minifigs, or Cole can save the day. The Manta Ray Bomber Lego set will look great in any Lego collection, and for fans of Lego Ninjago, it'll be a wonderful addition to their collections.