Feel The Force with the Lego Darth Vader Transformation (75183) Set
Say what you will about the Star Wars prequels, but the second trilogy undeniably had its moments. Sure, sometimes you had to listen to monologues about sand to get to the good parts, but once you did the pay offs were well worth it. Undeniably, the scene in which we see Anakin Skywalker fully transformed into Darth Vader is certainly one of those epic moments, and now Lego has done us the great service of making a buildable set out of it.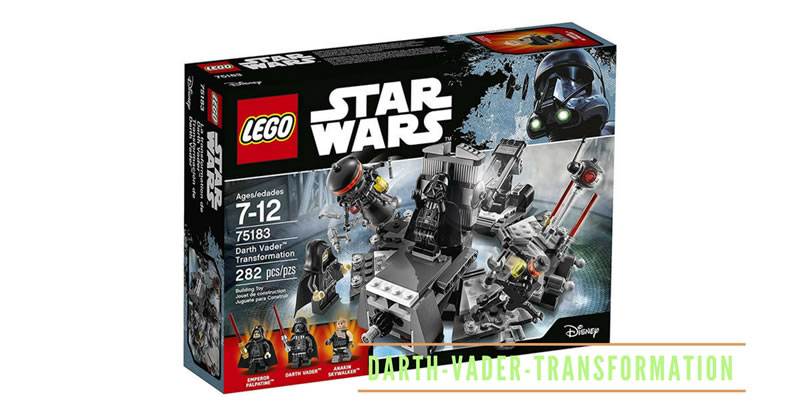 I'm sure that everyone reading this is aware of what scene I am talking about, but to refresh your memory, let's revisit this blast from the past as we review the Lego Darth Vader Transformation Kit.
The Lego Darth Vader Transformation Set
Shortly after his fateful duel with Obi-Wan Kenobi, Anakin Skywalker awakes in a dimly lit room, propped up on a stainless steel table, surrounded by medical droids. His last encounter with his former master has cost him his arms, his legs, and as he is about to find out, his wife. Slowly, he takes in his surroundings, unaware that this room is the site of his final departure from all things that were Anakin Skywalker. To the side of the table lurks his new master, the evil Emperor Palpatine watching the transformation of his cyborg apprentice unfold.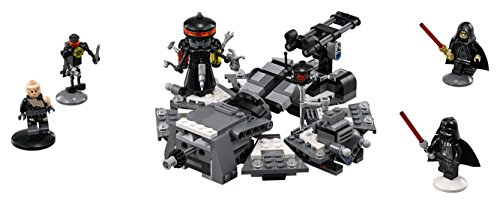 Lego brings this scene to life with incredible detail in this new 282 piece set; Lego character collectors will love the three, unique mini-figures that are included. This set gives you the opportunity to add wounded Anakin, Darth Vader, and Emperor Palpatine to your collection. The Vader figure even comes with a removable helmet beneath which you will find the burnt, agonized face of his former self, Anakin Skywalker.
My favorite aspect of this set is how intricately it allows you to reenact the fateful scene that it depicts. Once built, a table that rotates with the turn of a knob will allow you to switch from wounded Anakin to Darth Vader, in his suit. At this point, you have nearly finished helping the burgeoning Sith make his transformation, but the process is not quite complete. Attach the helmet with the aid of an applicator crane, then push the nob on the front of the set inward to watch the table rise into a vertical position.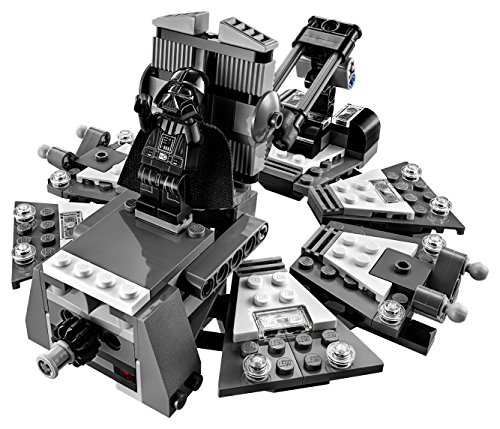 The manipulation of another lever will send one of the medical droids flying, mimicking the rage that Vader displays in the film when he learns of his wife's death.
Darth Vader and Emperor Palpatine are two of the greatest villains in all of fiction, and to get the chance to take part in one of their most pivotal scenes together is too good of an opportunity to pass up. I won't pretend that I don't love all things Star Wars, and most things Lego, but nevertheless, I can acknowledge that not all products are equal. This interactive new set is incredibly detailed, and I am very confident that it will make for a tremendous addition to any Star Wars or Lego fan's collection.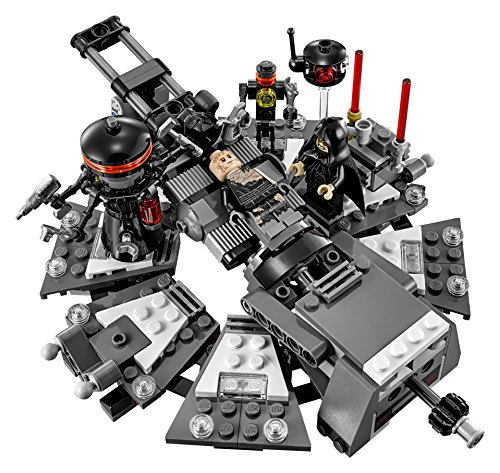 Certainly, it will look great on your shelf, but only if you can stop playing with it long enough to put it there.