LEGO Guardians Faceoff: Unravel the Mysterious Baby Groot
Who is Baby Groot? That is the question Marvel fans everywhere are asking- and it looks like they're about to find out! Loveable, extraterrestrial Groot made the ultimate sacrifice to save his friends in the original Guardians of the Galaxy, but for those who missed the final seconds, he didn't really die! Thanks to his powers, he was able to live, but in a much smaller version.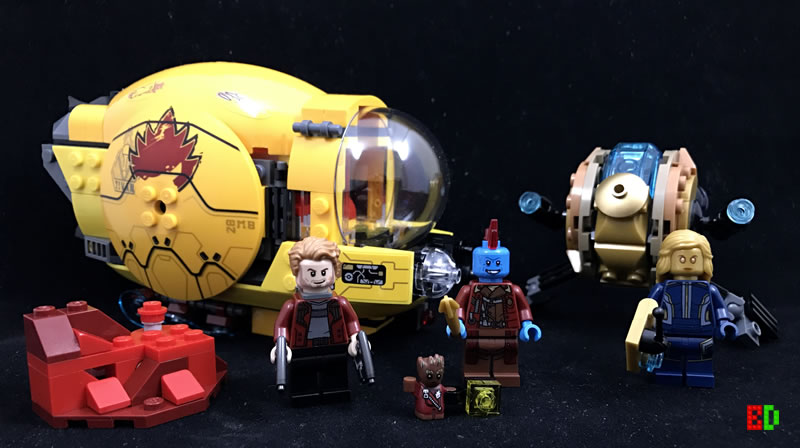 One that may or may not remember Rocket Racoon, or anything else that happened. He may not even have any powers! But now, you and your kids can help unravel this mystery with a new set of LEGOs! It's been almost three years since the first Guardians of the Galaxy and your kids have been sitting on pins and needles waiting for next one. Wait no more… Guardians Faceoff is here!
Here are what comes with this new LEGO Guardians Faceoff building set: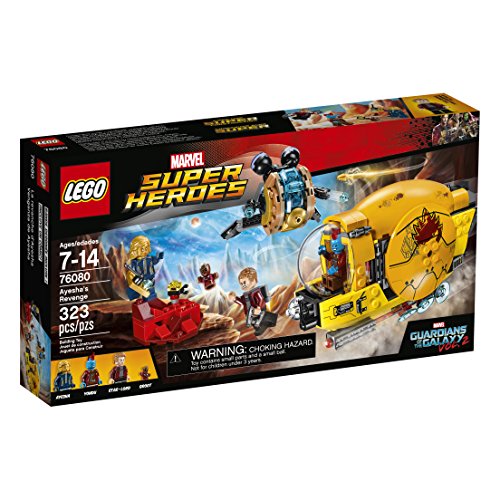 Titled Ayesha's Revenge, there are 323 pieces included in this Marvel Super Heroes LEGO set, recommended for kids  7-14 years of age. The Laser Drill spaceship is over three inches high, six inches long and two inches wide. Ayesha's Golden Drone measures over one inch high, two inches long and three inches wide with adjustable arms and two stud shooters, and a spring-loaded missile.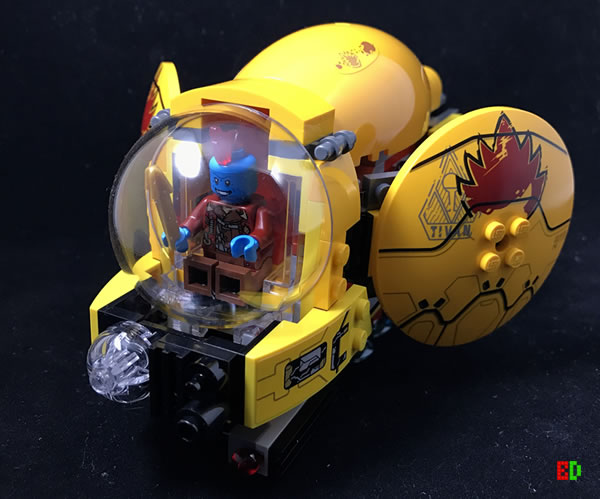 It even has a cockpit for one miniature figure that opens with side panels and a clear plastic bubble windshield. There is a buildable planet cliff section that shoots out an innocent explosion of pieces that go "pop" and measures over two inches wide, two inches deep and under one inch high.
Mini Figures Included
Ayesha, a High Priestess also known as Kismet or Paragon, is the villain in this Marvel Universe. Then there's Yondu, adoptive father of Peter Quill and a space pirate. He's back with his massive blue body and flaming red hair to lead the Ravagers. Your favorite interplanetary policeman, Star-Lord is also back and tough as ever with even more powers.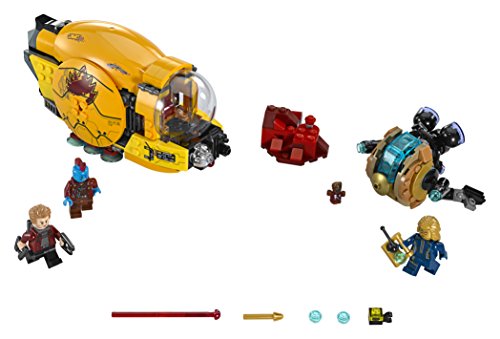 Finally, there is a small Groot wearing Ravenger decorations, which must be Baby Groot. Baby Groot can't say much but he sure gets into a lot of trouble and Rocket tries to look out for him. Even though Rocket Racoon is not one of the minifigures in this set, you may already have him; if not, you can get him along with seven of the Galaxy mini figures, as a separate set.
Accessories
For accessories, there is Star-Lord's jetpack, Ayesha's remote control, a wrench, a fire extinguisher, and an Annulax battery.
The Story Continues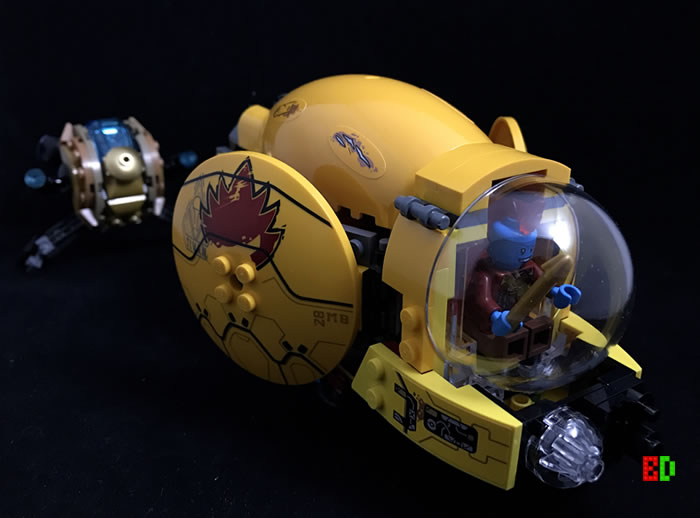 Baby Groot doesn't seem to have too much common sense, but could he have special powers that even he doesn't know about yet? Let's see how it could go.
Rocket wants Baby Groot to learn that the buttons on the death switch machine should not be pushed so he tells him, "Do not push the button. If you do everyone will die."
Baby Groot says: "I am Groot" like he always does, and proceeds to point at the button.
Rocket says: "No, No! You can't push the button or everyone will die."
Baby Groot says: "I am Groot" and proceeds to again point at the button.
Rocket says: "No, No!"
Then Rocket turns his head for a moment and when he turns back he sees Baby Groot running away with a trigger switch in his hand.
Rocket sighs and says: "Oh boy, that's a bad sign."
Baby Groot runs through the trees and as he is running the trees start to bend toward him covering him as he runs. When he sees this he thinks they are after him so he keeps running until a tree jumps in front of him and says, "Stop!" Baby Groot stops and says, "I am Groot" to all the trees and they smile.  The one in front of him holds out its limbs as if to say, "Give me that."
OK, what happens next?  Are the trees going to give the death machine back to Rocket? Or are they going to keep it?  Your kids are just going to have to play out the rest of the story.
Conclusion
This LEGO building kit will keep your kids busy for hours
as they play out the scenes of the movie or make up their own intriguing sci-fi stories to save the galaxy. This fun set of unusual characters and space gear can get the whole family involved.