15 Things You Need to Know to Buy Safe Toys
When it comes to kids, many parents and families have the same questions: how can you buy safe toys? Are there any strict guidelines that you can follow?  Many of our readers are asking these questions too, considering that the gift-giving season is already coming. Well,  we have the answers to all these questions. To know more about these safety tips on buying toys, read on!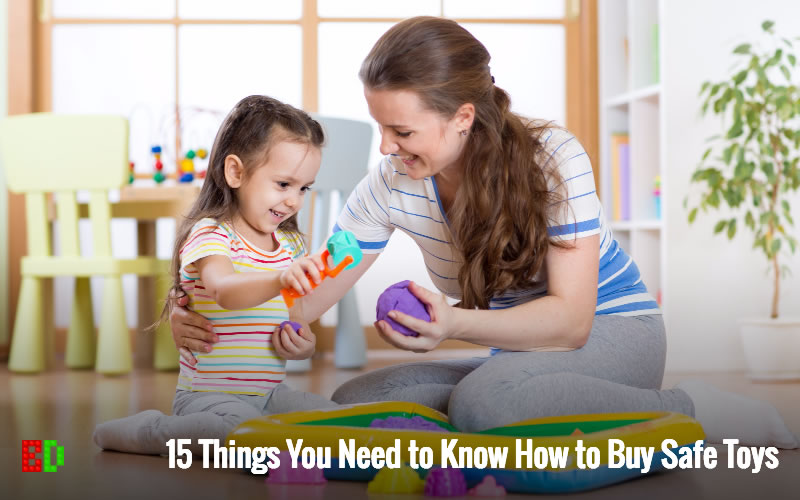 Getting a good toy for your kids is always a pleasurable experience. If you are a parent then you know what we are talking about. There is nothing quite as exhilarating than surprising your children with fun-filled toys . Our goal is to make sure our little ones are happy and healthy, so spoiling them with toys once in a while is a good thing.
However, there is a need for parents to be careful when they are choosing toys to give to their children. You might not notice, but some them contain harmful chemicals. For example, the "Telegraph" stated that one-third of the toys produced from China contains heavy metals. Specifically, the excessive levels of lead are the primary factor for why buying these toys could be dangerous for your child.
Dangers in Toys
According to KidsHealth.org, there are around 310,000 one to five-year-old children in the United States that have been discovered to have deleterious levels of lead in their blood. As a result, these children are susceptible to symptoms like stomach pain, headaches, and even anemia. Several studies also suggest that lead can slow down the developing brain of a child.
Of course, lead is not the only thing that you should be wary about when buying toys for your kids. There are other detriments that you can find in playtime objects. In 2011 alone, there were around 262,000 toy-related injuries in the United States, according to the Consumer Product Safety Commission. The most alarming part of this report is that the victims are 15 year- old children and younger. Therefore, safety is indeed imperative for choosing toys for your kids.
But don't panic, because while these statistic are alarming, they should not prevent you from surprising your kids. There are various of ways to ensure that the toys you buy are relatively safe for little hands.
How To Select Safe Toys for Your Kids
1. Find out which toys you should not buy.
As early as this point, we do not want to discriminate brands. However, we highly recommend to parents that you should only buy toys from known manufacturers. "No-name" toys that you can see on small or private stalls may not have undergone the proper series of safety checks and procedures. You should take a look at the labels if there are any toy safety standards (e.g. CPSC, ISO). If there is none, then you should avoid that toy.
Moreover, never buy toys with small magnets. Even if the magnet is encased on the toy, do not purchase it still. Never buy metallic jewelry for your small children, especially those that are made from cheap materials. As a parent, it is your responsibility to prohibit them from playing with metal charms and key chains.
If your little one is still a toddler or an infant, avoid buying squeezable plastic toys. We all know that kids at these stages are prone to putting things in their mouth. You can only be confident of purchasing such toys if there is a "no phthalates" label on the package. But even if this is present, we highly recommend not to buy them. Choking is still one of the leading causes of injury and death for infants. Therefore, you should be wary about this.
Shared via Rasmussen College
2. Choose a toy that fits the age of your child.
One of the most common mistakes many parents commit is buying toys that are inappropriate for the age of their children. If it is your first time buying toys for your kids, always check the manufacturer's label. Get the recommended age range for the particular toy that you want to buy. The grading of age is more than just a friendly reminder. They are your indicators for choking hazards and other dangers.
Moreover, you should be careful when buying toys with small parts. You should think twice if your baby is still under three years old. Remember, choking is fatal to our little ones! Specifically, you should keep any oval objects such as balls, marbles, and coins from the hands of your baby!
3. Always be aware of recalls.
Before you start your shopping spree, you should go to the website of the Consumer Product Safety Commission (http://www.cpsc.gov). This is a government website that has updates to the most recent toy recalls. Recalls happen when certain defects or harms have been found out about a particular product. Do you remember when Samsung made a worldwide recall to their Samsung Note 7 because of unprecedented explosions? Such thing also applies to your toys.
For example, just this November 16, 2016, the CPSC forced the Skidders Footwear to recall their children's shoes. This is because it was discovered that the shoes, which are sold exclusively at Meijer Stores, can cause lacerations to the feet!
Checking the history of recalls will warn you preemptively about toys that you should avoid. The CPSC also offers free email updates once there are issues of recalls being made. If the toy you purchase has a registration card, use this and send it to the manufacturer. That way, they will be able to notify once the toy you bought has been recalled.

Shared from Ohio State University
4. Be wary of Where You Shop.
Some of us opt to buy toys in airports, dollar stores, and even drugstores. Sometimes, we want to avoid the hassle of haggling at toy departments of different malls. There is nothing wrong this. However, we still have to remind you that you should exercise awareness when you are shopping in these areas.
Most of the toys they sell have flimsy components. Moreover, their toys are also known to have sharp parts and components that easily breaks. Consignment stores, thrift shops, garage sales, and eBay are selling toys with decent qualities. However, you should still be careful. Check out all toys for brittle parts or other unwanted components, such as magnets.
5. Start Going Natural.
You may assume that a natural lifestyle is only applicable to the food you eat. That is wrong! Your children can get also benefit from such life stance. In choosing a toy for them, you may opt those that have a "natural" construction.
Go for toys that have natural components such as solid wood (with no toxic finishes) and organic textiles. They contain no chemicals or parts that could harm your kids!
6. Being Simple Means Safe.
Most of us want to be extravagant with our children. We want to lavish them with toys, as it is one of our ways of showing love to them. However, we recommend that you should control your impulses. We know you love them, but it doesn't mean that you have to go overboard.
Fewer toys mean that you are giving more to Mother Nature. Aside from saving your children from being spoiled, it can save your pockets, too!
7. Go with well-made stuffed toys.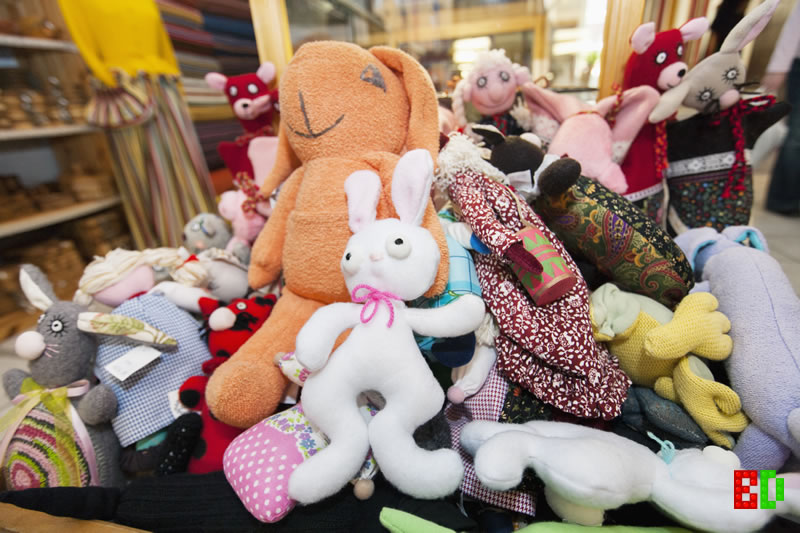 When buying a stuffed toy for your little ones, make sure that its parts are tightly made. Moreover, ensure that its edges and seams are secure as well. The washability of these toys is important, too. As you all know, stuffed animals are notorious for trapping specks of dust and fine particles. These foreign objects can cause respiratory ailments to your children, which could be fatal at some point.
Moreover, select a toy that does not come with any loose ribbons or strings. As we mentioned earlier, these objects can strangle your child. Also, you should avoid stuffed toys that have pellets because they can cause choking and suffocation.
8. Go for Long-lasting Toys.
The lifespan of a toy is important. This is an indicator that such items are made from quality materials and are not easy to break or wear out. Your children will greatly benefit from this, considering that breakages can lead to unwanted wounds and scratches.
Of course, it is given that high-quality toys are steeply priced. However, this should not discourage you. Instead, you should consider the toys you buy for your kids as a form of investments. Later on, you can have the freedom to resell these toys on any garage sales. Since they are sturdy, you can expect that their quality will stay the same for a long time.
9. Reading the Label.
The labels are crucial. They will give you the information you need to decide if you want to buy the toy or not. They contain necessary information that could save your little ones from potential harms, such as the recommended age and proper usage of the toy.
9. Avoid the Strings.
As a parent, you should stay away from toys that have straps, cords, or strings. Specifically, you should avoid buying them if their length reaches seven inches or more. This measurement is already enough to encircle around the neck of your children.
You don't want any accidental strangulation to happen in your household. Even for adults, such risk is still fatal!
Shared via Edgar Snyder
10. Do not buy cap guns.
Cap guns are appealing toys, especially to our rowdy little boys. However, we recommend that you should avoid them. If you are really concerned with the safety of your kids, then you might want to stay away from these toys. Specifically, you can ignite a cap gun just by  slight friction. If the ignition can get in contact with the skin, severe burns can happen. There are a lot of cases in where such misfortunes happened. Do not let your part be part of that statistics!
11. Do not purchase projectile toys.
Toy guns, or any toys that can shoot, can be harmful. Yes, they are fun to watch and play with but you should be aware of the potential hazards that are caused by these toys. If used inappropriately, these can cause serious eye injuries, especially if the "bullet" is made of hard or sharp material.
Moreover, you should know that the ammunition of these toys is relatively small. Therefore, they can also cause pernicious choking to your kids.
12. Noisy toys are bad.
Never buy toys and products that produce a sharp or high level of sounds. They are not just annoying, they are also harmful to the hearing of your children. At an early age, the ears of your kids are still sensitive. Exposing them to a high level of sound can affect their hearing. As a result, this could cause long-term damage to their ears! That's why I prefer Lego Sets for my kids.
13. Flame resistance.
The toys you purchase should be able to withstand fires and any combustible hazards. Check the label of the toy that you are going to buy. It should have an indicator that says "flame resistant" or "flame retardant." You do not only save your child here. You are also protecting your house from potential property damages due to fire!
14. Avoid hobby kits for children below 12 years old.
Chemistry sets or hobby kits are ideal for growing children. These toys are useful in sparking their interests in science and other related fields. However, these play sets may be harmful, especially for small hands. Therefore, the CPSC only recommends these toys for children that are above 13 years old.
Some of the components of such toys are susceptible to explosions and fires. Moreover, they might contain dangerous chemicals, which could be harmful when swallowed. It is important that your child has enough discretion and knowledge about handle these kinds of toys.
Conclusion
Knowing how to buy a safe toy for your children is essential. These practical steps can save your child from injuries, illnesses, and potential hazards. As we all know, our little ones have little control and comprehension. They will definitely do the things out of curiosity or fun. Therefore, it is our duty as parents to safeguard them. Follow those tips we have given you, and you can guarantee that your children are always safe on their playtime!