Best Nexo Knights LEGO Sets: Build Your Army and Empire Today
Before Nexo Knights became an animated television series, it was an original LEGO concept. Of course, your kids, nephews, or nieces are probably familiar with this fun-filled show! Characters like Aaron, Clay, Axl, Princess Macy, and Lance are quite familiar to children nowadays, especially in their daily duties to protect their kingdom from the Book of Monsters! If you want your kids or grandchildren to relive their adventure, then you should give them one of the LEGO Nexo Knight toy collections!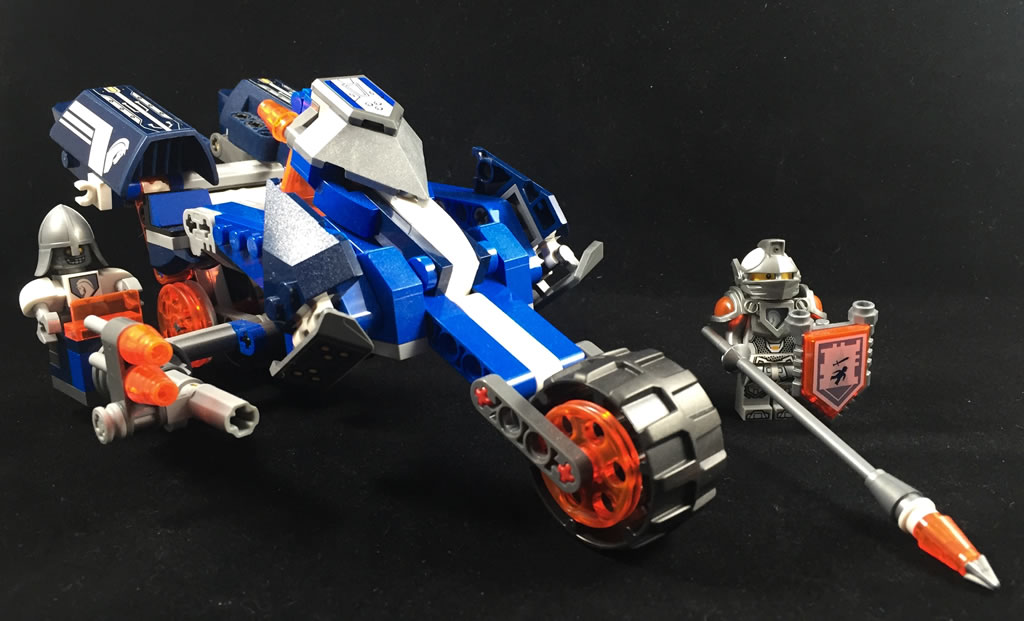 LEGO has been one of the best presents a kid can get for many decades. Children love them because of their witty and colorful designs. The process of building props and structures is one of the most stimulating aspects of LEGO. Even adults like you and me might be secretly in love with LEGO toys! Well, that is something not to be ashamed about!
For now, let's focus on finding the best LEGO Nexo Knights presents. I am quite sure that when you surprise your young ones with any of these, their merriment will be easy to see! And with the holidays right around the corner, the need to buy presents is urgent. So make sure that you make everyone happy by giving these Lego Nexo Knights collections!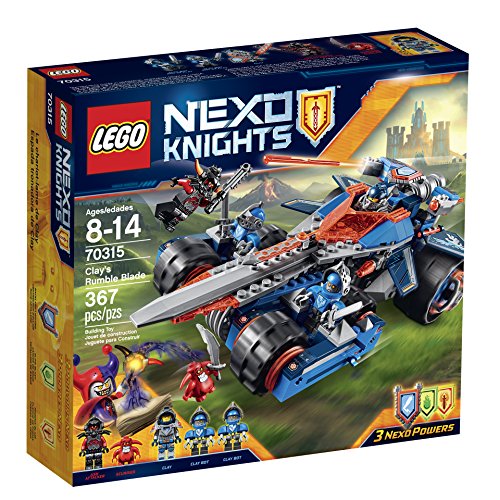 Help your kids protect the kingdom of Knighton from the lava monsters by giving them this 4-in-1 Rumble Blade! This LEGO toy comes with a futuristic Sword Speeder, two Sword Break Bikes, and a set of mini-figures! With these guys around, nothing can harm the territory!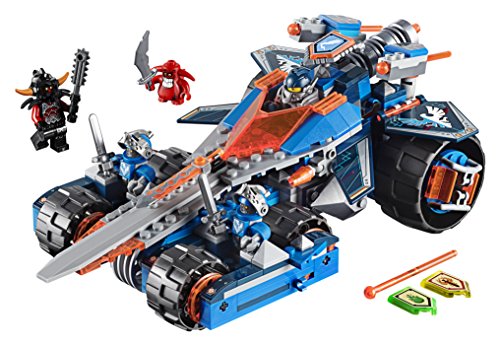 The mini-figures include Clay and his Claybot buddies. Of course, the sinister Ash Attacker and evil Scurrier are also present to make the fight complete! Pluus, the Rumble Blade has a push-button mechanism that lets you release the Sword Break Bike vehicles so that everybody could have some fun!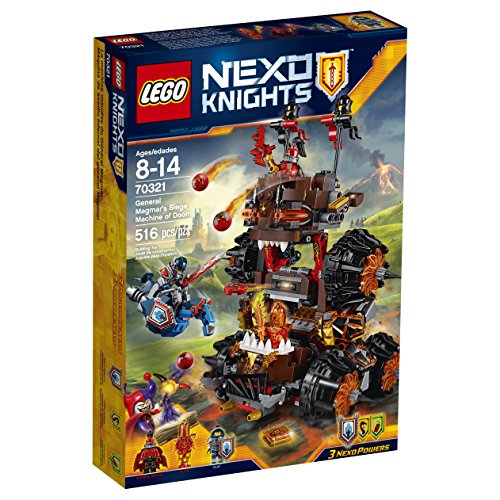 Another adventure set that you should give your young ones is the Nexo Knights General Magmar's Siege Machine of Doom Building Kit. This LEGO set features six glowing large wheels! In addition, this toy also comes with the dual catapults and disc shooter that General Magmar and Flama uses for seizing the Knighton!
There are other accessories that your kids can get from this toy too. Among these are the General Magmar's cape and Flama's fire helmet. Of course, this wouldn't be complete without the realistic mini-figures of Magmar, Flama, and Clay Mooring!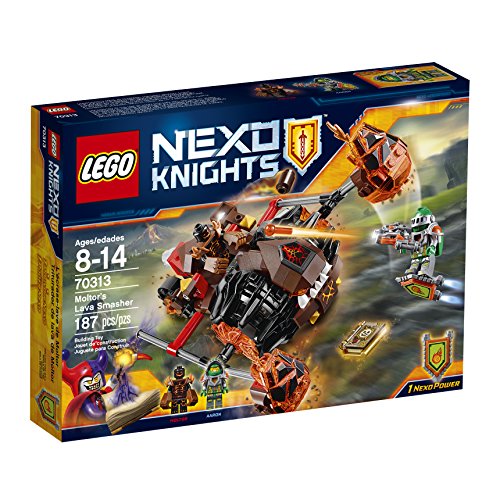 Bring the action in your house by purchasing this awesome LEGO NexoKnights Moltor's Lava Smasher 70313. Let your kids join Moltor and Aaron Fox in their hunt for the destructive Book of Chaos! This playset comes with two mini-figures and a lot of accessories that your children will surely love!
The Lava Smasher of Moltor has moving rock fists, in which you can activate by pushing the toy forward! Moreover, the Smasher can also throw molten rocks with the use of the built-in catapults! This set also includes Aaron's Hovershield and Blazer Bow!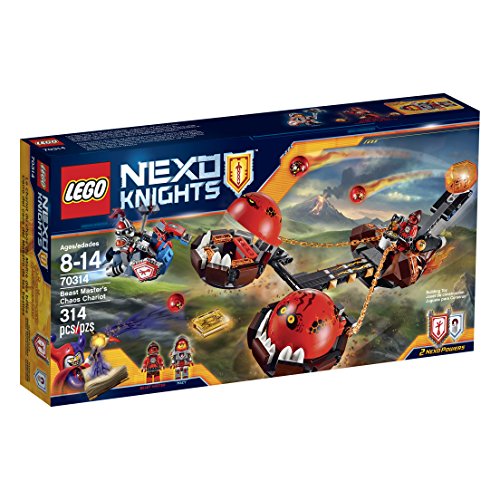 Nobody is exempted to the fury of Beast Master. Now that he got his Chaos Chariot, your kids will now have a hard time dealing with him! However, the Book of Deception is on the line! Your young ones won't let the Beast Master have it!
This play set includes the enigmatic Book of Deception spell book and some mini-figures accessories. Macy Halbert, Jestro, the Beast Master, and three goblins are all present in this epic face-off! Meanwhile, the iconic Hover Horse of Macy will ensure that the fight is in your kids' favor!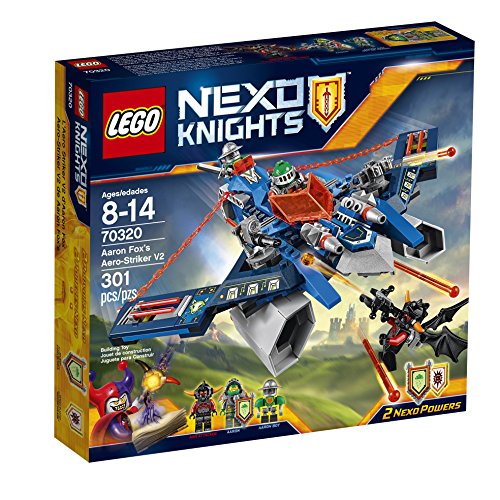 Aaron Fox is one of the most famous heroes of Nexo Knights. With this toy set, your children will be able to recreate his fantastic adventures! The Aero Striker of Aaron comes with a trigger that shoots lasers and bullets! It also includes a quirky mini-flyer and a cockpit in where Aaron Fox captains the ship!
Well, the story of Aaron would not be complete without the presence of Ash Attacker! But even if the villain is present, Aaron wouldn't lose, thanks to his Nexo armor, shield, and helmet!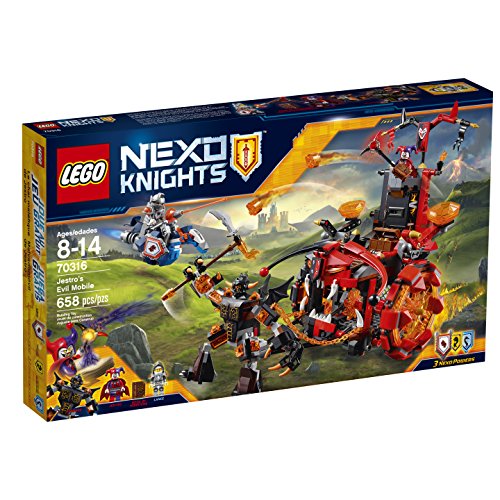 Help Lance Richmond in recovering the Book of Monstersfrom the evil hands of Jestro in this awesome LEGO play set! Let Lance ride on his Hover Horse to defeat the Giant Sparkks, but make sure you won't get trapped in the prison Jestro has prepared for you! Your end goal is to prevent the preposterous villain from building his army!
The playset includes a movable cockpit in where Jestro hides. Of course, a tricky treasure chest has been prepared by Jestro to hide the Book of Monsters! This time, Lance will really have a hard time!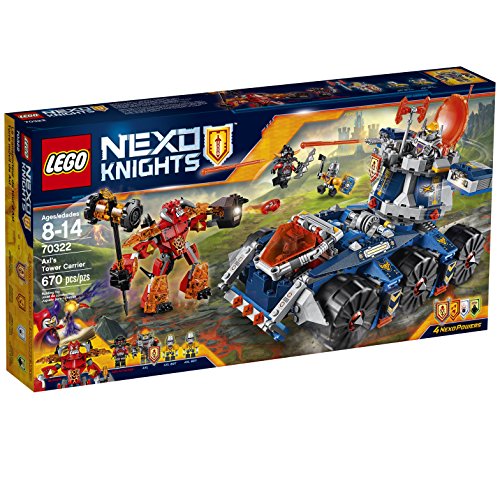 Recreate Axl's Tower with this LEGO playset! Itcomes with a rotating and detachable gun turret that gives playtime a lot of excitement! The Axl Tower Carrier also features a control room and cockpits for Axl and his Axl Bot! Of course, Axl will be up against Ask Attacker, so the fight won't be easy. A storage vault for the Book of Fear and sneaky catapult on Burnzie of Ash will keep the fight on deadlock!
Aside from these, the playset also includes accessories such as the three Globlin discs, three knight discs and Axl's helmet and shield!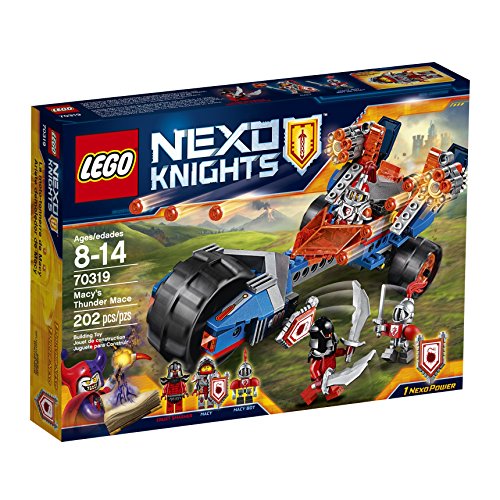 Princess Macy is out for adventure, and she is asking you to join her! The Thunder Mace Mobile has two built-in cockpits for Macy and her Macy Bot. Moreover, the ship is also equipped with a rapid-fire stud shooters to bring the enemies down. Your kids will also love the handy holders for Macy's Photon Mace and Shield!
This building kit includes three mini-figures: Macy Halbert, a Macy Bot, and a Crust Smasher. Accessories like Macy's helmet, NEXO armor, and Crust Smasher's dual swords are also included!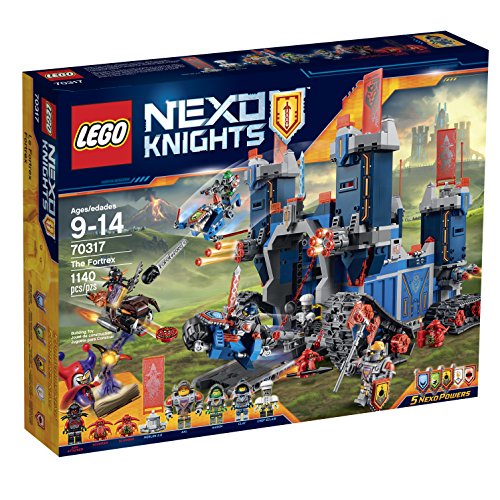 The Fortrex is the turf of every Nexo Knight heroes. This is your chance to give your kids the delight of having this formidable fortress under your roof! All the Nexo Knights are present in this play set. Minifigures of Clay Moorington, Axl, and Aaron Fox are all present here! Of course, the Fortrex is not complete without Chef Eclair around!
You can open the Fortrex so that the Nexo knights can come in. There is an area in this building where you can hold your enemies captive! The knights vehicles are detachable, too!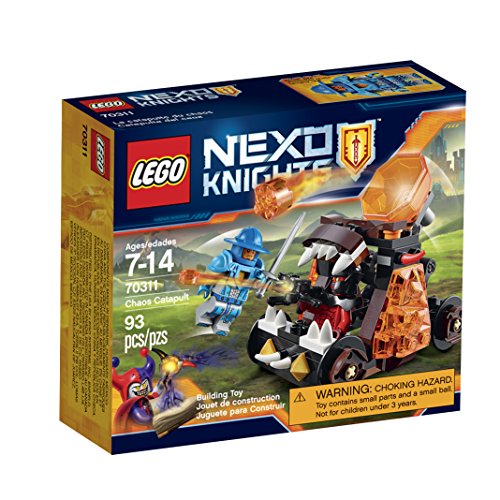 Sometimes, your kids just want to be the villain. With the LEGO NexoKnights Chaos Catapult, your kids can finally wreak havoc against the Royal Guards! The Chaos Catapult comes with a usable catapult and stud shooters. This playset includes the mini-figures of Crust Smasher and Royal Guard!
If the catapult fails, don't worry! Crust Smasher has still his shooter crossbow to invade the Knighton. On the other hand, the Royal Guard is ready and won't go down without a fight! Once he is clad in his battle gear, an epic battle will surely take place!
Conclusion
The LEGO Nexo Knights is an ideal gift for your kids, niece, and grandchildren. Regardless of their gender, these excellent building kits will ensure that they have the good time they deserve! So,  what are you waiting for? Go ahead and purchase any of these LEGO Nexo Knights kits and give your little ones fun that will last a lifetime.