Best LEGO Ninjago Sets (2023): Our Favorite Ninja Toys
Fun, magical and interactive, Lego Ninjago sets are a hit with kids and their parents. Based on the popular TV show, kids will get lost in a world of ninja's battling across a colorful landscape they create with their own hands.
Kids and parents alike will love the hand-made cities and creatures  they can create with their own hands as they watch the ninja's battle it out.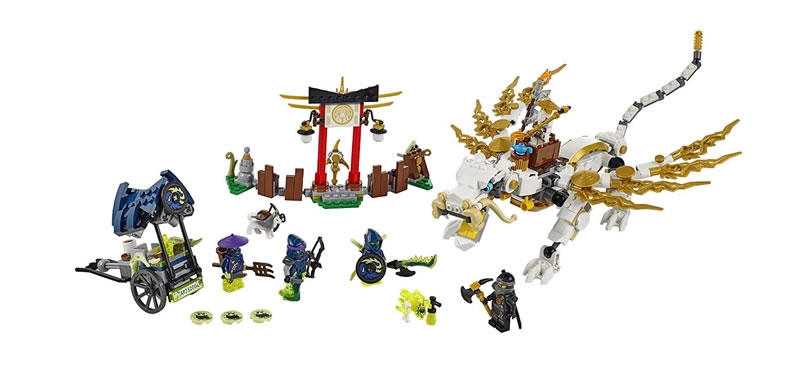 Our roundup of the Best Lego Ninjago Sets for Kids features the top sets and characters. These sets can be played with alone, or in combination with other sets, so you can buy one, or all of them, for your kids this holiday season.
So why not treat your little ones to some ninja fun this holiday with one or all of these amazing sets?
Top Rated Lego Ninjago Sets (2022-2023) – Which is the Best?
To help you find the best set, or latest sets, for your kids, here is a list of what Lego has to offer:
This set is seriously cool and has brought me so much joy and excitement. The 479-piece playset also gives kids aged 8+ a creative building experience with the set comes with five awesome minifigures – Kai and Lloyd each with two katanas, Wyldfyre, Imperium Claw Hunter with an Imperium sword, and Lord Ras with a golden hammer.
Lets talk about the star of the show – the Heatwave Transforming Lava Dragon! It's seriously impressive and has two mood modes – peaceful mode and battle mode. And get this, kids can flip the dragon toy upside down to switch between the two modes!
Plus, the dragon can fire out the purple dragon power element from its chest, adding to the excitement and fun of battles.
The set features a highly posable water dragon toy that Nya can ride on the back of. The dragon has a posable head, jaw, legs, wings, and a tail that can be used as a weapon. Plus, there's even a saddle for Nya to sit in!
The set also comes with three minifigures – Nya and Lloyd with swords, and their enemy Bone Guard, who has a shuriken and two swords to use as wings.
The set comes with three awesome minifigures – Arin armed with a katana and a grappling hook, Sora with two katanas, and Rapton with an Imperium sword on a glider armed with two stud shooters.
Your Kiddo can quickly and easily transform the posable mech into a superfast ninja bike armed with golden blades and two stud shooters.
2021 Best-Selling Sets
For LEGO NINJAGO fans, this kit has all pieces build your own Kai Fighter. It even comes with four mini-figures from season three of the series including two ninjas and two Ninjoid warrior action figures.
The Kai Fighter has two spring-loaded shooters, an adjustable cockpit, and folding wings.
The main draw of this kit is the chance to build the dragon with a cockpit, posable features, and stud-shooters. The full kit also includes three mini-figures including the characters Digi Lloyd, Digi Jay, and Unagami from the show to help populate the scene you're building.
This Sorcerer's Dragon kit also comes with six mini-figures from the show including Hero Jay, Hero Nya, Hero Kai, a pair of Awakened Warriors, and the Skull Sorcerer.
This LEGO set comes with Hero Cole, Hero Zane, and their Mino Creature which you get the chance to build yourself. The 616-piece kit also gives you their opponents – Gleck, Geckles, and Ginkle who the heroes can fight from their forts. Fans of the board game can also use the included dice spinner.
When you want to create scenes from Prime Empire, you need to have this set to build Kai's Mech Jet. You can even use the same pieces to rebuild it into a toy plane! It comes with mini-figures too, including Kai and Richie alongside a Key-tana.  
When your battle needs something bigger, you'll want this kit to build the NINJAGO Fire Stone mech. The mech can fit up to two figures in the cockpit and has a stud shooter for battle. The 968-piece set includes five mini-figures of Hero Cole, Hero Kai, Hero Nya, Murt, and Moe.
This 2-in-1 kit gives you the best of both worlds in NINJAGO. You can use it to build the Legacy Thunder Raider or to create a Ninja Mech. Armed and ready to go, the mini-figures in this kit include Jay, Lloyd, Cole, Overlord, and Nindroid Warrior with a chainsaw for Overlord and a silver katana for Lloyd.
To take to the skies with the familiar NINJAGO characters, this LEGO set gives you what you need to build Zane's ShuriCopter. The Shuricopter has stud shooters, a spinning rotor, and spinning shuriken slicers. Alongside Zane, you'll have mini-figures of Jay and General Vex with some of their signature gear.
When you're trying to set a full scene, this set recreate the NINJAGO Journey to the Skull Dungeons. You can take Hero Nya, Hero Lloyd, Hero Jay, and Murt with you as included mini-figures. Plus, it features a dice spinner for board game fans.  
For those looking to get their ninjas ready for battle, this kit includes the pieces necessary to build the Monastery of Spinjitzu. It even features a few familiar traps like the hidden knife in the tea room and chicken traps. Not to mention, there are plenty of weapons for Wu, Nya, Jay, Lloyd, Cole, Zane, Wyplash, and Kai to train with.
Top Rated Ninjago in the Previous Years
This Lego set inspires you to build Ice Ninja Zane's motorbike and Mr. E's Oni Bike to create a race for the ages. The set also includes a mini-figure of both Zane and Mr. E as well as the Oni Mask of Vengeance to recreate a battle for the ages.
This Ninjago LEGO set allows you to recreate a Samurai Mech. It includes an opening cockpit, stud shooters, a big katana, and double katana. It even comes with mini-figures of Kruncha, Nuckal, and Nya as Samurai X.
This set lets you to go all the way and build the Ultra Dragon. It has a stud-shooting head, unfolding wings, and whipping tail. You can also assemble and arm your warriors including Jay, Nya, Pythor, and Lasha with their signature weapons.
With this set, you can create an intense battle by building the HunterCopter helicopter and a Red Dragon. You can include Kai, Cole, Heavy Metal, Jet Jack, and Chew Toy in the battle as well. The helicopter has stud shooters and the Red Dragon uses its swiping tail to attack.
The LEGO Ninjago Nightcrawler set allows Lloyd and Nya to jump in the Ninja Nightcrawler to chase down Ultra Violet on his booster bike. In addition, the Nightcrawler is armed with speed and attack modes, hidden weapons, and a pair of rapid shooters to attack on the go.
With the Storm Fighter, you can help Jay reclaim his golden weapon, the Nunchucks of Lightning from Serpentine's grasp. With the included mini-figures, Nya, Pythor, and Lasha can join the fight.
With lightning bolt shooters and a dragon with a swiping tail, you can build a battle with the Lightning Dragon. The set also comes with figures of Jay, Zane, Muzzle, and Daddy No Legs. There's also a pedestal to display the Dragon Chestplate.
The set has everything you might need to rebuild Cole's Earth Driller and the Giant Stone Warrior so you can battle it out for The Scythe of Quakes! The set also comes with mini-figures of Cole and Kai as well as a Stone Army scout and warrior.
With this LEGO NINJAGO Masters of Spinjitzu set, you can recreate the showdown in the Palace of Secrets' throne room. This includes a throne room with secret compartments, opening jails and smashing walls. The battle comes to life with mini-figures of Princess Harumi, Lloyd, Nya, Skylor, and Samurai X.
No Ninjago ninja is ready to go without visiting the Monastery of Spinjitzu. This model has sword-spinning and fruit-cutting stations for training. You can help Wu, Jay, Nya, Zane, Cole, Lloyd, Kai, and Wyplash train with the four Golden Weapons.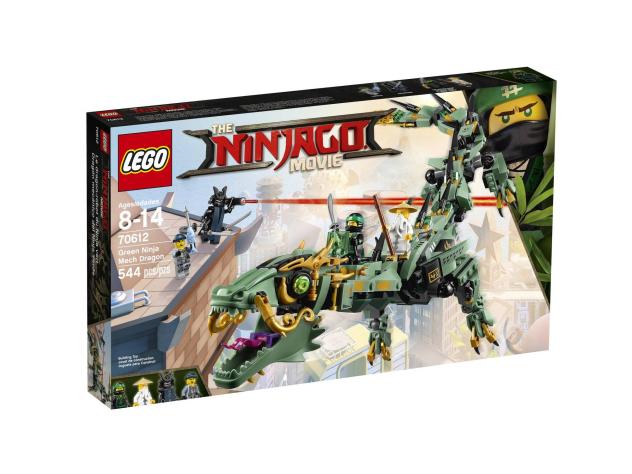 Did you watch the Ninja LEGO Movie? If you have to battle your dad for the good of the world, it helps to have
an awe-inspiring Green Ninja Mech Dragon craft
. Kids will be dazzled as they build Lloyd's loyal and majestic Green Ninja Dragon.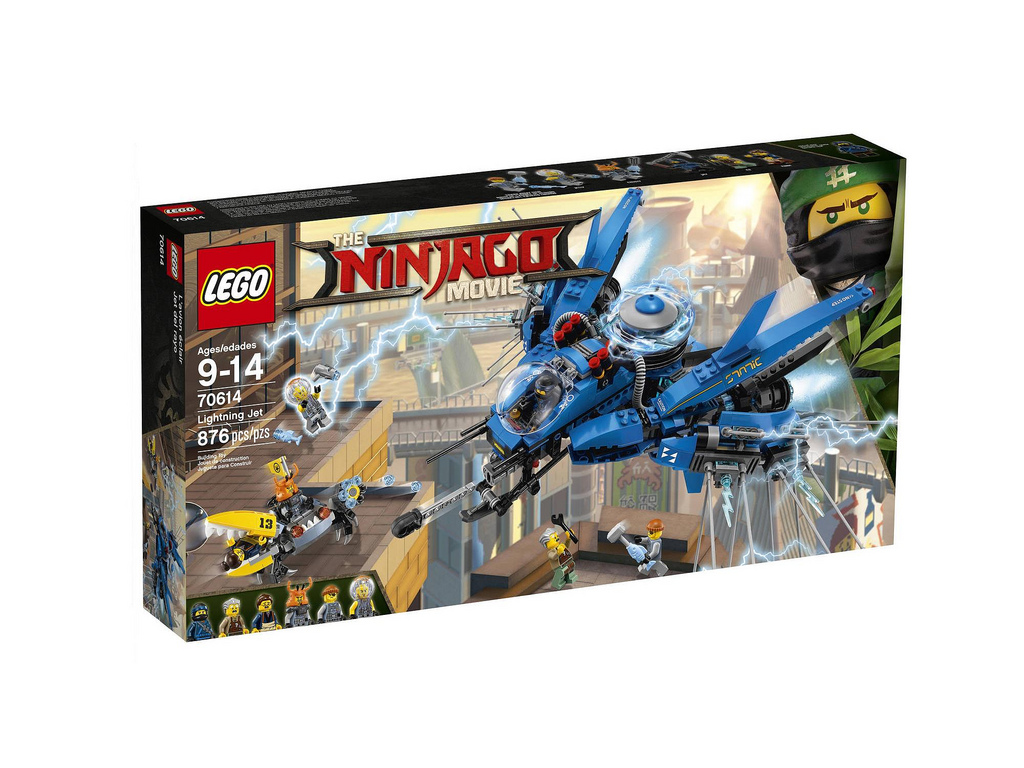 Jay is the master of lightning, so it's only right he has a flashy Lightning Jet
to get around. Fitted with special weapons, this jet is the quickest of the group and will find and destroy the Shark Army Gunner, Sensei Yang, and even Shen-Li if it turns out he is pretending to be a friend.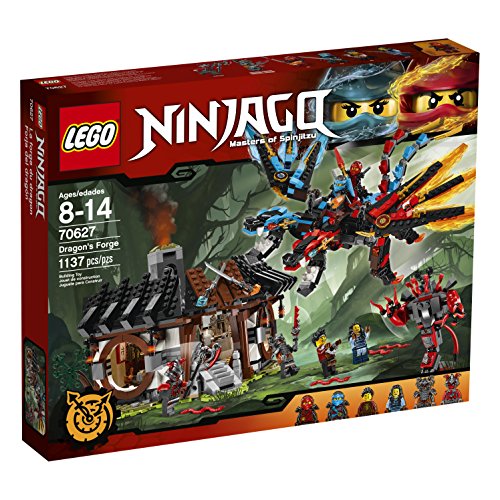 Take over the vicious Dragon Forge with the help of ninjas Kai and Nya. Fly on the back of a powerful dragon to retrieve a mythical blade that will supply you with the power you need to fight back the enemy armies, and save your families.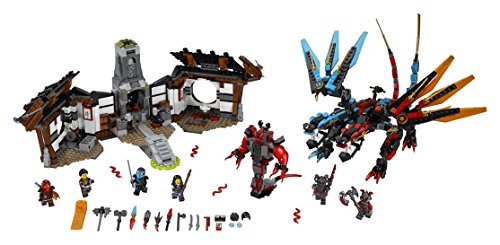 Ninjago is a popular television show (now to be featured as a theatrically released film) but you don't need to be a fan of the program to enjoy this beautiful and intricate set.
The two-headed Fusion Dragon is completely posable, with two seats for mini figures and a crossbow to shoot at the Buffmillion mech. There are six figures in all.
For Ninjago fans the Master Falls set is a must because of its epic scope and ability to be used in endless play scenarios. Kids can explore the "jungle" with Master Wu and defend against hidden enemies, using the cage to lock up Garmadon or any other evil doer who comes their way.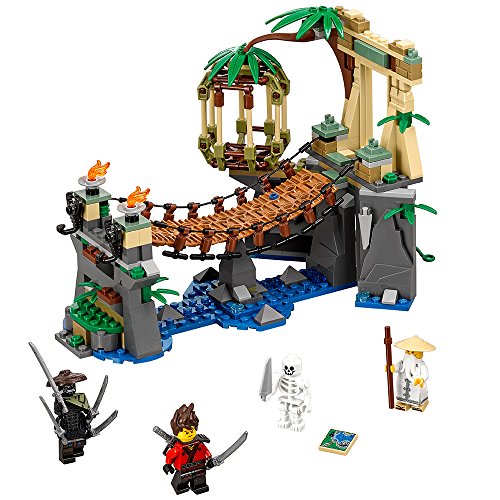 Kids will get a kick out of having the figures racing across the bridge to find the hidden skeleton and other unique features. This set has 3 figures, a cage that opens, and a fun hidden cave to put the skelton or even hide one of the good guys. And the realistic leaf elements will make kids think they are right back in the movie.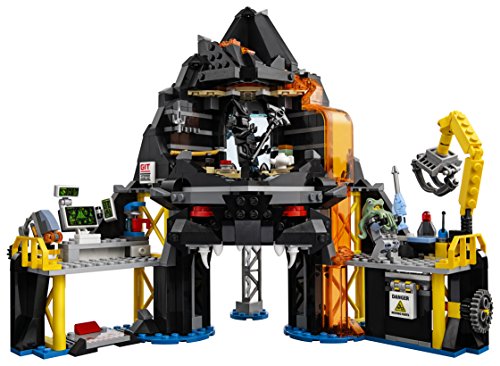 You can't have Lego Ninjago sets without Garmadon's lair, which is massive in both size and presence. Kids will get lost in this set, which features so much to do and see, from >the weapon's rack in the throne room to the fire and water elements that sparkle and shine.
The clever entrance looks just like Garmadon's face and there is a computer lab for Garmadon to plot his next evil plot and find out what the others are up to. This kit has 5 figures, including a shark that can be used to "guard' his lair.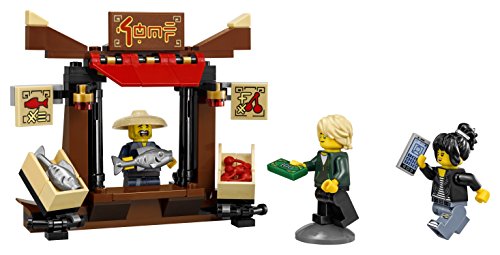 Everyone loves a good chase scene and now your kids can reenact the one from the movies with this awesome kit. Boys and girls can build and then set-up the authentic street scene, which features a cool food stall with cherries and fish carts, street signs, and hanging lanterns that create a magical setting.
Then there's the police tuc-tuc vehicle, which has a back seat for either friend or foe to occupy. Kids can have the figures, like Nya, use the cute Lego money to buy food, then have them run off quick when Garmadon shows up! There are 5 figures in all, including Nya, Lord Garmadon and the Shark Guy, ad this set compliments all the others.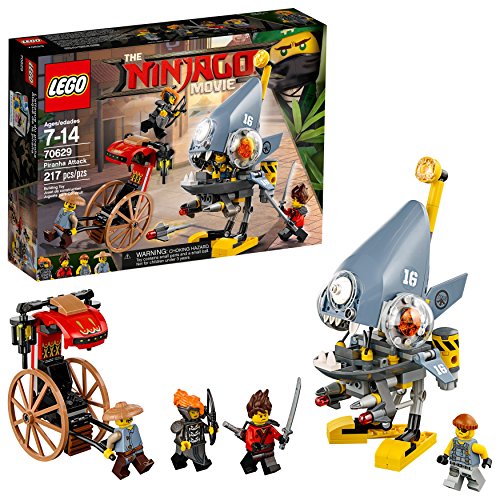 A favorite villain from the Ninjago movie, the Piranha Mech will be hard for Llyod and the others to defeat; but boy will kids have fun trying. The Piranha Mech has working weapons, so it can be flown all over, shooting down the other figures with the 2 flick missiles.
And once the piranha catches up with someone Misako can finish them off and sink her teeth into them thanks to a jaw that snaps opens and closes. The mech can also find almost anyone thanks to a periscope that can detect underwater movements.
The beauty of this set is it is a land/water one, allowing for more areas to explore. And it comes with 4 figures, so all the kids can get in on the action.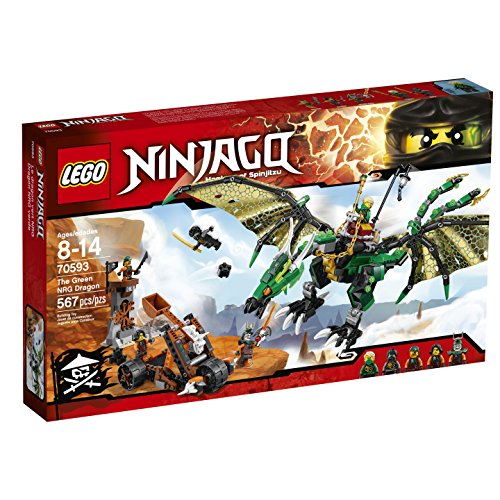 Wage war on the pirate tower with the help of the enormous and fearsome NRG Dragon, a fearsome beast that is sure to turn the tides of battle firmly in your favor. Just be glad that this behemoth is on your side.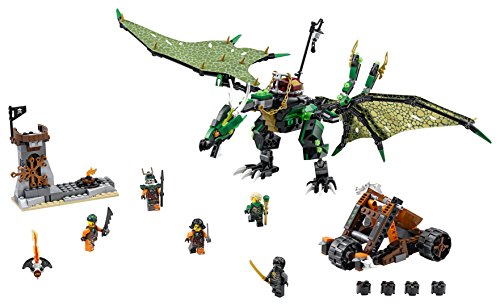 The exquisite detail of this dragon is enhanced by the fact of its malleability. Every part moves, so your children (or you for that matter) can enjoy hours of fun moving the legendary beast into dynamic poses. This gorgeous set will serve you as a toy as well as it will a display piece.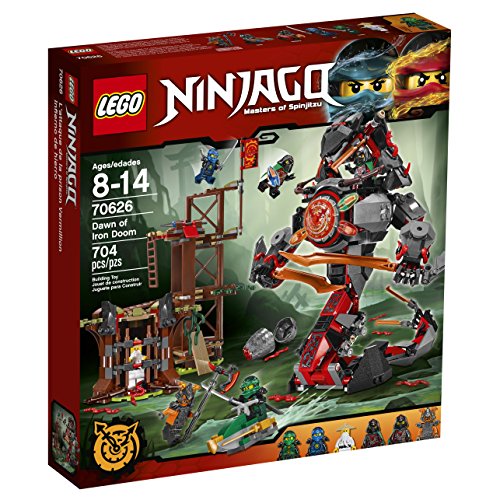 The mission is simple: ninjas Lloyd and Jay have been tasked with rescuing Master Wu, and stopping the evil Time Twins from taking over time. Ok, maybe it's not so simple. Jay and Lloyd will have to work harder than they ever have to navigate the Dawn of Iron Doom Temple, fight the Snake Mech, rescue their master, and save the world.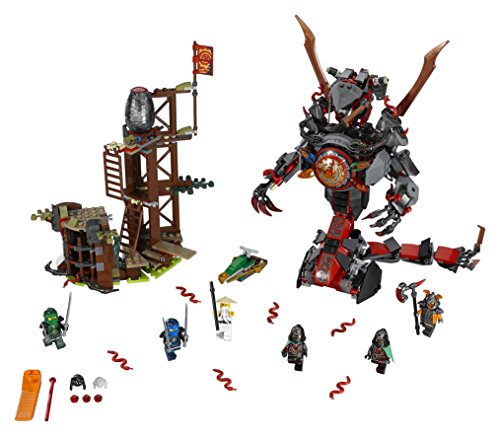 This massive and highly detailed set comes straight from the show. Reenact scenes with your favorite characters, and save the day from the comfort of your own home.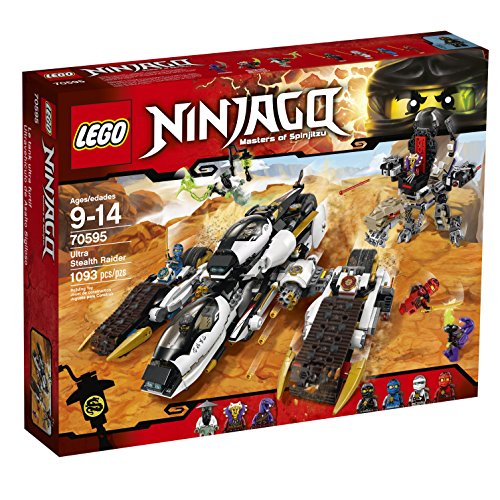 Ninjas Cole, Zane Jay, and Kai must face off against Master Chen, Master Yang and their snake warriors. The odds may be against them, but fortunately they have will enjoy help from the Ultra Stealth Raider, a massive tank fully decked out with lasers and missiles that will make short work of the ninjas opponents.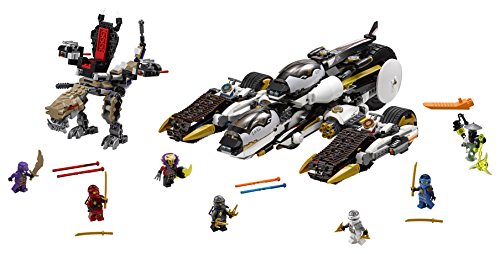 This is another set that is designed after a scene from the television show, but you don't have to be a fan to enjoy the detail of this awesome and extensive set.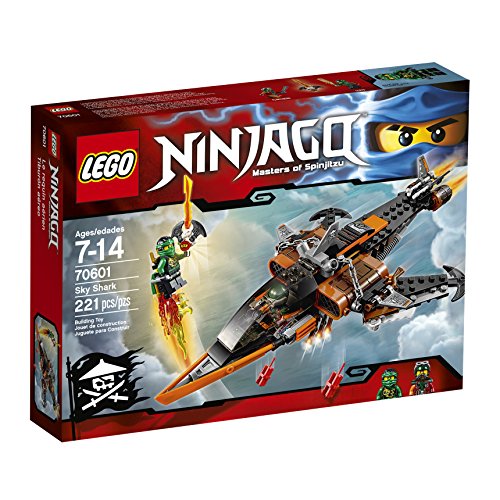 Fight as the ninja Lloyd against a viscous, fully equipped jet known as "the Sky Shark." With fold out blades, six guns, a sword, and the ability to drop dynamite,
this impressive fighter has certainly earned its name
, but don't let that intimidate you. Lloyd comes equipped with his jet pack and his wits as he sets out to defeat the Sky Shark.
This set is relatively simple but ultimately of very high quality, allowing fans of Ninjago to recreate a titular scene, and allowing fans of Lego to have fun building this beautiful and intricate design.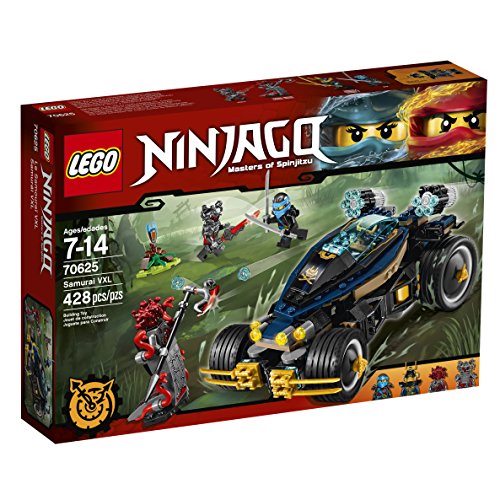 Your kids will have hours of fun helping Nya and Samurai X as they try to capture the fast forward time blade. Using the Samurai VXL vehicle they'll race around Ninjago (or your living room) using the six-stud shooter to defeat the vermillion warriors. The vehicle has a usable cockpit, tilting four-wheel drive steering for greater maneuverability and oversized rubber wheels to drive over any terrain- or enemy.
Comes with four mini figures: Nya, General Machia, Rivett, and Samurai X, and assorted weapons, for endless play scenarios.
Sets from Previous Years: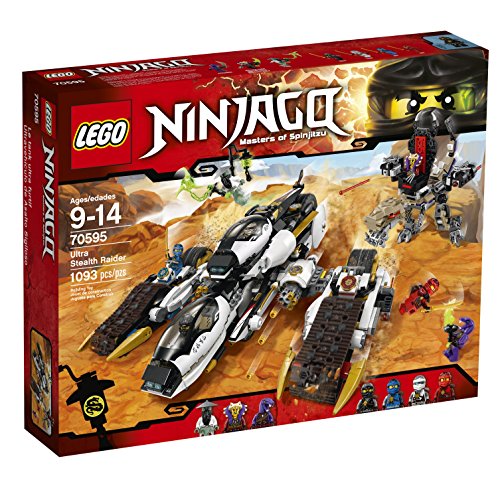 Featuring the 4-vehicles-in-1 Ultra Stealth Raider and 7 action figures,
kids will love
flying around the
house pretending
to pilot these bombers and shooting at the enemy. Also, comes with golden ninja swords and Chenosaurus.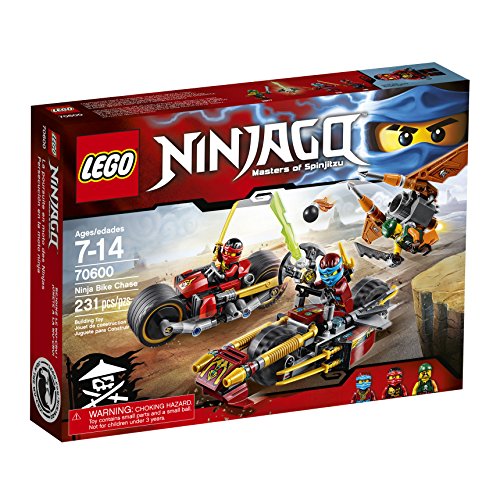 Get ready for your kids to embark
on the ride of their life with this set, which has Kai and Nya's bikes, along with a pirate flyer. Kai's bike has hidden blasters while Nya's bike has a movable water cannon to "shoot" the enemy with.
Comes with 3 figures
: Kai, Nya and Sqiffy, and weapons.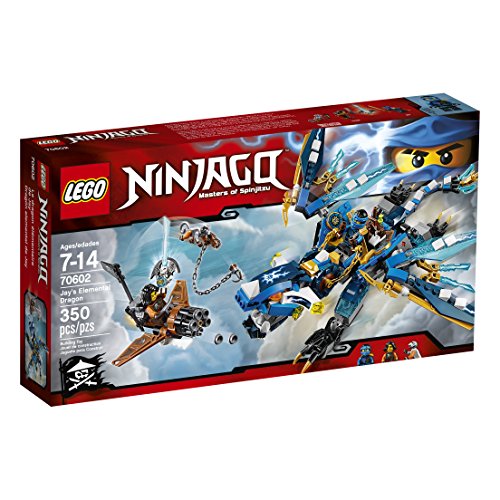 This set is
one of the most versatile
,
thanks to the unique ball
and joint make-up of Jay's Elemental Dargon, allowing kids to pose him in unimaginable ways.
The head, feet, tail, neck, mouth and teeth can all be moved for realistic play, as kids can imagine chomping and snapping at Lord Garmadon. Comes with 3 figures and a pirate flyer.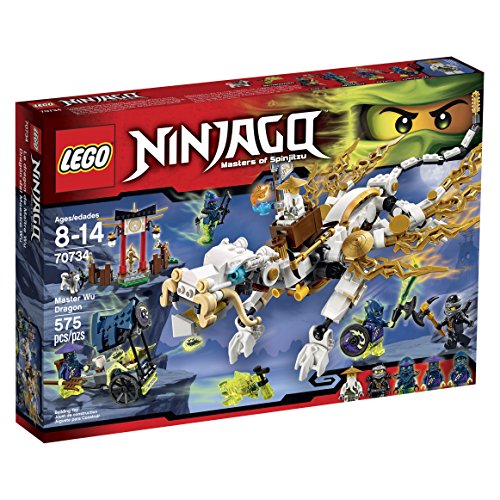 Sensei Wu cannot
win without his fierce dragon
, and neither can your kids. Measuring over 7" tall, and equipped with shooters and ghost discs, this dragon could be
the key to victory
.
Set also includes a possessed rickshaw and Aeroblade temple.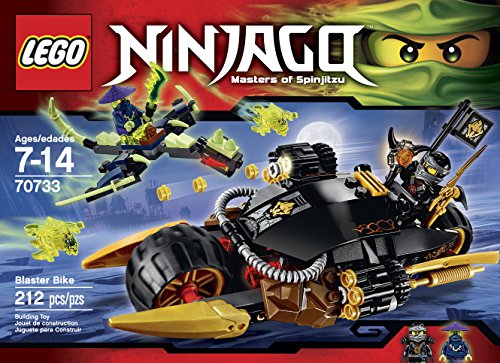 Kids can evade the Ghost Dragon after they build this cool blaster bike. Fitted with 6 rapid-shooters, the bike folds out for
multi-play scenarios
. Set
comes with the bike
, Ghost Warrior Cowler with see-through legs and Aeroblade.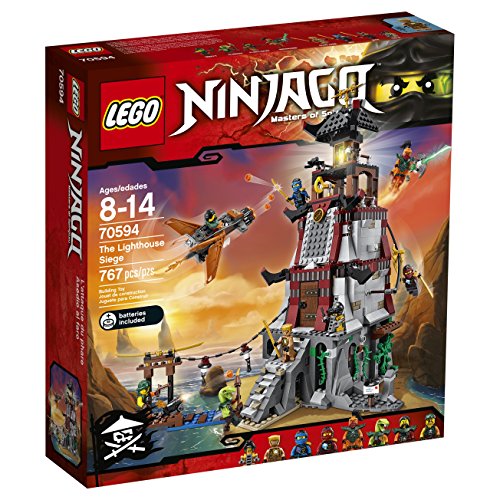 Fitted with a host of interactive elements, this is one of the Ninjago series
most impressive sets
. The Lighthouse and jetty are perfect for
creating the ultimate battle scene
, complete with a glowing brick "light" on top.
There is a lab, prison, trap door and collapsing floor for hours of imaginary battles and lots of accessories, like the Teapot of Tyrahn, dynamite, syringe, wrench, drill, and more. Includes 7 mini figures so everyone can play.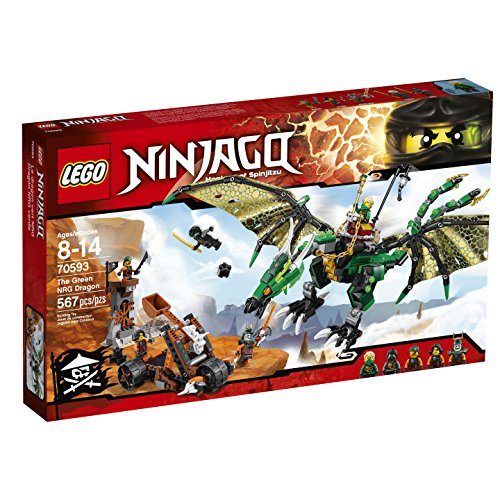 Soar through
the air and attack the pirate tower
with the fearsome Green NRG Dragon. Measuring over 5" tall, with moving, foldable wings for kids to "flap," the dragon comes with Green Ninja Lloyd and a saddle for him to ride on.
Everything on the dragon can be moved and posed, so kids can stalk, stomp and more as they go after Ghost Cole and try to protect the Djinn Blade. Comes with 5 mini figures: Lloyd in Sky bound outfit, Ghost Cole in Sky bound outfit, Bucko, Cyren and Battle Doubloon.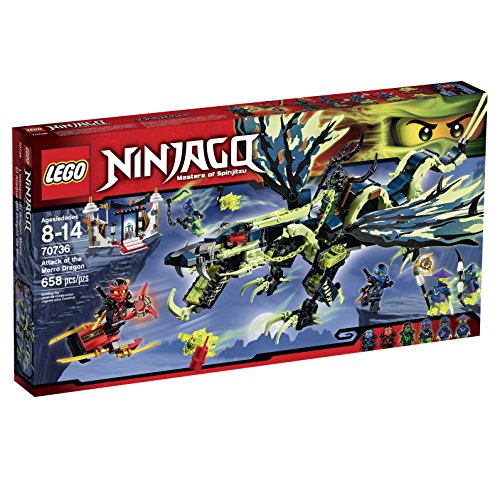 With this set kids will be ready to take on the Scythe Master and Ghost Ninja with Ronin's 2-in-1 R.E.X.
Kids will love the detachable flyer feature
: when the pull the rip cord they can "drop" down into battle on the Airjitsu flyer.
The 2-in-1 R.E.X. airship has a cockpit that opens, along with rotating blades that are also activated using a rip cord. Kids can pretend to be Ronin, steering and shooting at Ghost Ninja Attila, with transparent legs, perched atop the ghost dragon.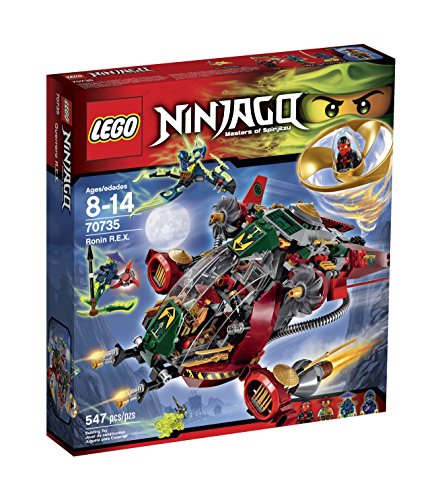 This
kit is packed with figures and vehicles
to help kids create the ultimate battle scene. To start, Destiny's Bounty has movable sails, a rotating harpoon to shoot and Nya's lab hidden under the roof, so kids can wage war at sea.
Ghost Dragon is also included, and completely posable, so kids can have him attack Destiny's Bounty with those fierce, snapping teeth. Soul Archer, complete with transparent legs and armor, completes this delightful set.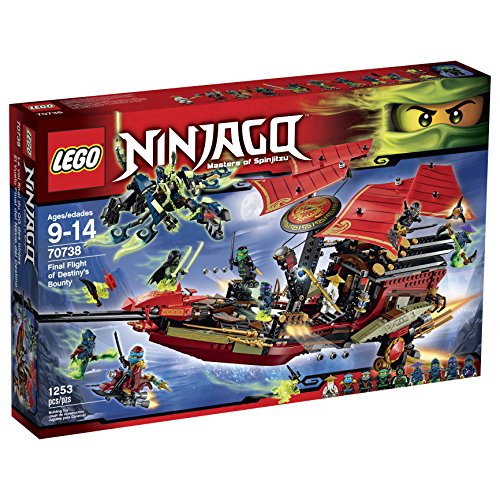 Kids will get a kick out of this set
, thanks to all the
moving parts and play scenarios
. Misfortune's Keep is a pirate airship full of secret compartments and weapons. Featuring a cockpit that figures can sit in and moving motors and propellers with the pull of a lever, kids will feel like they're flying and fighting.
There's also a detachable boat for a quick getaway, multiple weapons, a pirate flyer and 6 mini figures.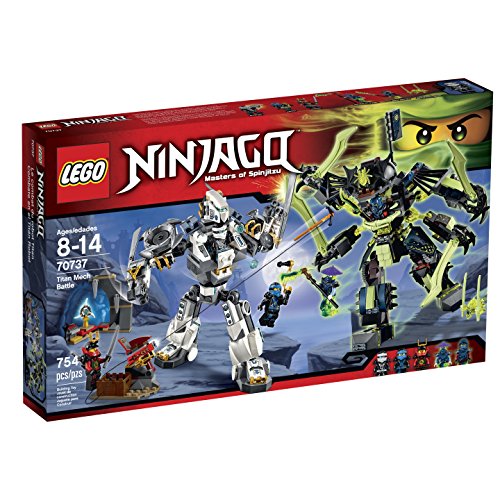 It's the battle of Bansha's 4-armed Mech-enstein versus Zane's Titan Mech come to life with this
realistic and fun set
. Complete with Nya's cave and rocket booster backpack, kids can fire Titan Mech's stud shooters and pose him in various ways. They can also pose Mech-enstein, who wants the Aeroblade.
Both have open cockpits to pose figures and come with various weapons.
Lego Ninjago: A Land of Mystery & Creativity
Welcome to Ninjao, a land where good and evil are constantly battling for control. Led by Sensei Wu, a brave team of ninjas must learn the way of an ancient battle style known as Spinjitzu to beat the evil Lord Garmadon. Lord Garmadon is the leader of the underworld, and Sensei Wu's brother, so it will take everyone working together to defeat him.
Now, is your chance to join the battle and defeat evil once and for all. Grab one, or all, of these Lego sets so your kids, and their friends, can imagine themselves as those brave warriors battling to save Ninjango. Their imaginations will soar as they discover these delightful characters, and maybe, good will triumph over evil.
I hope you had as much fun as I did discovering the Best Lego Ninjago Sets for Kids. Interactive and great for sparking imagination, these kits make the perfect gifts for kids of all ages. They help bring this magical world to life, and let kids be kids, which is a gift in and of itself.