Best LEGO Super Heroes Sets (2018) Kids Will Love
LEGO playsets are among the best gifts that you can give to your little ones. Regardless of the nature of the occasion, these toys will always draw a smile from them and put giggles on their faces. Among the LEGO collections available, the LEGO Super Hero sets are the best that you can give as a present. After all, nobody can resist these awesome and cool LEGO bricks!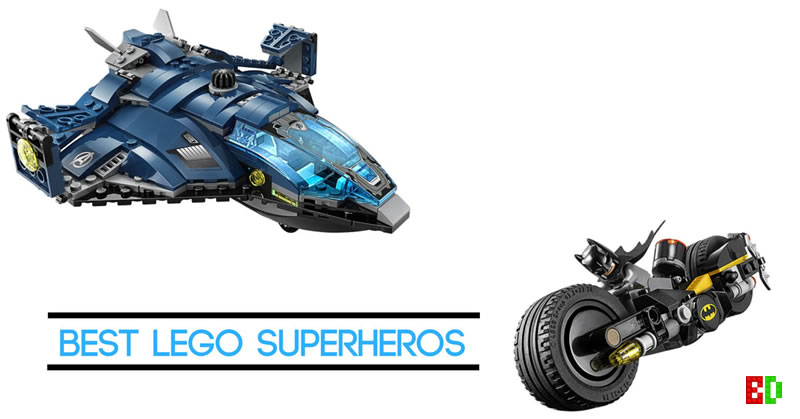 Since its inception, LEGO has been creating a myriad of series for their toys. From movies to animated series, they all have it. However, their best-seller is arguably the Super Hero Sets. These LEGO sets include replicas of Iron Man, Batman, and other renowned superheroes, which are all loved by children! So why not head over to the toy store and get the best Super Hero Legos? your kids or nieces and nephews will love you for it!
Top Rated LEGO Super Heroes Sets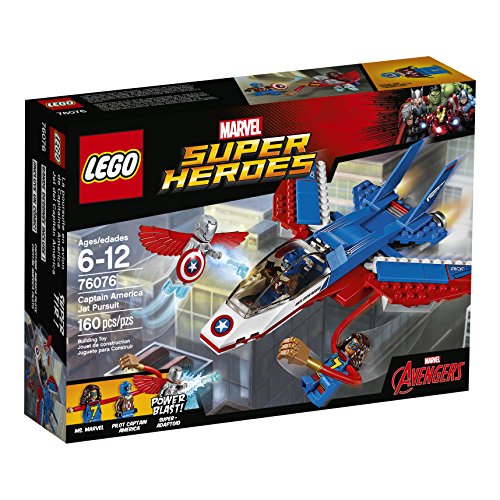 Captain America is one of the coolest superheroes in the Marvel universe so it makes sense that his jet is just as cool.
Featuring Ms. Marvel's oversized hands to save friends and disarm enemies, along with moving wings, thrusters, and disc shooters.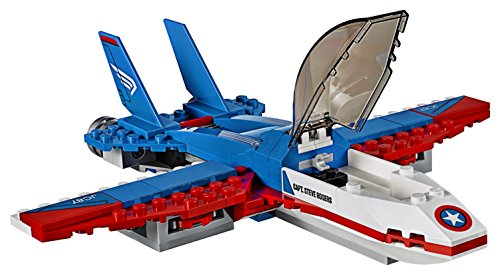 Kids will be flying it all over the house as they tru to defeat Doc Ock, Loki or any of the other bad guys!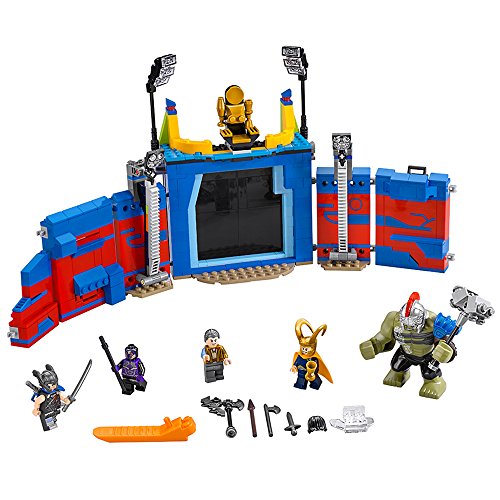 Sure, the Hulk and Thor are friends, but that doesn't mean they can't throw down when they get on each other's nerves; and this set from the Thor: Ragnarok is just the place for them to do it. There's an awesome mechanism to have Thor, or Hulk, "jump" off the top wall and a wall to Hulk Smash, for realistic play kids of all ages will get a kick out of.
Best of all, it comes with a comic book to get kids playing and reading!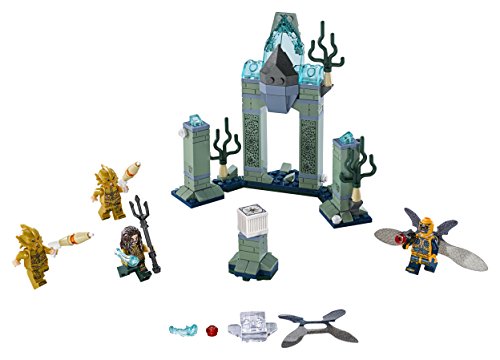 Fresh off the heels of the Justice League movie and just in time for the release of the upcoming Aquaman film is this jaw-dropping "underwater" kit.  Featuring a looming archway they can knock over and pummel and a Parademon with a Super Jumper, kids can stage epic good vs. evil contests right in their room.
Comes with Aquaman and 3 other mini figures.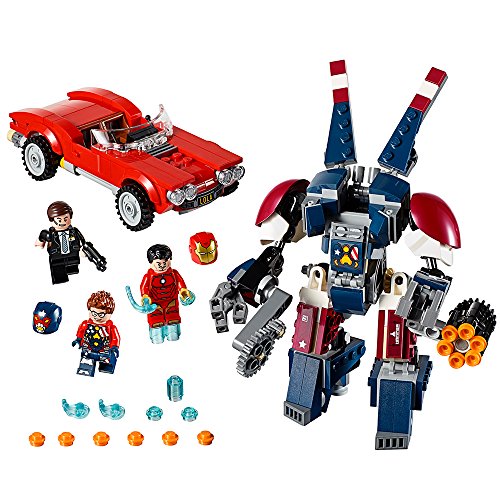 Tony Stark, aka Iron Man, is known for his sarcasm and ability to build incredibly cool machines and now you can be too once you put together his mech. With movable arms, a wicked chainsaw and rapid-fire gun the bad guys won't stand a chance.
The mech converts into a sleek convertible- what else would Tony drive? and it comes with 3 figures including the one and only Iron Man.
Smallville, the place of Superman's birth, is also one of the longest-running shows on TV and now you can recreate some of your favorite moments from the series. There's a cool offroad vehicle for them to pretend they're racing along the road and a dropship with wings that move and a spinning cannon underneath to defeat General Zod and save the Kryptonians.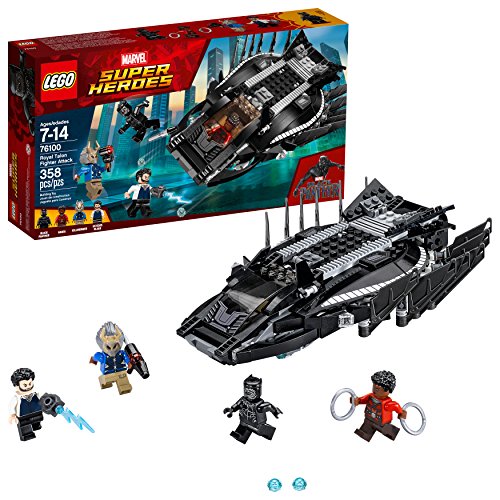 Black Panther has quickly become a fan favorite and so will his vehicle once you build it. Sleek and impressive like the Panther himself, kids can take on Killmonger and Klaue with ease thanks to the missile shooter and jail cell in the back.
Comes with 4 figures, including Nakia and his awesome disc blades to chop down enemies.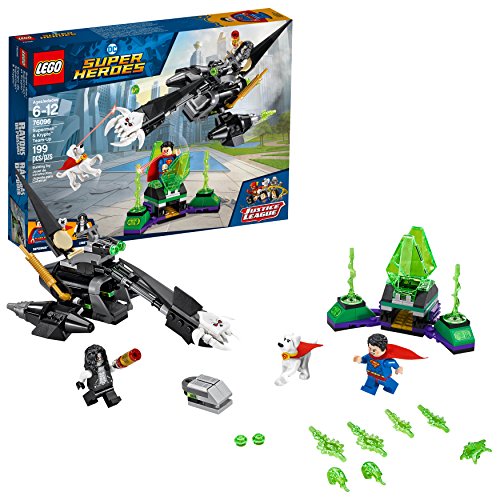 Krypto really is a super dog, helping the Man of Steel take down enemies left and right in this super fun set. The star of this set is Lobo's Space Hog bike, which is one of the best vehicles in all the Lego kits. It has a bomb to drop on the bad guys, shooters, and best of all, a kryptonite jail that "explodes."
And of course, it has Krypto to sniff out the enemies and bring them to Superman!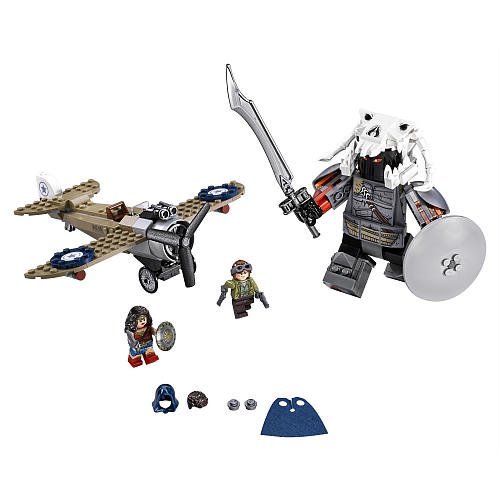 No one is more fierce than Wonder Woman, one of the all-time greatest superheroes and now you and your kids can wage war with her thanks to this set. Featuring a cool plane with a working propeller and shooters to defeat Steppenwolf or anyone else who dares to do evil, little girls have a great role model and can get in on the action.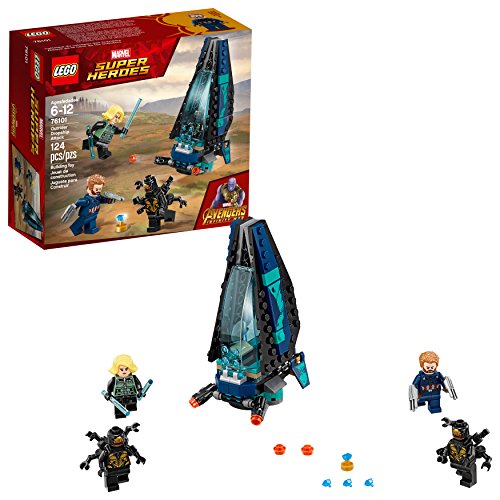 Infinity Wars is still in theaters and now you and the kids can reenact your favorite scenes using this kit. After you build the dropship you can have Cap and Black Widow find and defeat Thanos and save Wakandan once and for all! and of course, they can use their imagination and battle any other villain they choose.
Comes with 4 figures, shooters and the incredible Infnity Stone element.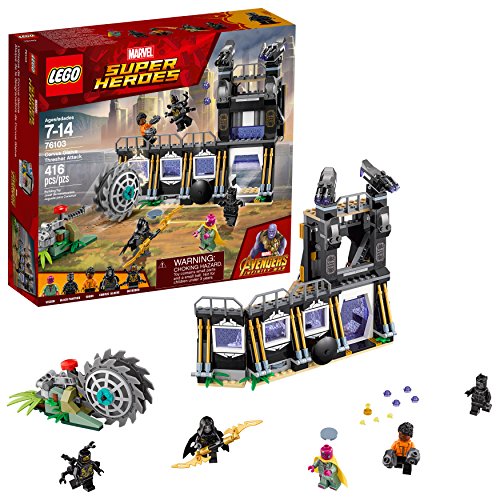 Keep Wakanda safe and make sure Thanos doesn't destroy the city wall with this fearsome set. Black Panther, Vision, and Shuri are all here and have some great weapons, including stud shooters and a thresher that can "flip" the tables on the bad guys!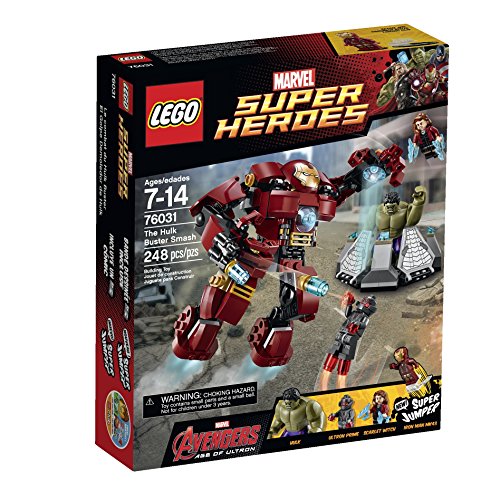 The Marvel Universe first featured The Hulk Busteron the second installment of Avengers. Its appearance awed many children (and even adults), especially when it fought toe-to-toe with the Hulk! Now that it has a LEGO counterpart, would you dare take a chance and miss it?
The LEGO Super Heroes The Hulk Buster Smash features a cockpit for Iron Man. It also includes a mini-figure and accessories of the Scarlet Witch! Meanwhile, the Hulk Buster has adjustable legs and arms. You will also love that it has the iconic Ultron Prime thrusters!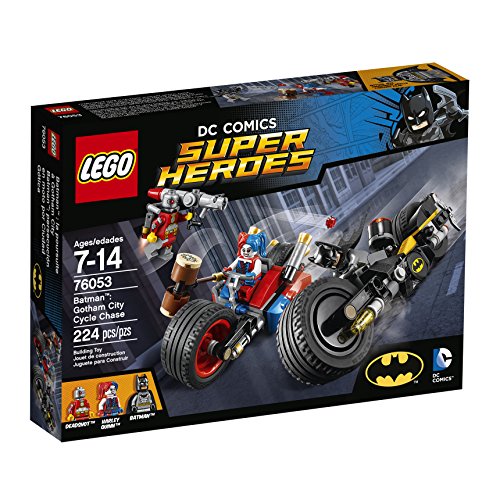 Kids of all ages want to be Batman! An if they can't be, they can at least relive the adventures of the "Caped Vigilante." To ease your eagerness, why not purchase the Gotham City Cycle Chase Lego play set?
This toy collection features the iconic big-wheeled Bat Cycle! Of course, the chase wouldn't be complete without the Joker's right hand, Harley Quinn! If that doesn't satisfy you, then the presence of Dead Shot surely will! So gear up already!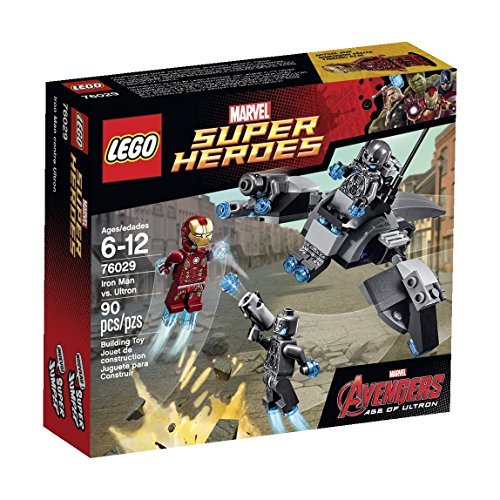 We all know how Ultron started. Even non-Marvel geeks are aware that Tony Stark played a part in the story. So naturally, Iron Man shares the daunting task of seizing Ultron on this LEGO Superhero Set! You can tackle all of Ultron's Army when you equip Iron Man with his MK45. Of course, Iron Man will also need you to put his stud shooters and super jumper on to bring the fight to Ultron! However, the fight won't be easy, since  Ultron has a mechanized vehicle that sports two antennas and flexible wings!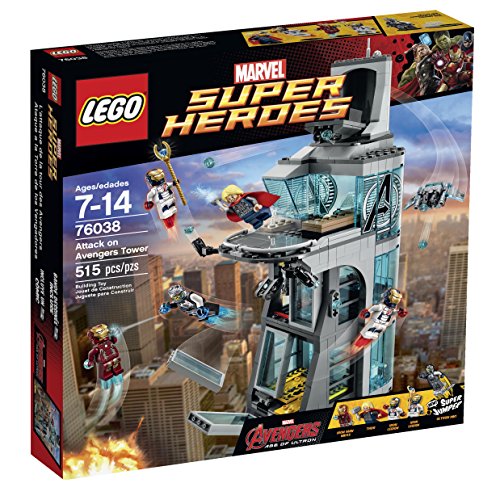 Relive the epic showdown of the second Avenger Movie by purchasing this LEGO play set. This building kit gives you a replica of the Avengers Towers, with complete accessories like the JARVIS Control Room, laboratory, and analysis lab. More importantly, the excitement goes to another level, as several mini-figures of Ultron Mark 1 and Iron Legions will be storming in as well.  Meanwhile, your comrades Thor and Iron Man won't just the let the fight go easy! With all these characters present, your kids can always have the ultimate superhero !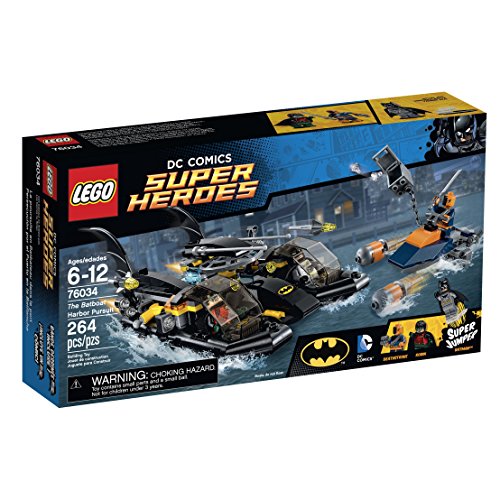 Here is another LEGO building kit that will give your children a fun time is the Batboat Harbor Pursuit Building! We all know that Batman can handle all terrains and this one is no exception! When the Dark Knight is on unstable waters, the Batboat gives him the superior mobility to chase down the bad guys!
This time, Batman will be joined by Robin in chasing down the elusive marksman Deathstroke! You have to help the dynamic duo to stop Deathstroke from taking down the radar tower! Don't worry! The high-impact torpedo missiles of the Batboat will give you a lead on the chase!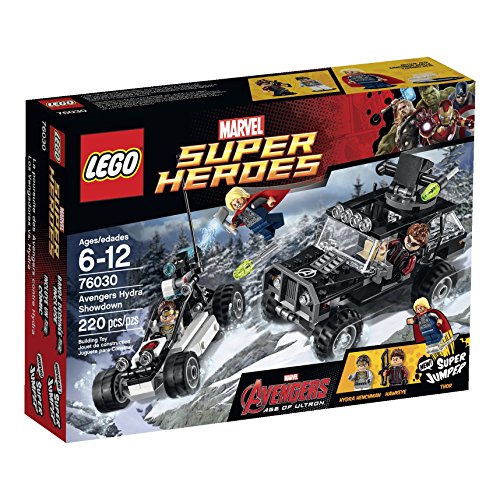 Before Ultron, it was Hydra that the Avengers fought to get Loki's scepter! The snowy terrain and the endless arrival ofHydra's forces made it a real challenge to our superheroes! It was an exciting scene, which is why LEGO created this Hydra Showdown- to make sure that the action won't be lost! Join the entire crew of Avengers in storming in the hideout of Hydra. Drive the high-octane S.H.I.E.L.D. vehicles so that you can track your enemies effectively! Thor, Captain America, Hawk Eye, Black Widow, and the rest will be aiding you!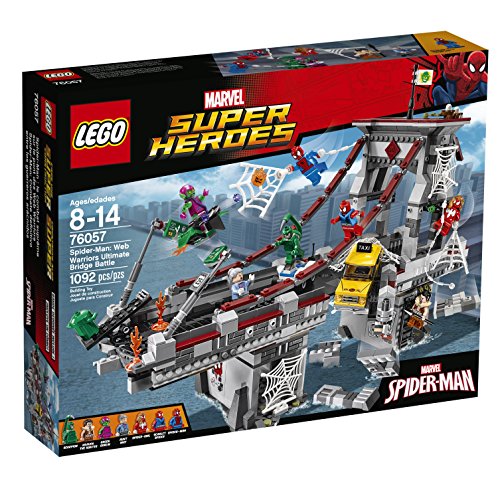 Spiderman is everyone's favorite. He is one of the most enduring icons of Marvel, with dozens of movies and animated series on his back. So naturally, LEGO wouldn't pass up theopportunity of turning Spiderman into their ally!
With this Web Warriors Ultimate Bridge Building Kit, you and your kids will be able to join Spiderman in fighting the forces of Green Goblin! The action will certainly be dynamic, as the bridge has a removable road that you can use in your own favor. However, you should be careful, as Green Goblin will just be storming you on his Glider!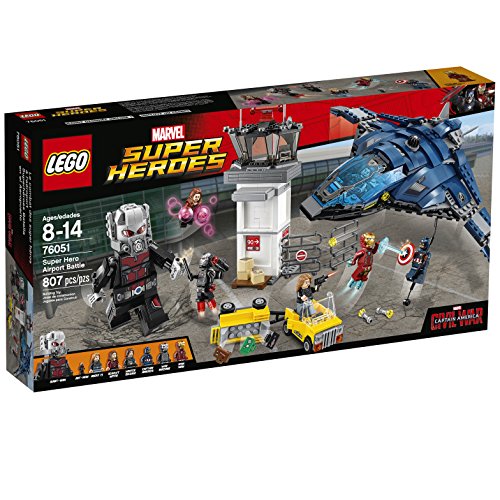 The Captain America: Civil War installment is proof of the destruction that can happen when superheroes go against each other. Anyone who watched the movie was at the edge of their seats while watching the battle that took place at the airport! Well, you can recreate that action again with LEGO playset.
It comes with the Air Traffic Control
Tower as their primary battleground. Mini-figures of Captain America, Winter Soldier, Scarlet Witch, War Machine, and Iron are all here! Of course, it won't be complete without the Giant Ant-Man smashing around!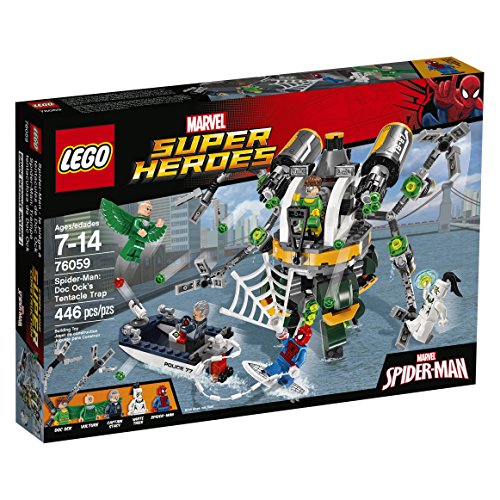 The rivalry of Spiderman and Doctor Octopus is always fascinating, and your kids will really love to see their clash if you give them the opportunity! Luckily, it is possible, thanks to this Spiderman LEGO play set!
This time, let your kid join Spiderman and White Tiger in dealing with the Octo-Bot. The fight won't be easy, as the Octo-Bot comes with a dual six-shooting rapid shooter and the iconic swerving tentacles of Dr. Octopus! Good thing, Spiderman got his surfboard to ensure that he can keep up with the high-speed action!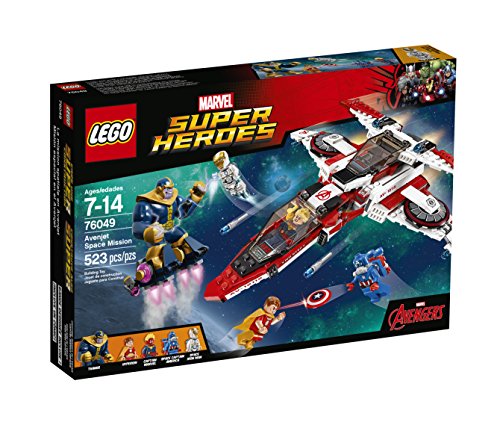 The Infinity War arc of the Avengers is one of the most awesome chapters in Marvel History! The rise of Thanos and his Infinity Gauntlet almost wiped out the entire human population! This is the reason why you have to join the mighty heroes of Avengers in their mission to defeat the Mad Titan!
Use the Avenjet so that Captain Marvel, Iron Man, Hyperion, and Captain America will be able to reach Thanos before it is too late! This LEGO play set comes with the space suits of Captain America and Iron Man so that they can be able to fight in space!
Summary
Choosing the best Superhero LEGO playsets as a gift for your kids (or to yourself) is not a waste of money, or time. Their superior construction quality ensures that they will last long! Moreover, having these collectibles will always make you remember the superheroes that once saved your day from boredom!