Toy Story Lego Sets For All Ages The Dusty Trail, Infinity and Beyond!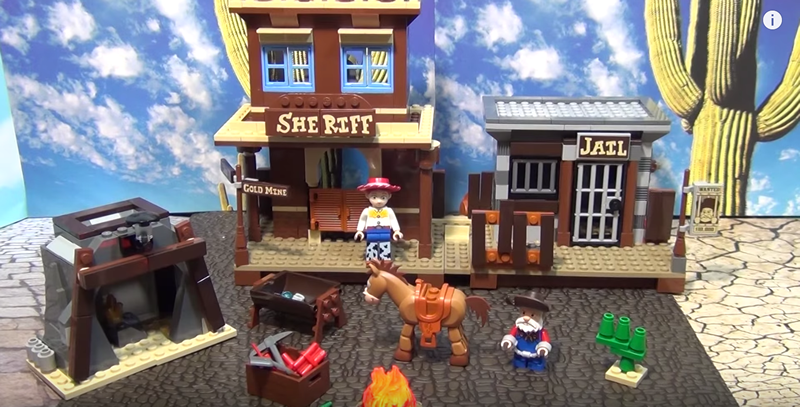 Credit by YouTube
How many times have you seen Toy Story? This classic children's movie is the perfect example of Pixar- as one of the first fully animated full-feature length film warmed children's hearts and taught us all a little more about being a great friend- a best friend! Share these memories with your child in a way they'll cherish forever and possibly never get the chance to again. These rare and exclusive Toy Story Lego Sets are going extinct! You better hop on Bullseye and head to the Saloon and grab these special "TOYS" before they're gone.
In fact, the Toy Story Line was only marketed for one year, which means there's not a whole lot of chances left to get these gems, and once they're gone, they're gone. Plus, they're all unique to the Toy Story Universe! Hop into the Toy Story 2 or Toy Story 3 world today with some of these truly unique toys, relics of our earlier years! Some of these sets only have around 2,000 known purchasers, so they're definitely going to be worth something if you're a serious Lego set collector.
Here are some of the most popular sets out there- that any true fan would love:
LEGO Disney/Pixar Toy Story Pizza Planet Truck Rescue Set
Who could ever forget that iconic Pizza Planet truck. Oh, so many memories were made at Pizza Planet- ever since the beginning of the first movie that started it all. This particular Lego re-enacted scene is from Toy Story 3- and this exciting set is sure to get the ball rolling.
It comes with all kinds of features- 4 mini figures- including Buzz Lightyear, Rex, Alien, and even Hamm- take part in this amazing car chase scene with a truck that shoots pizzas! With 224 pieces, this truck is rated for anyone over the age of 6.
LEGO Toy Story Army Men on Patrol
For around $27, you can get one of the most iconic and memorable parts of Toy Story- those funny little soldiers. They were always so busy- always doing something- and now you can too! With only 90 individual pieces, this toy set is one of the most sturdy of the entire toy story set, and comes complete with a gun-toting soldier, a medic, a medal detector soldier and a Walky-Talky and a backpack.
They all fit in the completely buildable army jeep with fully functioning weels. It makes an excellent addition to any collector's set- and is probably one of the more iconic sets out there.
LEGO Toy Story Lotso's Dump Truck
The Lotso scene that this set refers to is all about the newest Toy Story 3- and boy was it suspenseful. Relive some of the action with this awesome set- complete with dump truck driver, lotso, chunk and stretch- out on patrol to make sure that everyone is doing what they're supposed to- and to of course give our heroes a good welcome to their new home.
Live out your favorite parts of the movie, just like on the big screen with this awesome 129 piece set. The dump truck is about five and a half inches tall, and three and a half inches wide with a fully functioning tipping mechanism! How cool is that?
LEGO Toy Story Mini-figure- Woody
The set just isn't complete without a Woody Mini-figure. This Woody figure is taller than most, standing at about 2 and a half inches tall, and he looks exactly like he does in all of his adventures. If you own a Toy Story set, or plan on buying a Toy Story set- you know as well as I do- like in Toy Story 2- you absolutely have to have a woody mini-figure.
He's a little pricey, at about $10, but if you want a Woody figurine- they're hard to come by. After a little bit of searching you'll find out just how unique Woody really is. Relive all your favorite Toy Story memories, and help your children make their own!
LEGO Toy Story Woody and Buzz Rescue
What better Lego set for your kids that the most memorable scene in the Toy Story series- when Buzz and Woody inevitably get left behind at Sid's with a rocket tied to their backs- only to get saved by RC in the nick of time, keeping their hopes alive of catching up with that moving truck! RC is completely operable, and a pull-string makes him speed on down the street in style with Wood and Buzz mini-figures "strapped" to the back.
Pull back RC to give him the boost he needs to catch up with that truck- on a high speed mission with an exploding rocket strapped to their back- and this rare set can be yours for less than 60 dollars- plus you get Woody and Buzz in the same set- the only possible way to get them both at the same time- for you real collectors out there
LEGO Toy Story Buzz's Star Command Ship
What better toy than the toy that started them all in the very beginning of the movie- when Buzz "crash lands" on Andy's bed? Plus, it comes with a functional Zurk and a small rover for Buzz! With 257 pieces, this set is perfect for your kid who loves space, Toy Story, and building awesome Lego figures they can be proud of.
For less than $60, you can be one of the few people who have a set that's definitely going to be worth something, some day. Super detailed and completely decked out, they're sure to love it!
LEGO Toy Story Woody's Round Up
If you've wanted the Round-Up gang set, this one is the perfect set for you. Get Prospector Jack, Jessie, Woody and Buckeye and go catch up some outlaws and make em reach for the sky! After that, toss 'em in jail and sit back in the sheriff's office while Jessie and Woody go wrangle up some adventure while Prospector Jack looks for some loot! Enjoy the fun with this exploding jail wall, and catapult trapped pavement to guarantee that Woody and the gang come out on top.
LEGO Toy Story 3 Exclusive Limited Set- Garbage Truck Getaway
This Toy Story 3 set is great for those that love the third movie with Lotso! This perfect reminder of the action scenes in the epic third saga of our heroes. We seem them in deep conflict, headed for certain doom in the bowels of the dump truck, definitely dealing with the worst of times.
With over 400 pieces, it's perfect for anyone over the age of 7, and it comes with Jessie, Buzz, Twitch and Lotso. Can you and your child save them from the dumpster?
LEGO Toy Story Western Train Chase
For around $150, this set is one of the most expensive out there- and it's a uniquely Toy Story 3 scene with Buzz, Woody, Jessie, Bullseye, and the infamous "Evil Doctor Porkchop" in this western themed rolling locomotive. Not only is it incredibly detailed and nearly 600 pieces, three doors on the train open, there are several roofs, and they all have rooftop traps.
It's fully compatible with Lego train tracks, and works well with existing equipment- and makes an amazing, albeit expensive, piece of your collection.
LEGO Toy Story Construct a Buzz and LEGO Construct-a-Zurg Toy
These toys go amazingly fast. They're both very special, and quite a bit larger than most Lego toys. Plus, they're fully functional. Buzz has operating wings and "laser" shot, with an adjustable visor. He's kind of fragile and makes a great collector or display piece- unless you glue him all together he's simply not built for play time.
Buzz stands at over 7″ with a 7″ wingspan, towering over most Lego merchandise. This Buzz isn't playing around, as he gets ready to deal with Zurg- who's making an uprising and has called Buzz to the center of the dais to solve this problem once and for all!
Zurg himself is built to fight- and with a fully operational, multi-shot cannon, he has the clear advantage over Buzz. Standing a little over 9″ tall, Zurg's waist completely spins so that he can fire on whoever he has to! Prepare to be amazed as these two do battle, firing surprisingly powerful projectiles to destroy the other.
Get One of These Limited Edition Sets Today! Don't Miss Out on the Chance of a Lifetime!
It's not every day you can get your hands on these sets- especially some of the more rare ones- and you'll probably never even seen them again. One fact is true, you and your family will have unimaginable amounts of fun putting together these sets, and even more fun playing with them. Relive some of your old memories, you'll be glad you did, and you've bought them to share memories.