The Best LEGO Batman Movie LEGO Set Reviews: Bring The Action To Life & Save The Day
POW! SPLAT! CLUNK! ZAM! Do your kids love Batman? Did you grow up watching him on TV like I did? If so, then you need to check out Lego's fun, engaging sets based on the Caped Crusader and his friends. Seriously, I bought these sets for my kids, and they are a blast- for them and me! There are characters and pieces from the classic TV show and movies, including the Lego Batman movie version, so everyone can get in on the action.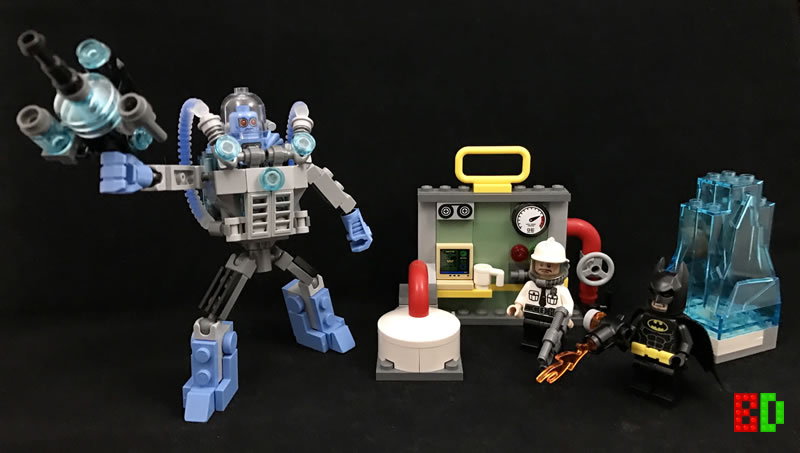 My list of the Best Lego Batman Movie Sets feature kits that are fun, affordable, and realistic, so you and your kids can build, play and fight for hours. Help Batman fight crime, one brick at a time, woth one, or all, of these sets!
Top Rated LEGO Batman Movie Sets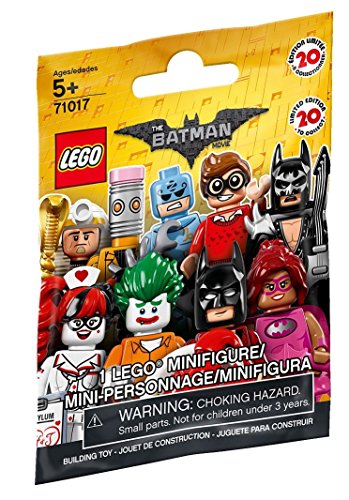 Build the Batmobile with Robin, or climb a skyscraper to fight the Joker with this set of minifigures based on the
upcoming Lego Batman Movie
. Each bag features 1 of the 20 characters, so kids will never know who they'll be fighting with, or against!
Priced at under $5, you can by a bunch, so the whole family can play and fight the forces of evil. Characters include: Lobster-Lovin' Batman, The Eraser, Clan of the Cave Batman, Vacation Batman, The Joker – Arkham Asylum, Redhood, and more.
And parents, this is a limited-edition collection, so if you're a collector, or know someone who is, they make a great gift!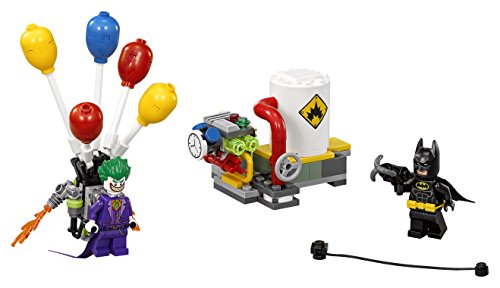 The devious Joker is up to no good at the Gotham City Energy Facility, and your kids can stop him with this cool set. Kids can build the power plant where the Joker and Batman will face off, but be careful Batman; it has an exploding silo rigged by the Joker.
The Joker can escape anytime, thanks to a balloon backpack
, but Batman's grappling hook can help catch him- and even pop the balloons. This set is a
great value at under $20
, and can be attached to other sets, including the 70901 Mr. Freeze Ice Attack and 70910 Scarecrow Special Delivery, to create a bigger power plant.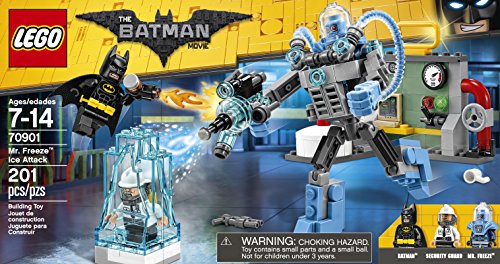 Mr. Freeze is plotting against Batman kids, and only you can stop him! Mr. Freeze has a special Exosuit to ice the Energy Faciltiy, and already has a
security guard in an ice prison
. Help Batman free the guard and stop Mr. Freeze using his Batarang and flamethrower, before all of Gotham is on ice.
The Exosuit is completely posable, and can fit a minifigure, while the plant has an adjustable lever for life-like play. With over 200 pieces, this set is a bargain at under $20.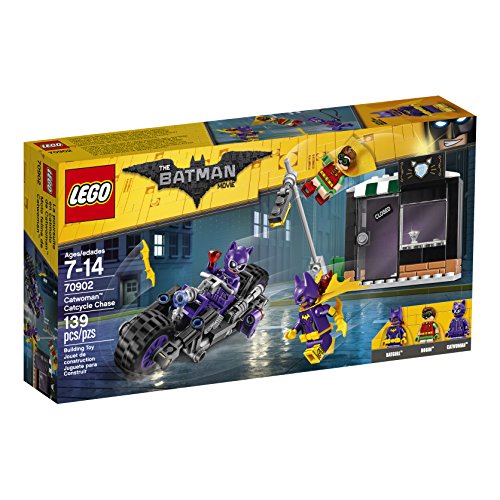 In the new Lego movie, Catgirl has her eye on a sparkly diamond, but luckily, Robin and Batgirl are ready to stop her! Let your
kids reenact this fun chase scene
from the movie using this set.
Kids can build a whole street scene, complete with the jewelry store, for Catwoman to speed away from with her Catcycle as Robin and Batgirl chase her and the diamond. Catwoman has a whip to tie up Robin, and Batgirl can knock her off her cycle with her Batarangs. A great set for under $20.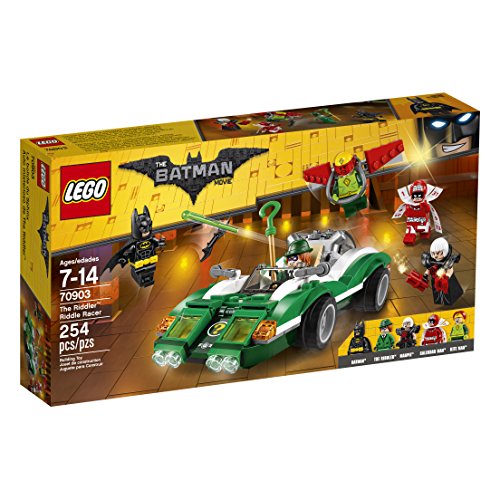 Riddle me this? Is there any villain that is more entertaining than the Riddler and his Racer? I don't think so, and neither will your kids with this fun set. Batman is going to need backup, since this set comes not only with the Riddler and his Racer, but Kite Man, Magpie and Calendar Man too!
And if that wasn't enough, the Racer has 2 hidden, flip-up, spring-loaded shooters, to catch the Caped Crusader when he least expects it. Your kids, and their friends, will battle for hours, thanks to all the battle accessories, including Kiteman's detachable glider pack, Batman's Batarang, Magpie's dynamite elements and more. It's on sale now!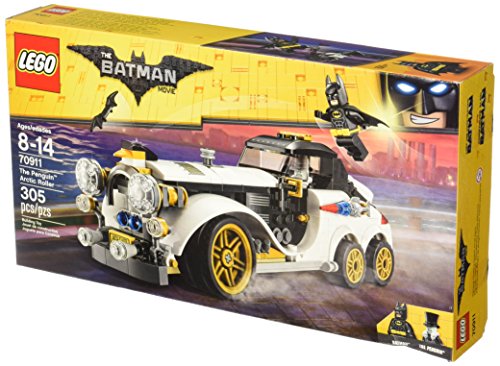 Your kids will be cool as ice as they cruise around with the Penguin in his Artic Cruiser. The Cruiser has a cockpit for the Penguin to sit in, and a mini escape pod to avoid Batman. This car will remind parents of the
classic TV show
, and is a great way to introduce kids to it, thanks to the all-white detailing and gold rims.
Parents, at under $40, this is a nice set to give as a gift, and there are 2 minifigures for role-playing.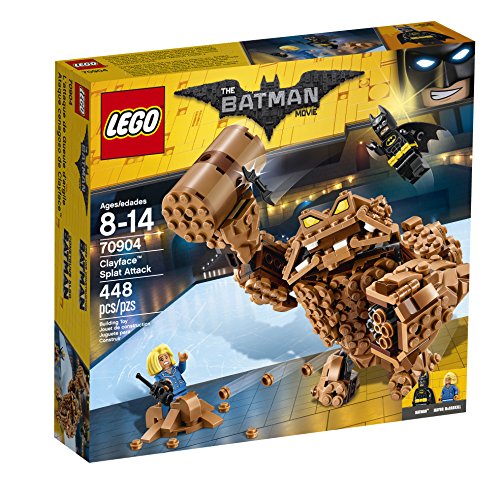 Mayor McCaskill is stuck in a clay prison and it's up to your kids, and Batman, to free him and save the rest of the city from Clayface. Clayface though, is set to put up a
fight with is 3 interchangeable hands
: 2 with a six-stud rapid shooter each and with a clay hammer. He can "smash" and "shoot" as Batman and the rest of the crew try to take him, down.
Clayface can be moved and posed in thousands of ways, and Batman has a Batarang to try and knock his weapons away. For kids who love action sets, this is a good one at around $30.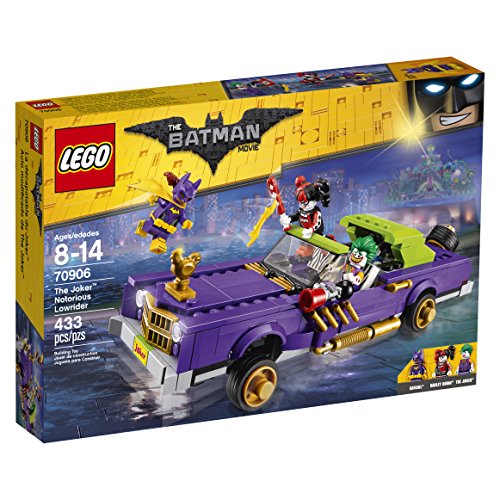 The Joker and the Caped Crusader's epic battle continues in the new Lego movie, but this time, the Joker has Harley Quinn along for the ride in his Notorious Lowrider as Batgirl joins the fight. The Lowrider has a bouncing suspension, for animated fun, and there are handles for Harley to hang onto as they speed away. Oh, and the trunk opens to
reveal spring-loaded shooters
to stop Batgirl in her tracks.
With over 400 pieces, and extras like roller skates for wise-cracking Harley, this is a good set for tweens at under $50.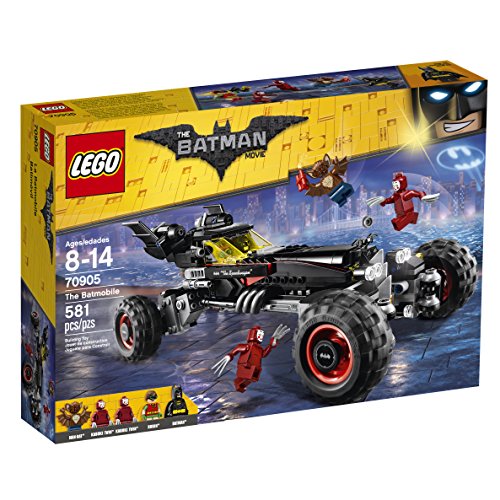 Man-Bat and the Kabuki Twins are causing havoc around Gotham City, so why not jump in the Batmobile and track them down? The Batmobile is one of the most iconic cars to ever grace the screen, but this latest version has some upgrades that kids will love. Multidirectional wheels let kids switch between ace mode, monster truck mode and parallel-parking mode, and there is a dual cockpit so Robin can come along for the ride.
Man-Bat comes with a dynamite element and the Kabuki Twins each have claws, promising to make this a fight to the finish. Parents, with over 500 pieces, this is a great set for the pre-teen set, or kids who want to build a car from the ground up.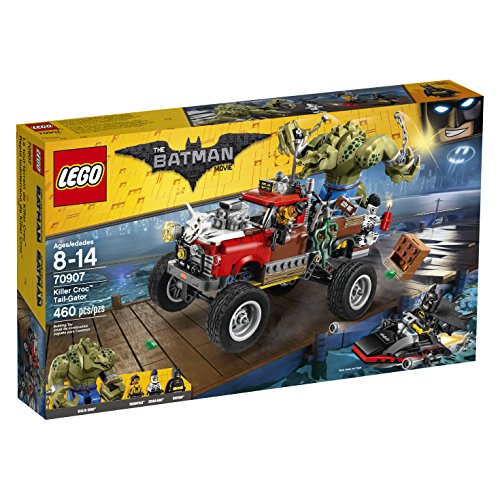 Killer Croc and his Tail-Gator have one mission: to stage a fight at Gotham Harbor to defeat Batman once and for all. Help Batman chase down  Killer Croc, Zebra-Man and Tarantula as they travel on land and water. But watch out! Killer Croc has a snapping jaw and sweeping tail, and the
Tail-Gator has 2 crate bombs
, making this Batman's most dangerous battle yet.
This set is straight from the movie, and comes with lots of extras for under $70.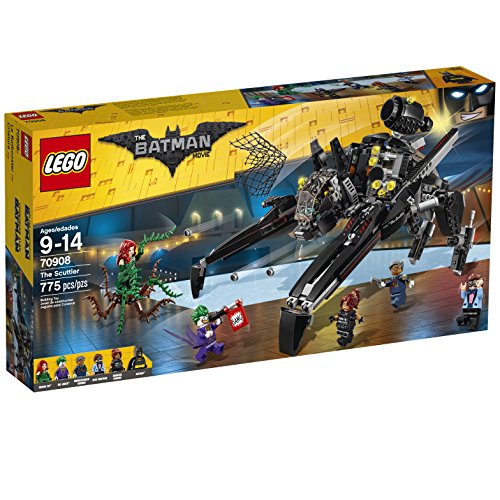 It's Commissioner Gordon's retirement party, but there's no time for fun because the Joker crashed the party and has taken hostages. Jump in the Scuttler and help Batman save the hostages, and fight Poison Ivy, who has teamed up with the Joker on this one.
The Scuttler can be posed in a variety of ways, and comes with a net shooter, six stud shooters, extendable arms, and a hidden backpack in case Batman needs to make a quick getaway. With almost 800 pieces, tweens and teens will appreciate this set, which is under $80.
This monstrous set will
provide endless hours of fun
, featuring the Batcave, Bat Boat, and Duckmobile. The Penguin is using his Duckmobile to stage an attack on the Batcave, but not to worry! Bruce Wayne will jump into the rotating transformation chamber to become Batman and save the day once again.
There is a Batcomputer with multiple screens, a prison to put the Penguin in, and 3 Batsuits, the Scu-Batsuit, Raging Batsuit, and Bat-Pack Batsuit for when he jumps in the boat. Packed with tons of weapons and extras, this set is best for older kids and is a bargain at under $90.
One of the more expensive sets on this list, it is well worth it, as it features the Arkahm Asylum and a slew of extras. Kids can break into the Asylum to seize the Joker and other bad guys. Saving Gotham once and for all. But be careful, there's a guard tower, search lights, and other traps in Batman's way.
The Asylum is fully detailed, with Dr. Harleen Quinzel's office, the ward office, visitors' room, four cells with opening doors, and more. There are also 12 figurines, making this set a must at under $200.
As you can see, my list of the Best Lego Batman Movie Sets features kits kids and adults will love. There are iconic pieces like the Batmobile, along with new ones, so kids can BAM! KERPLOOM! And SPLATTT their way around the house. They are so much fun, you might just join in the fun!