Lego Brickheadz Sets: Bringing Your Favorite Characters to Life
Get ready, Pop culture and superhero fans, for the release of Lego Brickheadz!  Cool enough to rival the already popular Funko Pops, these cute building sets will feature some of your favorite characters. From Marvel and DC comics icons to some Disney favorites, like Belle and the Beast from Beauty and the Beast, there is something here for everyone.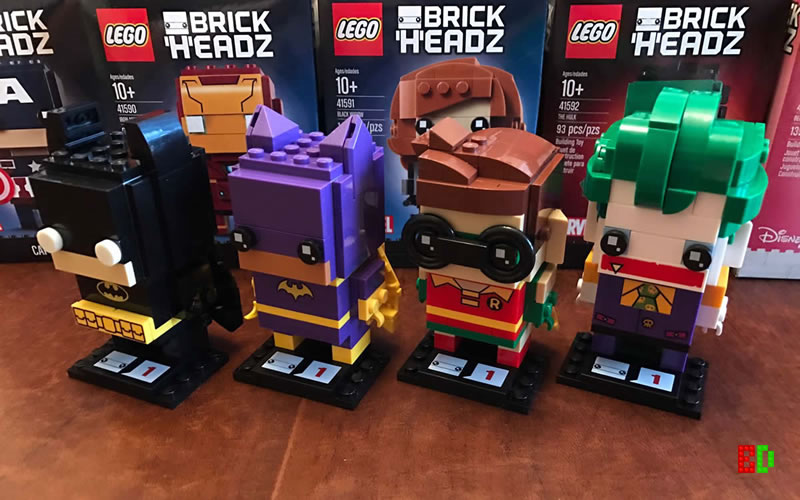 Unlike other Lego sets, Brickheadz have a distinct square-head appearance and clever construction that is packed with detail. Standing about 2 inches tall, each character has a display baseplate, which features the series number and the Brickheadz icon. Affordable and fun, they make the perfect gift for any collector or older kids.
All About Lego Brickheadz and its History
The Brickheadz series was first introduced at the San Diego Comic-Con convention in 2016 and are set to be released to the public in March 2017. Starting with characters from the Lego Batman Movie, including Batman, Batgirl, the Joker and Robin, each building set has between 91 to 151 pieces. These will be followed by the release of Marvel favorites Black Widow, Captain America and Iron Man from Captain America: Civil War and Hulk from Avengers: Age of Ultron.
To give you a sneak peek of what sets are available, here is a review of the first 12 sets in Series 1: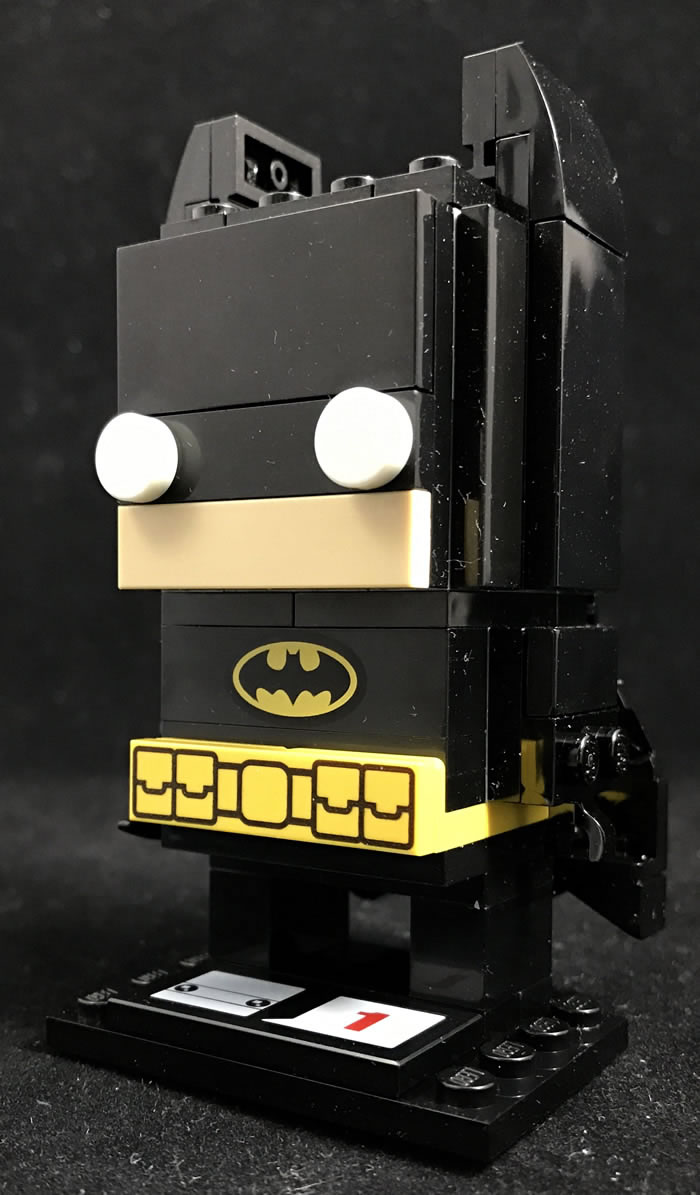 The Batman building set contains 91 pieces. Batman is dressed all in black with his utility belt and logo printed in yellow. Of course, Batman also sports his favorite Batarang in his hand. His classic Brickheadz eyes glow-in-the-dark and he stands on a display baseplate.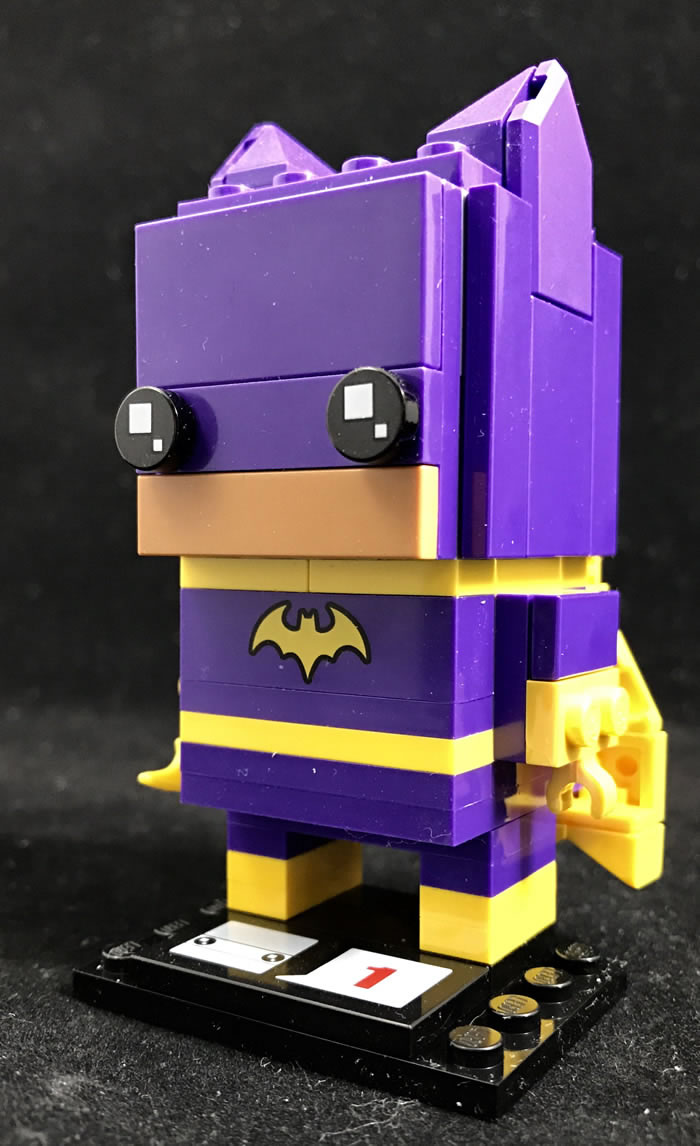 Batgirl's ready to fight crime, resplendent in her classic purple and yellow outfit, with her brown ponytail swinging in the wind. As expected, she holds her yellow Batarang in her hand, and the Batgirl logo is printed onto one of the bricks. The set has 99 pieces in all.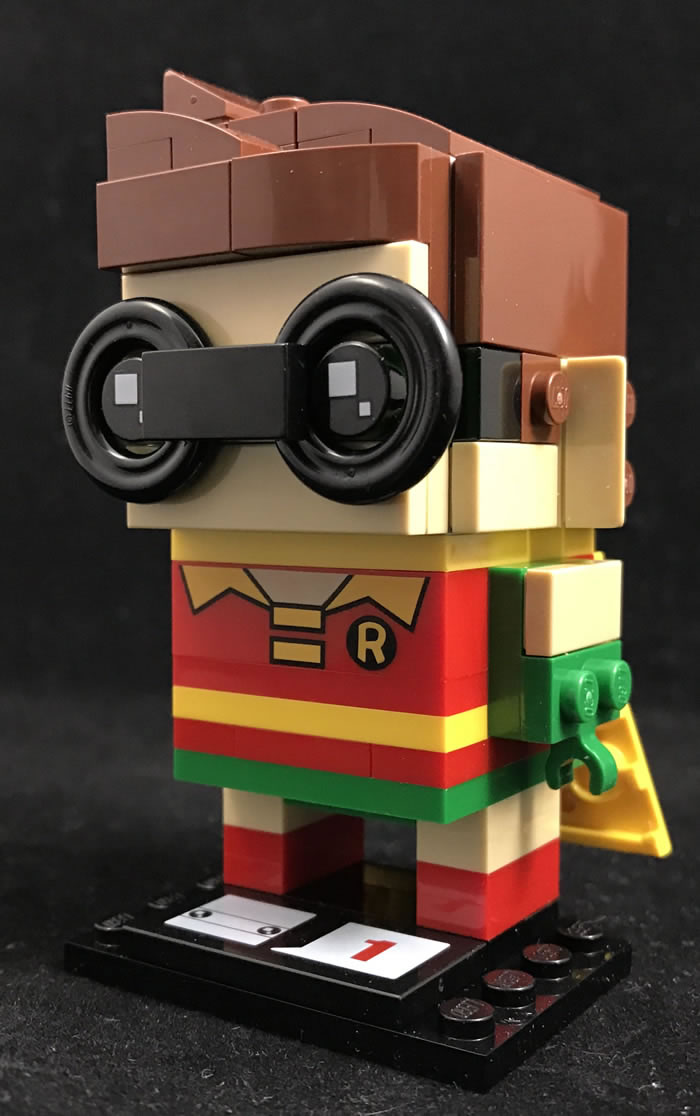 Batman's faithful sidekick is here to help save the day in his traditional red, yellow and green costume. Wearing his classic black mask and yellow cape, Brickheadz Robin also stands just over 2 inches tall; there are 101 pieces in the set.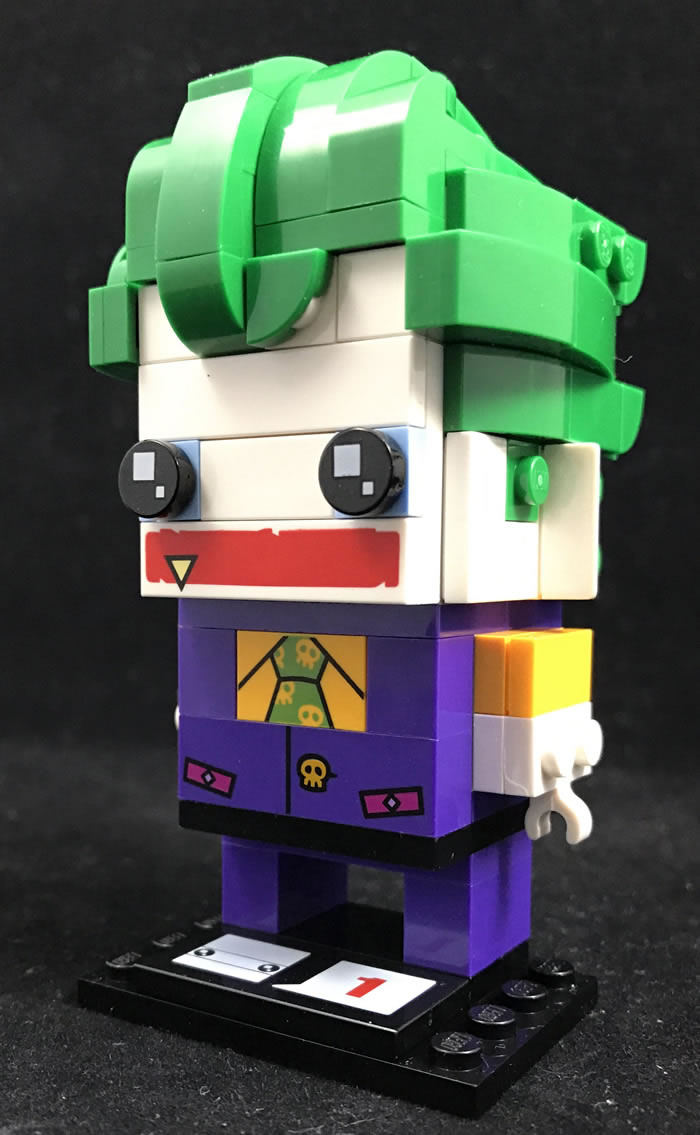 The Joker is always up to no good and is ready to cause trouble oncer again. Famous for his colorful antics and wardrobe, he's wearing a purple and yellow suit, along with a printed green and yellow tie. His bright green hair is cleverly created with multiple curved pieces, and he sports the classic round Brickheadz eyes with printed pupils to complete his over-the-top look. This set contains 151 pieces.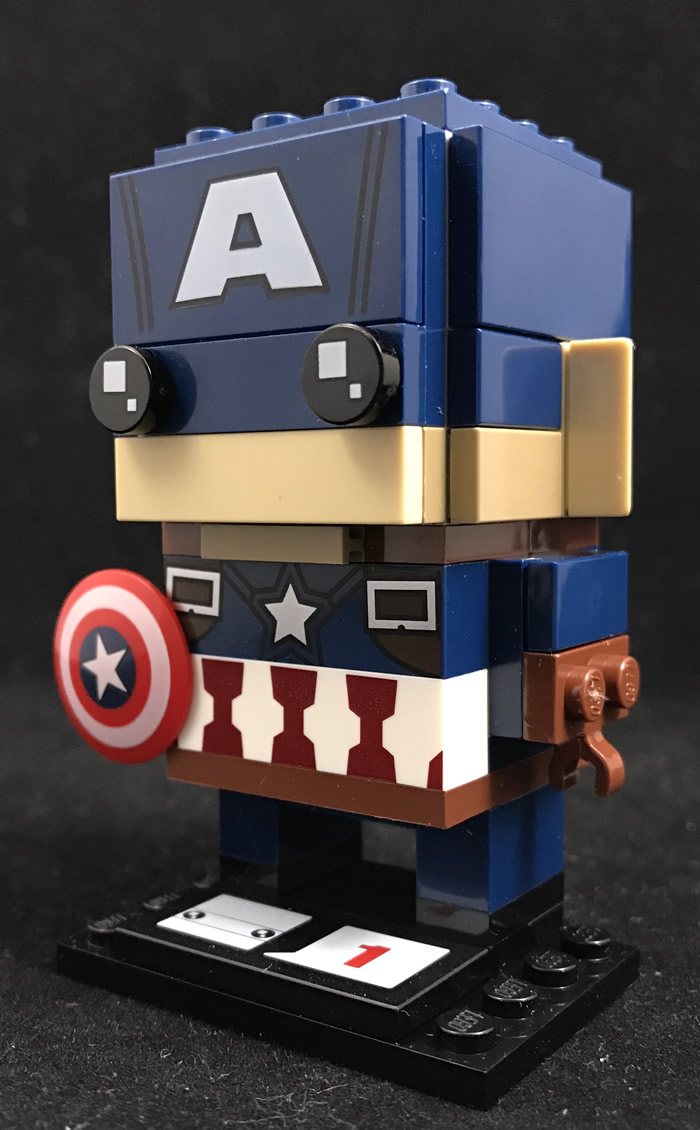 Marvel fans will marvel over Captain America, who is armed and ready to fight for justice. He sports his classic blue costume with the printed A on his hooded forehead and is holding his iconic red, white and blue shield, which is detachable.  Featuring 79 pieces, Cap, as his friends call him, is as iconic as ever.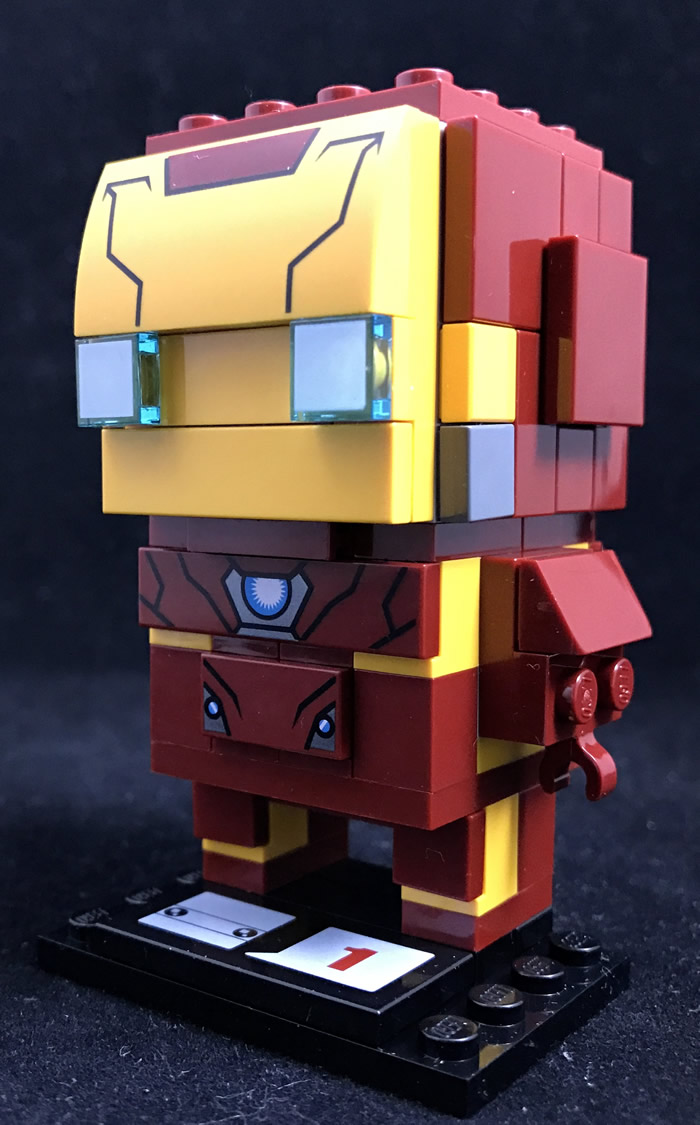 Iron Man loves to be different, so of course, his Brickheadz eyes are square instead of round. Wearing his brown and yellow armor, his arc reactor is printed onto the front of his costume, and he has that a compact, slim design. The Iron Man building set consists of 96 pieces.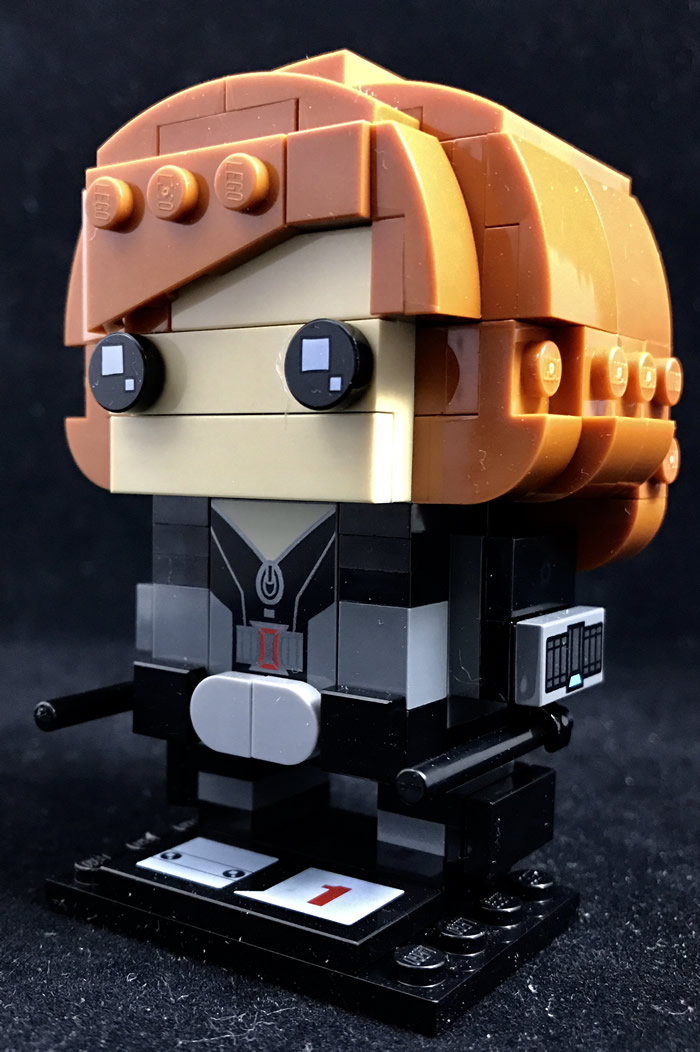 Black Widow, one of the fiercest fighters in the Marvel universe, is ready to take down the bad guys with her two detachable batons. Wearing her black and gray costume with printed detail, she sports her classic brown hairdo, which is built with unique curved pieces. This set is made of 143 pieces.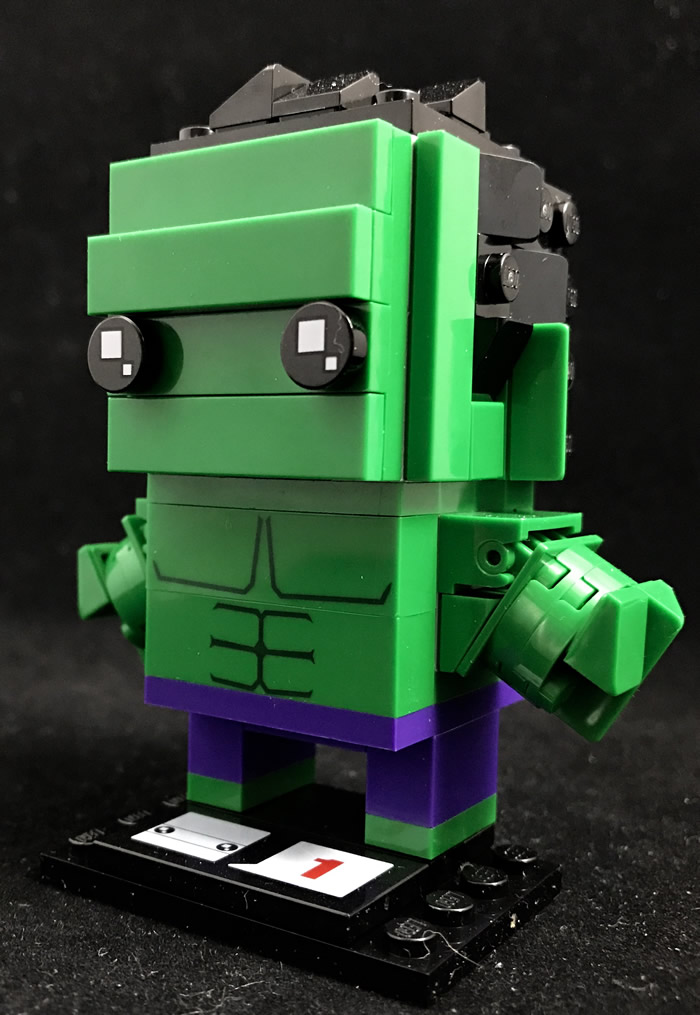 The Hulk is larger than life, even as a Brickheadz. Bright green (of course), with his iconic purple pants, his ruffled black hair is created with different angled pieces. His massive fists are made from a collection of oddly shaped pieces, and even his abs are printed on the front for a realistic portrayal. There are 93 pieces in this set.
Captain Jack Sparrow (41593)
Recreate this lovable rogue from Pirates of the Caribbean with the Captain Jack Sparrow building set. Jack is wearing his bright blue and white pirate outfit complete with printed belt, buckle, and of course, his red bandanna.
He carries his cutlass in his hand, which is detachable and his long hair is created using multiple pieces. The set has 109 pieces.
Captain Armando Salazar (41594)
Captain Armando Salazar is very dapper in his gray outfit complete with printed waistcoat. His black hair is built with curved pieces, and he carries his detachable cutlass in his hand. This set consists of 118 pieces
Disney Beauty and the Beast – Belle (41595)
Belle from Beauty and the Beast looks beautiful in her yellow gown and gorgeous flowing brown hair complete with ribbon. She carries a buildable rose in her hand and is wearing some lovely yellow earrings. Belle is made with 139 pieces.
Disney Beauty and the Beast – The Beast (41596)
The Beast is stunning with his flowing, buildable brown mane. He wears his blue and yellow outfit complete with printed waistcoat and has two cute horns on his forehead. This set consists of 116 pieces.
Now that you know all about the Lego Brickheadz characters, I'm sure you will want to collect them all. They would look great on your desk or displayed on a beautiful bookshelf. They're sure to become collectors' items by both Marvel and Disney fans and are suitable for ages 10+.