The LEGO Creator Island Adventures Set: 3-In-1 Island Fun!
The Lego Creator Island Adventures set is the newest addition to the Creator Series and has lots of offer kids of all ages with it's three in one building design. Featuring a seaplane that can be rebuilt into a speed boat or island hut, this set is bound to capture the imagination of your child and keep them amused for hours.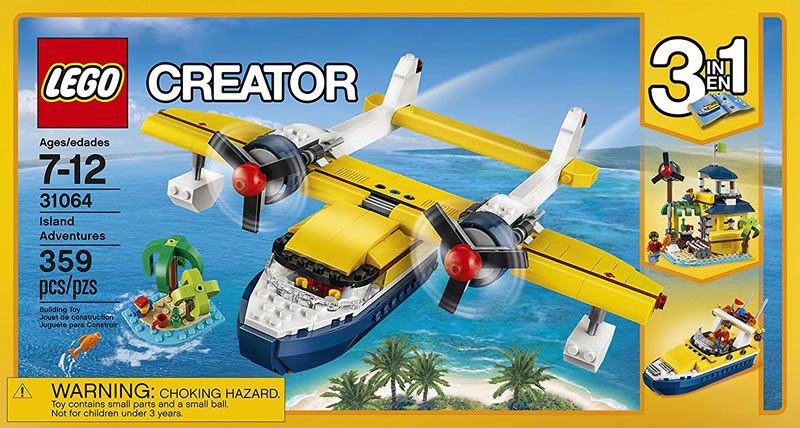 The first build, the Seaplane, is sharp and full of color, with bright yellow, white and dark blue bricks. It has twin engines with propellers, a cockpit with every detail painted on and a cargo hatch that can open and close. Kids will love "sailing" around with it over the high seas!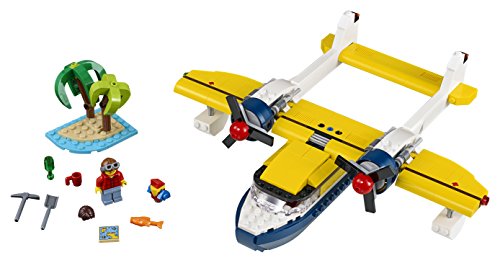 And if they find themselves about to crash, there's landing floats and a buildable tropical island. The island has a hut with a flag, palm trees, and other fun accessories,  like a parrot, orange fish, tools, an empty bottle, a coffee mug, and a map.
Finally, there's the speedboat, which can be built from the same bricks as the Seaplane. It has a steering deck, lights, and levers, so kids can zip around on high-speed chases!
And to go with all these cool builds, there's a new mini figure; a man with a flannel shirt and jeans. He comes with a hair piece, an aviator cap piece for when he's flying the seaplane and a set of visor goggles. And this guy has two distinct looks thanks to a reversible face; he can either be neat and clean shaven or have a full beard for when he's stuck on the island.
LEGO 31064 Island Adventures is a 359 piece set that's great for kids seven to twelve. It's detailed enough to keep them interested during the different builds and play, but it isn't so complicated that they become lost. The instructions are clear and easy to follow and it fits in well with any of the other Lego sets.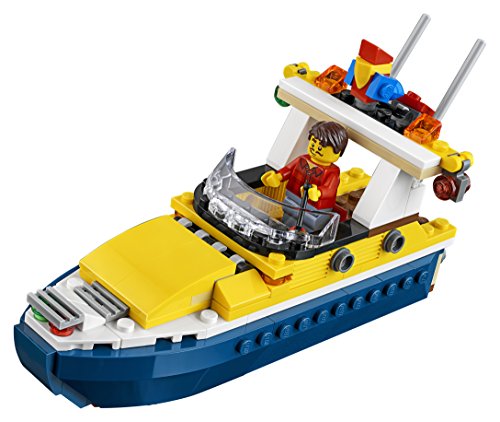 What's inside the Box
Minifigures
Fish
Parrot
Empty bottle
Palm tree bricks
Seaplane bricks in yellow, navy, and white
Tools – shovel and pickaxe
Mug
Map
Lego not only encourages children to build and follow the instructions; it also encourages them to use their imaginations. These bricks can be used to build pretty much anything your kid can think of. It also encourages pretend play and role playing. For example:
Pretend Play Scenario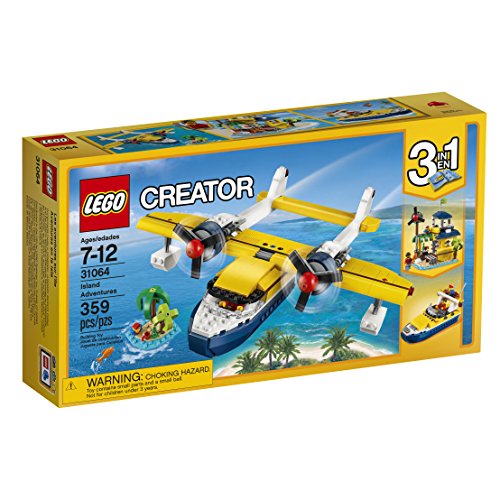 Steve found a map in a bottle and wants to take his Seaplane out to find it. X marks the spot, so he loads up his cargo hold, and takes off. He flies for ages and sees nothing but water. Until eventually, he spots a small island off in the distance. He checks the map, and according to it, that's the place.
He starts hitting buttons and moving levers to get the plane ready to land. He lands right beside the Island and uses the landing floats to guide him in. He jumps out of the plane and sits under the palm trees. He gets a little hungry and decides to catch a fish for dinner.
The Lego Creator series has some really amazing and unique things and the Island Adventure set is no different. One of the best things about it is that it's a three in one build and the plane can be rebuilt into a boat or a hut. The other wonderful thing about this set is the detail, not only in the main build but in the mini figures. And the reversible face is a great touc and could be used in many deserted island, or castaway type pretend plays. A well-rounded kit any kid will appreciate.