LEGO 76079 Ravager Attack From Guardians of the Galaxy Vol 2 Review
The Lego 76079 Ravager Attack set is from the Lego Marvel Guardians of the Galaxy Vol. 2 movie and is a great set for fans both young and old. Children love the Marvel Lego sets and this one is no exception, letting them build their favorite scenes from the movie, with all their favorite characters.
The LEGO Super Heroes 76079 Ravager Attack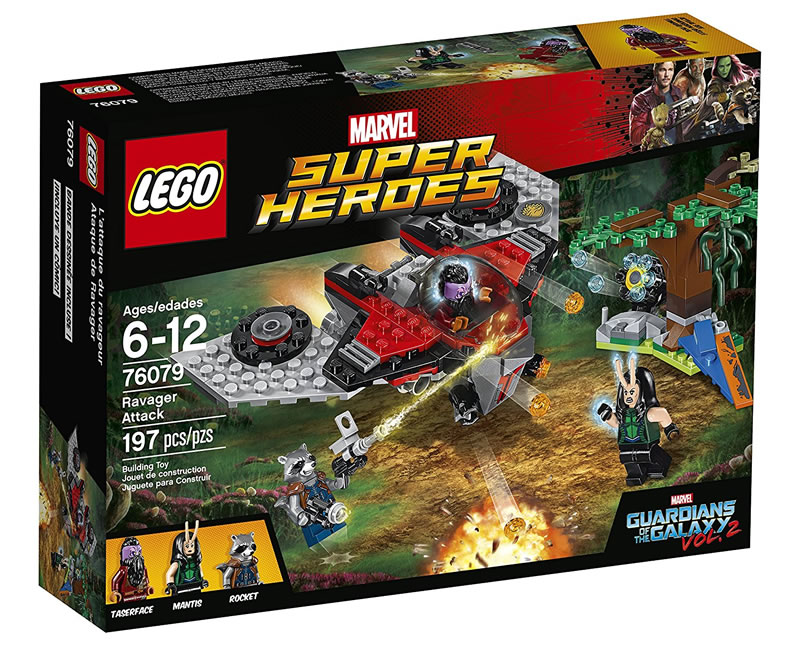 The LEGO Ravager Attack
is based on a forest attack scene from the movie and has an M-Ship, which has a cockpit that you can open, and four stud shooters. There is one on either side of the cockpit, and then two on the front of the ship, near the bottom. The bottom two stud shooters are movable, so they can be aimed. Designed in red, black and gray, it has a relatively simple design. The set also has a buildable tree, buildable six stud shooter, mini figures, and accessories.
The mini figures are exclusive to the Ravager Attack set and it is the only way to get the Rocket Raccoon minifig, at least for now. Rocket is incredibly detailed and comes with two guns. Meanwhile, the Mantis mini figure features a new hairpiece, which includes her antenna. She has two expressions, one smiling, and one more aggressive, perfect for when Taserface is attacking.
Speaking of which, Taserface is one of Yondu's Ravagers, and his minifig is wearing Ravager clothing; he has purple skin,  beard and hair pieces, along with a stud shooter rocket launcher.
The other weapon in this set is the buildable six stud shooter, that Mantis and Rocket can use to defend themselves against Taserface and his M-Ship.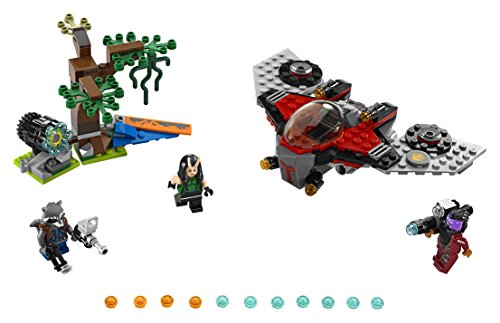 This 197 piece set is aimed at six-year-olds and over. It's a great way to add to an existing Guardians collection or to start a new collection. The bricks in this set are compatible with other Lego sets and would be a wonderful addition to any Lego collection. It's also a fantastic companion set to the Lego 76081 Milano set.
Lego Creative Play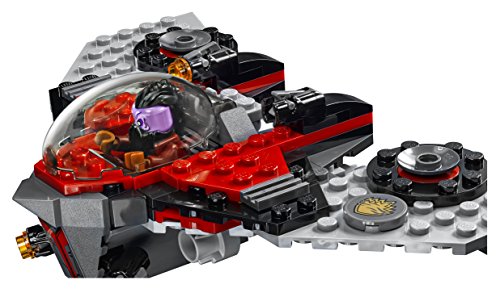 Rocket and Mantis are alone in the forest. Rocket is trying to fix the big gun, while Mantis is climbing the tree. They hear a noise, and Mantis is worried. Right above them appears a Ravager M-Ship, it's Taserface. Taserface aims the guns on his ship at them and opens fire. Rocket calls Mantis to help him and shoots his guns at the ship. When they get the big gun working, they try to shoot the ship down. It crashes near them, and Taserface climbs out, but he's got a rocket launcher. He shoots as he walks towards them, while Rocket and Mantis fire back.
The Lego 76079 Ravager Attack set is very playable
for younger fans, and it encourages building and construction play. LEGO also encourages creative play and role playing. Kids can use this set to help Mantis, and Rocket beat Taserface, or the bad guy can save the day. For older fans, it's collectible and displayable, especially as it is the only current set that includes the 2017 minifig of Rocket.