Lego Ninjago City 70620 Set Review: Fun For Everyone!
Kids (and grown-ups!) enter the world of ninjas and warriors in Lego's truly stunning Ninjago City 70620 model.  This intricate, massive multi-tier set is gorgeous, and it will offer you and your family (if you can bring yourself to share it) many hours of fun.
For some years now Lego has had a popular television show set in the world of Ninjago, along with an upcoming movie. This set is modeled after the city featured in the Lego Ninjago movie and after seeing it if you're not already a fan of the series you will be. Let's dive right in to take a look.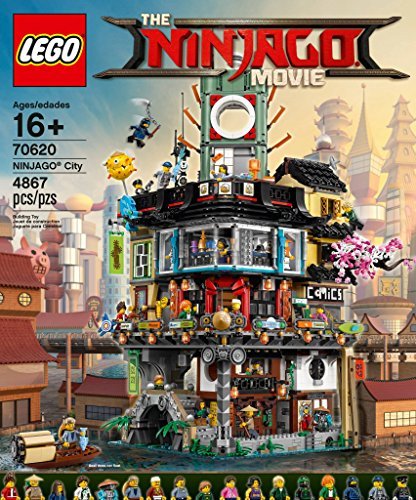 Ninjago's city is bustling. Walk the streets and take in the vibrancy. On the first level, customers filter in and out of a fish market. The product has been recently caught from an adjacent stream, the fishing boat bobbing over choppy waters.
When you are done on the first floor, an elevator will take you up to the second level. There you will find a boutique fashion store filled with designer clothes that bring steady foot traffic into the shop.
Just passed the clothes store is a comic book shop, loaded with books and trading cards, but with so much to see, one hardly has the time to explore each store before something else catches your attention. That said if you do find the time to shop, be sure to stop by the functioning ATM right next to the crab restaurant.
Once you've seen everything that you wanted to check out on the second floor, take the elevator one last time to the stunning third and final level. There you will find an innovative sushi restaurant complete with a conveyor belt built to quickly dispense product.
After you have grabbed a plate of food, head over to the radio station to take in a broadcast. When you are done, you can visit your friends Lloyd Garmadon and Misako in their deluxe penthouse apartment.
This 5000 piece set is not going to go for cheap
, but  I do think that it is worth every penny. With a gorgeous and expansive layout, and sixteen mini-figures, there is definitely plenty to do, and it is going to look stunning on your shelf. The juxtaposition of the modern with classic architectural undertones is sure to make your new set a point of envy with all of your friends.
I have been collecting Legos for a long time, and I can say quite honestly that this is one of the best looking sets that I have ever seen. I wasn't kidding when I said that you don't need to be a fan of the show. I'm not. I'm not not a fan either, I've just never seen it. I still love the set.
If you love Legos the way that I do, I really don't think that you will be disappointed when you pick this set up. Explore the world of ninjas like never before in an incredible set that stuns with every detail.