Lego Ninjago Dragon's Forge Building Kit: Ride the Fusion Dragon to Victory
There are few things that kids love more than Legos. Except for maybe ninjas. And dragons! So, imagine their excitement when they see Lego's latest set, the Lego Ninjago Dragon's Forge Building Kit.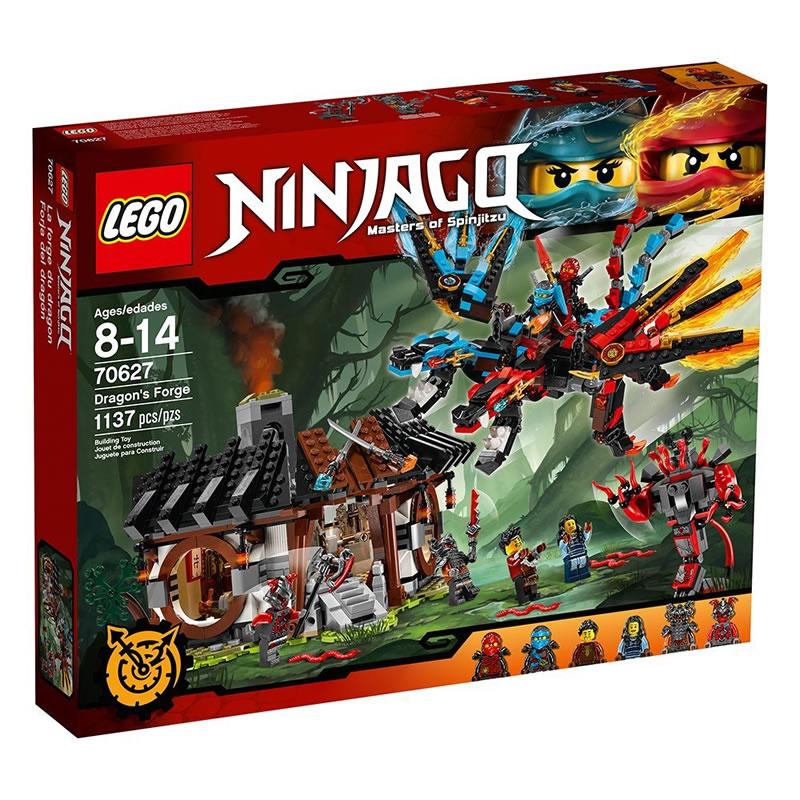 Get Immersed in the Ninjago World
There's a good chance that your child is already familiar with Lloyd, Zai, Cole, Jay, Zane, and the rest of the Ninjago gang from their widely popular Cartoon Network show. If not, it's is a great time to introduce them to the world of Ninjago as the movie will be hitting theaters this September. Until then, kids can watch the show and create their own fun storylines with this kit.
LEGO Ninjago Dragon's Forge Building Kit
The official story from the cartoon series is that the Fusion Dragon is carrying Kai and Nya on a daring mission to save their parents from the evil Commander Raggmunk, Slackjaw, and his Buffmillion Mech while retrieving the Reversal Time Blade. Kids can either play along and recreate their favorite scenes from the show or go off-script to create new scenarios and adventures.
For instance, they can dream up a narrative where all of the ninjas come to the rescue or add more bad guys into the battle. They can team up Commander Raggmunk with Garmadon from another playset and see how their heroes will fare or even do stop motion videos, with your help,  to impress their friends. The possibilities are endless.
What's Inside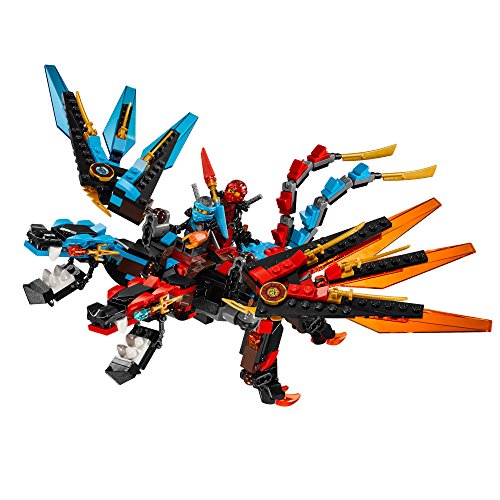 This massive playset has some really cool features that are sure to impress kids of any age, starting with the hidden dragon dagger. The dagger activates the chimney to make it turn, which is sure to surprise and amuse the kids, as well as provide them with lots of "story" options.
Then there's the Dragon's Forge,  complete with blacksmith tools. The Dragon's Forge is the perfect landing place for the Fusion Dragon as the roof includes his own landing pad. And it's not all hard work for our heroes, as there is a hangout area for the ninjas to relax after making the perfect weapons to fight the forces of Commander Raggmunk and his henchmen.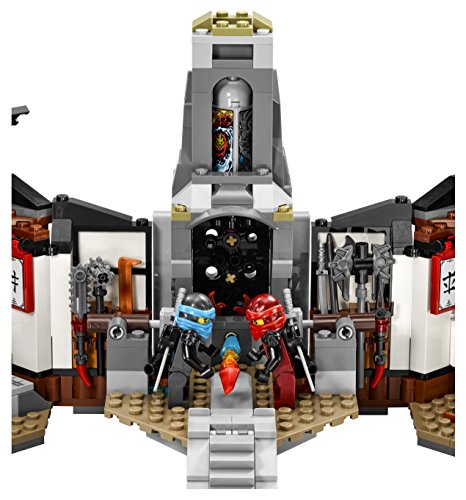 Speaking of heroes, there are some among the six Lego mini-figures that come with this set. Included with this kit are Maya, Ray, Kai, Nya, Slackjaw, and Commander Raggmunk, along with several weapons just perfect for a mini battle. Don't forget the massive Fusion Dragon that is over nine inches tall and the Buffmillion Mech that is over four inches.
Combine with Other Ninjago Sets
The world of Ninjago is already immense, and it's sure to get bigger as time goes on and Lego releases more epic world-building sets. Luckily, kids can combine this set and the characters that come with it with the others to create a ninja world where the good guys always win.
I hope my review of the LEGO Ninjago Dragon's Forge Building has peaked your interest in this excellent set that's sure to keep your kid's interest long after the Ninjago movie is released in theaters. The nice selection of heroes and villains are sure to create the perfect balance for imaginative play. Who wants to only have all good guys? Enjoy the many epic battles to come!