LEGO Star Wars Jakku Quad Jumper 75178 Review: Kids Will "Jump" For Joy With This Set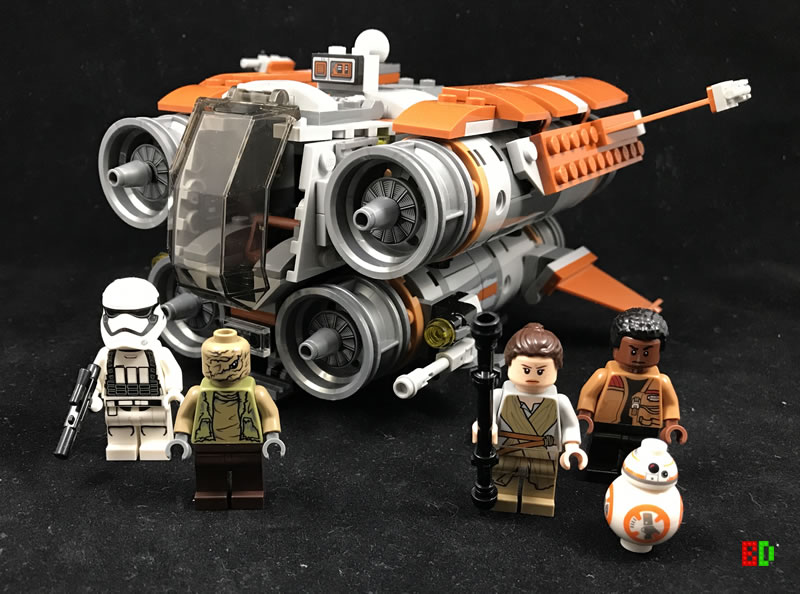 The Jakku Quadjumper from Star Wars: The Force Awakens is also a new upcoming Lego set and is already one of my, I mean my kids, favorites (as was the movie)!  Packed with intricate details, children can reenact that fateful scene where Rey and Finn head for the Quadjumper as they try to escape Jakku, only to have it get struck by the First Order's Tie Fighters. The Jakku Quadjumper 75178 is set to be released this June, so let's see what it's all about.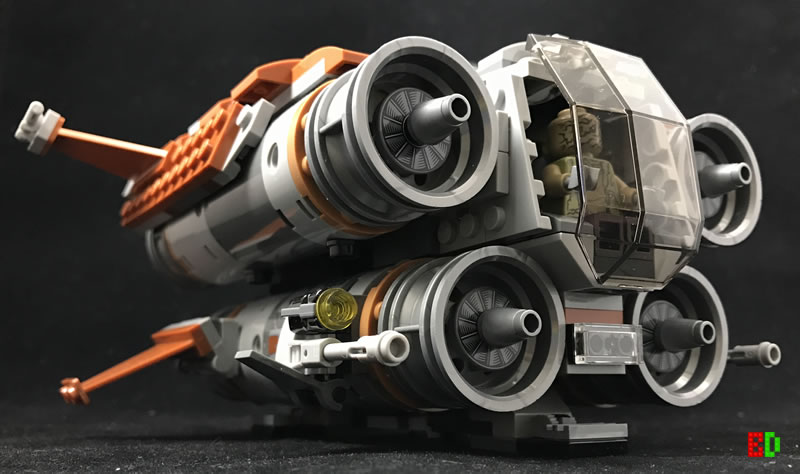 The Quadjumper is a great build, with four engines and a cockpit in the middle. The cockpit has a slightly new design and can seat two characters; perfect for having Rey and Finn try to blast off before the storm troopers arrive- or blast them away. And thanks to all the weapons, they have plenty of ways to eliminate them. There are two forward stud shooters, pivoting cannons, and a rear gunner compartment, which opens to reveal a retractable stud launcher. Even better, this ship has fins, just like the one in the movie, and they are all movable. Featuring a gray and orange color scheme, it evokes images straight from the film.
The Minifigures
This set has five mini figures, featuring three heroes and two villains. None of the mini figures are exclusive to the set, but it doesn't take anything away from the value of the set.
Hero Mini figures
Finn, Rey and BB-8 are exactly as you would expect them to be and are the heroes of the movie and this set. Rey has a silver and sand brown outfit, and her hairpiece shows her hair up, while Finn is wearing the jacket Poe Dameron gave him; and BB-8, while smaller than a standard mini figure,  has some nice printing detail.
Villain Mini figures
The first villain is a First Order Stormtrooper, with a printed vest, and a blaster and the second villain is one of Unkar's Thugs, with greenish skin, a printed tattered torso, brown legs, and printed hood detail on his face. Both are equally menacing and perfect for this set.
Story Play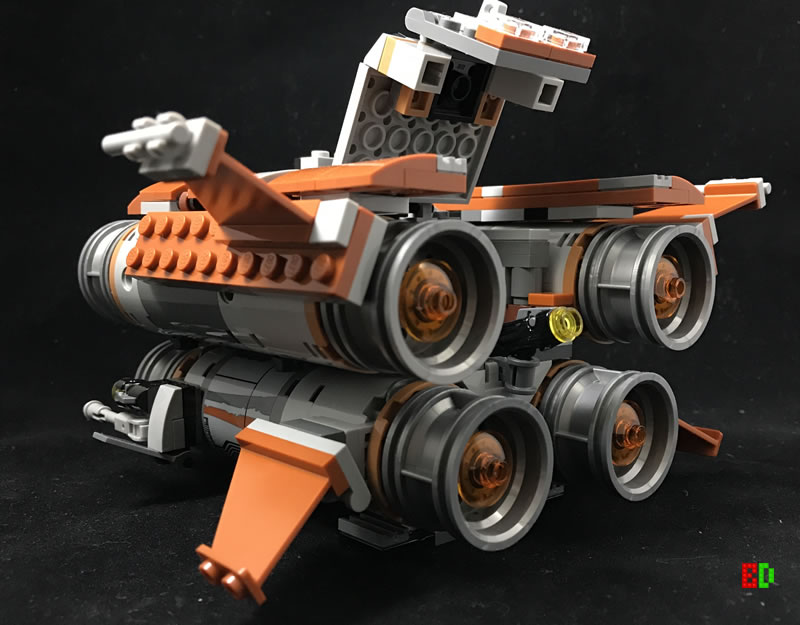 Kids can find it really easy to engage in imagination and creative story play with Lego toys, but especially with Star Wars Lego. They can reenact the movie as it happened, or they can change the outcomes. For example:
Unkar wasn't happy with Rey, and she knew it. She hit the thug in the face, and shouted for BB-8 to run, or roll. She could hear Finn fighting with the First Order Stormtrooper, and when they got a chance, they both ran after BB-8. Rey pointed at a Quadjumper, and they headed for it. Finn looked back and thought he could hear the First Order coming for them. He could see one of Unkar's Thugs running after them. They got into the Quadjumper, and Finn took up the gunner position in the back. Rey was in the cockpit with BB-8, and as she found a route on her map, the engines roared to life.
The Jakku Quadjumper was seen on screen
is a crucial scene that reveals the Millenium Falcon, so it makes sense Lego would create a set based on it; plus, the ship does have some really great details. The weaponry and movable fins are fantastic, but my favorite part has to be the retractable stud launcher in the openable rear gunner compartment. And ecause of the obscurity of the ship, this one will be a must have for collectors of Star Wars Lego.