The Lego Ninjago Movie Sets (2017) Preview: A Whole New World of Fun
Ninjas, dragons, and trucks, oh my! The mystical world of Ninjago, with its fearsome warriors and elaborate temples, has captured the hearts and imaginations of kids everywhere thanks to the hit TV show and countless Lego sets.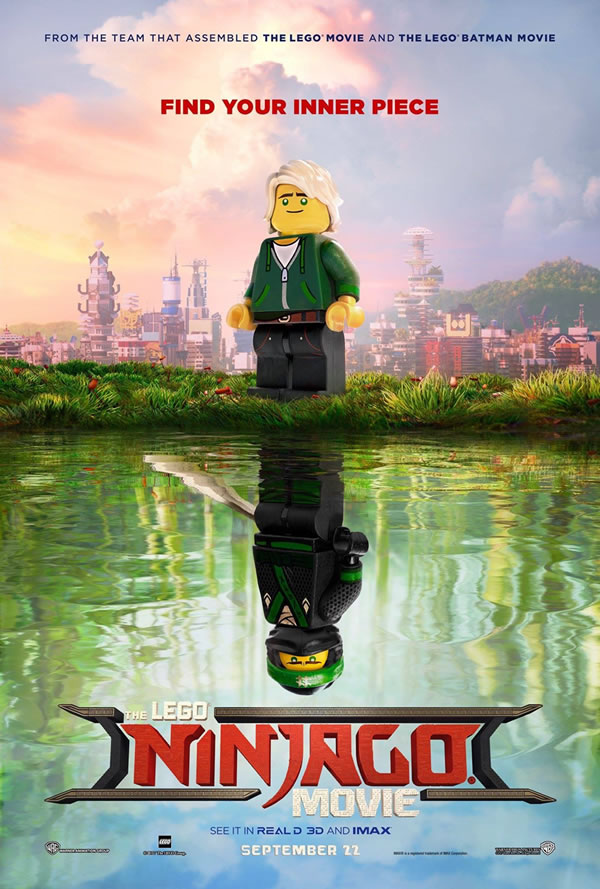 Shared via LEGO Ninjago Movie on Wikipedia.org
And now, Master Wu, along with the lovable, if clueless Lloyd (Green Ninja) and the other kids are set to take over the world and your living room! You see, the Ninjago movie is set to hit theaters on September 22 2017, and to celebrate there are 10 new Lego Ninjago movie sets in stores everywhere. These kits tie into the new movie and can be interchanged with existing sets, making them the must-have toys of the season. Let's see what they're all about.
Lego Ninjago: A World of Mystery and Excitement
Ever since the Lego Ninjago TV show debuted in 2011, it has been a hit with kids everywhere, especially boys. And who can blame them? The city of Ninjago, with its brave ninja warriors and wise Senseis' is full of action as right and wrong constantly battle for control. So, it's no surprise that kids are just as crazy about the corresponding Lego sets
And now the new movie promises to take the obsession to a whole new level with children and adults. It follows wise-cracking Master Wu as he leads Llyod and his friends into battle against the diabolical Lord Garamond- who just happen to be Lloyd's father! Kids by day and secret ninja warriors by night, the movie's filled with lots of action, the story also has lots of laughs and a valuable message about family bonds.
But don't worry, even if your children never saw the show or plan on seeing the movie they will still enjoy these kits, with their incredible buildings, machines, creatures, and characters.
TOP Lego Ninjago Movie Sets – Which one is your favorite?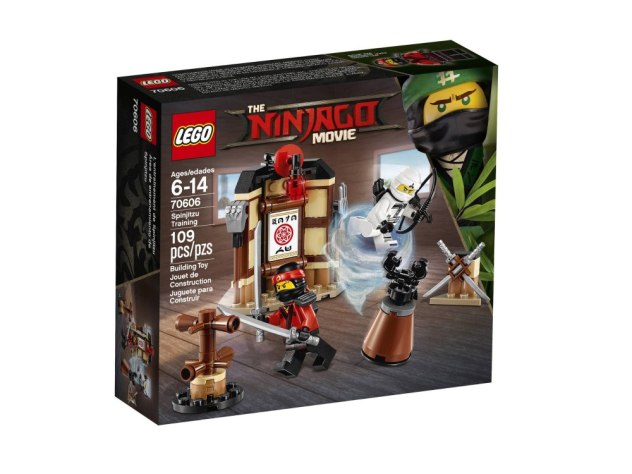 The first of the new sets will feature the Spintjitzu training center. Kids can help Kai, Zane and the others master their craft with this kit, which they can build from the ground up.
Featuring realistic ninja-style training equipment, kids will feel as if they are transported to another realm and ready to take on the evil Garmadon and his henchmen as they lose themselves within the walls of the dojo. In fact, don't be surprised if they start kicking and karate chopping all over the house.
There are an authentic combat dummy and training station for the kids to test their moves on, along with a weapon's rack to hold their swords. Ninjas can train, then meditate, so they have the physical and mental strength to defeat the forces of evil once and for all.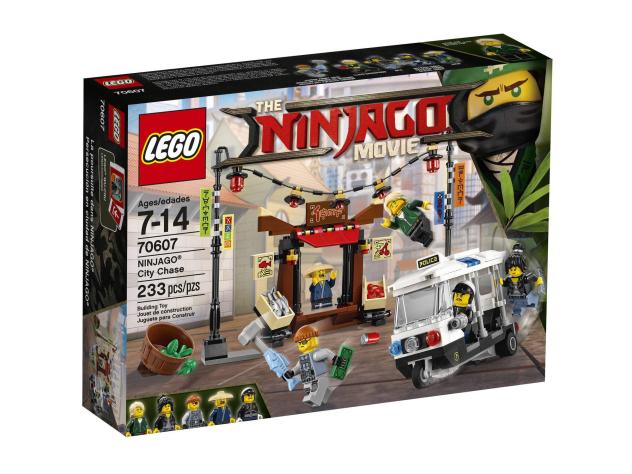 Kids can take cops and robbers to a whole new level as they ride through the city of Ninjago with this cool 3-wheeler; but be careful, as evil and mischief lurk around every corner. Join Lloyd, Nya, and the others as they swing across light posts chasing the ever-elusive Garmadon.
Featuring a police tuc-tuc vehicle that is designed like a trike
, kids will love building this machine and then zoom around on it trying to foil any and every evil plan. They'll also get a kick out of the "flashing" lights, making siren sounds as they race to stop the latest catastrophe.
All that driving is sure to work up an appetite, so they'll need to check out the food stall. Filled with fish, cherries and other nutritious but yummy treats, there's plenty to feast on and enjoy. Hemmed in o both sides by lampposts and colorful lanterns, kids will spend hours exploring every nook and cranny of this colorful set.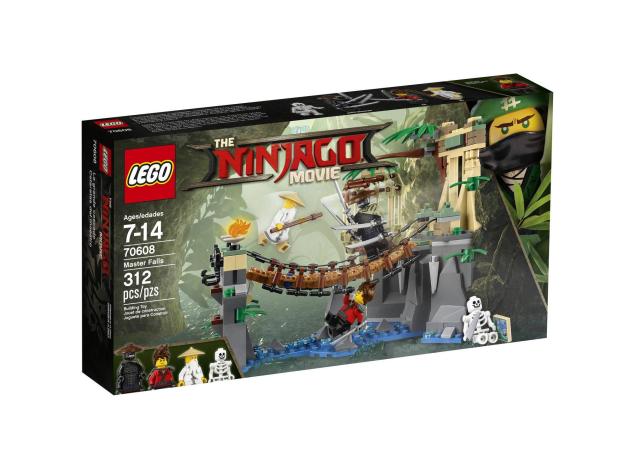 What better place is there than atop the Master Falls Bridge to stage the epic final battle between Master Wu, Kai, and Garmadon. Kids will have hours of fun as they run across the swaying bridge and explore the hidden cave. If they look close enough, they will discover a skeleton holding a map that may be the secret to victory.
Boys everywhere can try to fight off Garmadon while the others try to decipher the meaning of the map, but they shouldn't take too long;  otherwise, they may find their master dangling from the bridge, holding on for dear life. This set features jungle Garmadon, who has 4 arms and new jungle outfit you won't find anywhere else. This set will fit in great with the other city sets, and kids can use the mini figures to run and dangle from the bridge.
The Master Falls Bridge set will fit in great with the other city kits and kids can use the mini figures to run and dangle from the bridge.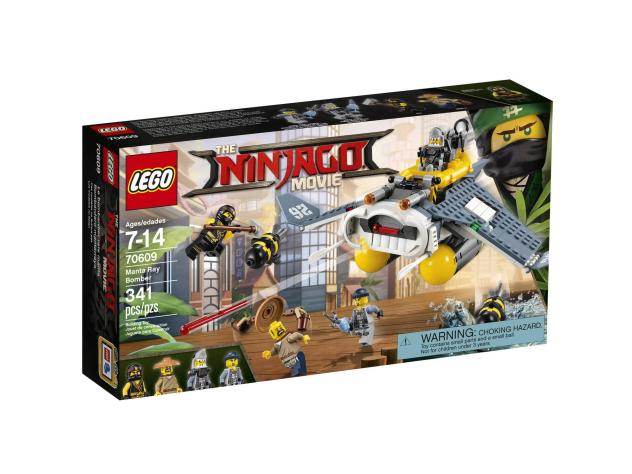 Is Shen-Li friend or foe? Can Ninjago city be saved from the ominous Manta Ray Bomber? We're about to find out with this latest set.  Who can save the city and its citizens from the evil that is approaching? Cole and the others are going to try but they'll need to think quickly if they hope to come out ahead.
The Bomber is a thing of beauty and a force to be reckoned with; it has 2 shooters to strike the unsuspecting ninjas, along with 2 bombs and a detachable boat for the bad guys to make a quick getaway. Kids can blast away as the warriors run for cover or make a small "lake" for the boat to drive across.
But don't worry, Cole and his friends will regroup and come out fighting, as they are armed with Cole's trusty hammer. This set features 4 mini figures: Cole, Shen-li, Great White and Shark Army Gunner.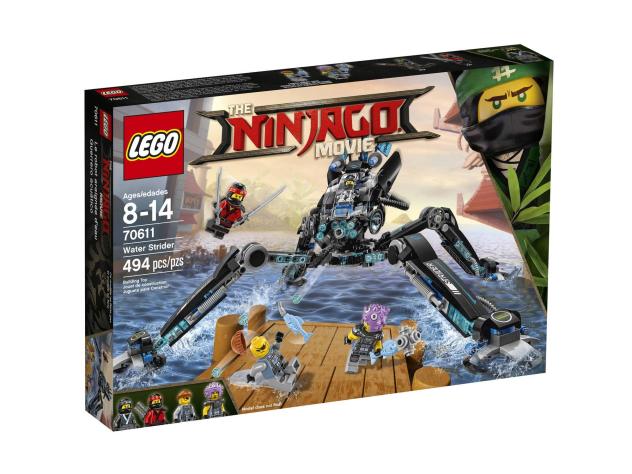 Kai and Nya may have the answer to defeating Garmadon once and for all with this Water Strider set. The water strider is a monstrous, four-legged amphibious creature/machine that can do just about anything. Featuring a fully-rotating mini cockpit and 6-stud rapid-fire shooter, the bad guys will cower when they see it approach.
The 4 legs, with feet designed like hover pads, can be posed and maneuvered in a variety of ways, allowing for realistic play kids will appreciate. There is no mountain that can't be climbed or ocean that is too vast to cross. Kai can ride it along the waves and zoom over rivers as he searches for the bad guys. And when he's done, they can use it on land to explore the swamps and other mysterious areas.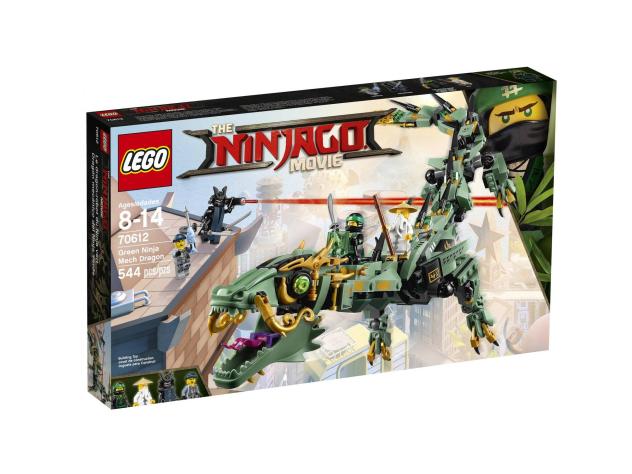 If you have to battle your dad for the good of the world, it helps to have an awe-inspiring Green Ninja Mech Dragon craft.
Kids will be dazzled as they build Lloyd's loyal and majestic Green Ninja Dragon. Large, yet graceful, the Ninja Dragon is a thing of beauty who can help Lloyd swoop in to catch any villain, even Garamond, aka dear old dad. The Green Dragon is large, yet flexible enough to pose in any direction, so kids can pretend he is flying or stomping with ease.
He has a movable tail that can strike and swing enemies around, along with a snapping jaw to grab any evil-doers, 2 hidden stud-shooters, and 2 pop-out thrusters to handle any obstacle. Green Ninja and Wu can take turns operating the dragon and aiming at Garamond and Charlie.
Boys and girls will have a blast flying around the house or yard with him and will get a kick at how impressive and grand he is. This is the most striking dragon in the Ninjago series and promises to be a great value for your money.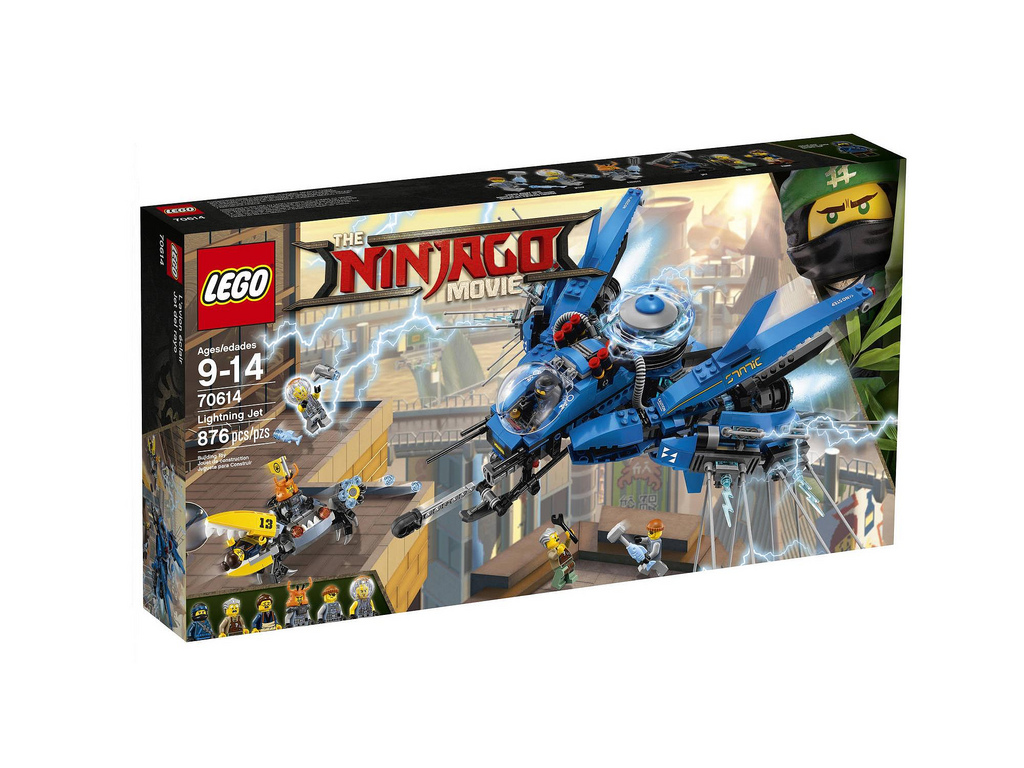 Jay is the master of lightning, so it's only right he has a flashy Lightning Jet to get around. Fitted with special weapons, this jet is the quickest of the group and will find and destroy the Shark Army Gunner, Sensei Yang, and even Shen-Li if it turns out he is pretending to be a friend.
Thanks to a handle that makes it easy to carry, your kids and Jay can zip around, zapping and striking down any bad guys, keeping the people of Ninjago safe once again. Children will love that the cockpit opens, so Jay can sit in it as they maneuver it around and they'll love that the wings can be moved up and down.
And to help them recreate some of their favorite scenes on-screen there is a spring-loaded shooter to blast baddies and a trigger-activated electro-disc that rotates- all built into the jet. Those weapons combined with Jay's spiked flail mean the bad guys don't stand a chance! 

Fighting the villainous Lord Garmadon is hard, but Kai may finally have the advantage thanks to the Fire Mech. A fire truck that doubles as a robot, Kai can use it to battle and defeat his fiercest enemy. The working vehicle can be used to put out blazes and race to any place in the city, while the robot can tower over Lord Garmadon and put him away for good.
Featuring 2 disc shooters in the shoulders, 2 fire blasters, and movable arms and legs, kids can create dozens of fighting scenarios to keep them busy for days.
Little boys will love the bright colors and robot features in this set.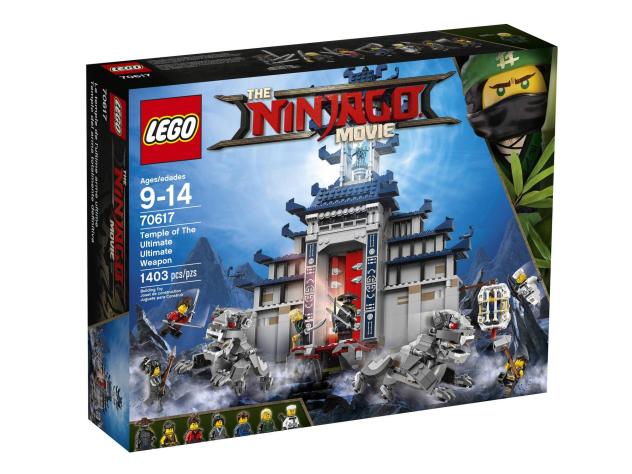 What lies beyond the walls of this evil and imposing fortress? Nya, Kai, Cole, Lloyd and the rest of the ninjas need to find out- but not before they slay the 2 diabolical lions guarding the entrance. This fortress will bring out your kid's creativity as they try to scale the walls and avoid the traps awaiting them inside.
Large and built with incredible detail, there is no end to the battles kids can engage in here. There is a dungeon with a secret escape route, a trap-door to catch good and bad guys off guard, secret compartments holding dynamite to blast and concealed rocks to drop on Garmadon's head.
And if that wasn't enough, there's also a library inside with a hidden scroll that may just reveal the key to it all. Majestic and mystical looking, kids will be enchanted as they weave stories and battles day after day.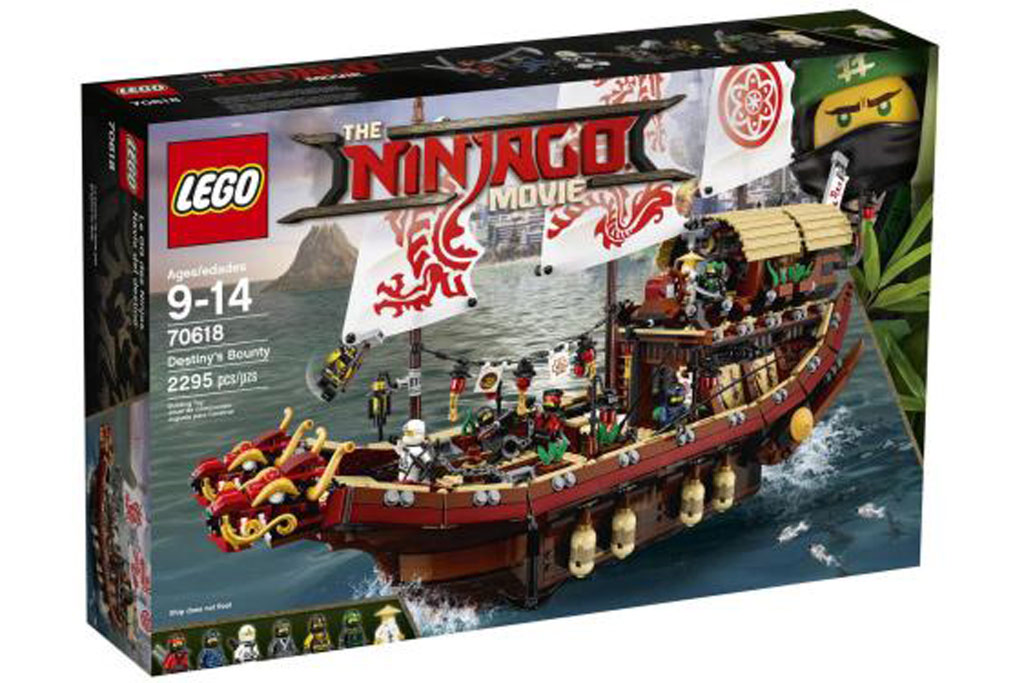 This is the awesome home base for the ninjas and kids can use it to recreate many of the battle scenes they've seen on the show. The boat, with its fierce double-headed dragon at the front, has 3 levels of play for kids to jump around on. There's Wu's bedroom for when he needs to rest and think, as well as a bathroom, dojo, and training dummy's on the inside for the ninja's to train as they float.
Use the boat to defend the base from being overtaken by Lord Garmadon and plot strategies to keep the city safe. This set is the focal point of the new sets and can also be used with the older ones for endless play scenarios. Big, colorful and filled with weapons, it just may be the best set yet!
What do you think of the new Lego Ninjago sets that are set to debut? What do you think Lego set 70610 will be? Like you, I can't wait to find out! Whatever it is, I'm sure it will be another great addition to this series.