Lovely Lego Mixels Series 8: MCFD, Pyrratz and Medix
This is the 8th wave of the LEGO Mixels sets available for sale since June, 2016.
Lego Mixels series 8 has nine characters or mixels, categorized into three different tribes, inhibiting nixels disturbing the peace of the bustling city of Mixopolis. The tribes are MCFD, Pyrratz and the Medix, letting kids and adults equally, put their creative juices flow as they create their wacky creations.
Each character in these LEGO creations is meant to tackle an enemy or a nixel. This is a small usually annoying and destructive creature roaming in the land of the Mixels. The LEGO mixels come in interesting colors. They also have interesting and useful parts making them fun little collectible characters to play with.
Before immersing yourself into their sprawling world, it is best to review each tribe and the specialty of each character.
MCFD- Mixopolis City Fire Department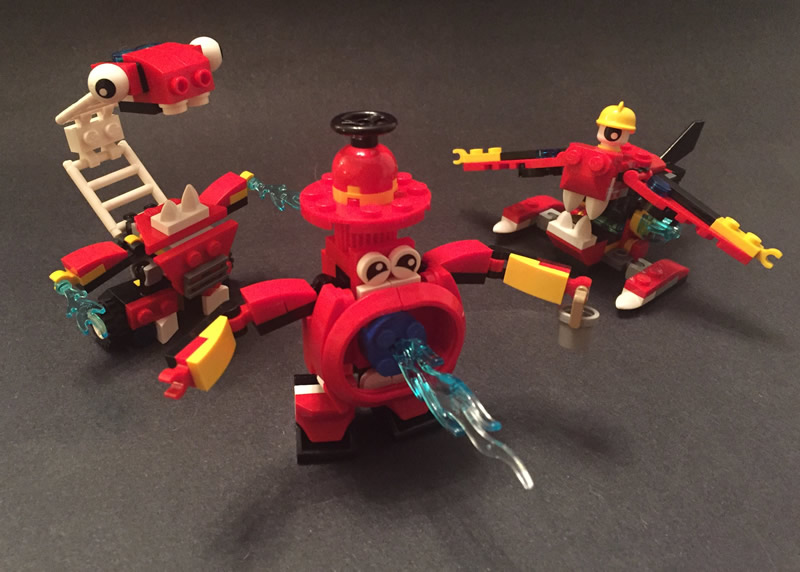 This department is tasked with putting out fire in the city. They work hand in hand with Series 7's Mixopolis City Police Department. The fire department has Splasho, Aquad and Hydro.
Splasho
The walking water hydrant is the commander of the fire brigade unit and is in charge of any fire scene or fire emergencies. He is one of the quickest characters to assemble in the whole LEGO set. He features the following:
• Personified fire hydrant.
• A huge trans-blue flame resembling a powerful jet of water to put out fire.
• Parts used to create an O shaped mouth effect, symbolizing the yelling of instructions to juniors.
• 1×1 squared tiles befitting the teeth. They should be partially covered by the O shaped mouth effect, that is the lips, both top and bottom.
• Unique color variations; red and yellow to resemble the firefighting gear or wear.
• Two points of articulation on the arms for moving the grey bucket.
• Two white circular tiles for half-closed eyes.
• Stands 11 centimeters tall.
Aquad
He is tasked with extinguishing fire from the skies thanks to his fire jet. He also gives an aerial perspective of any emergency around the city. Aquad's awesome play features include;
• Fire plane, with a well-designed landing gear and hinged wings for easy articulation.
• A yellow fire fighter helmet.
• Few trans-light blue studs symbolizing fire ball of water.
• Stands 7 centimeters tall.
Hydro
The fire fighter with a ladder neck finds no building tall for him. He has hands to shoot water jets directly at fire, irrespective of the altitude.
Hydro happens to be the most forgetful mixel the MCFD tribe but he is a good multi tasker when it comes to emergencies. His features are:
• Two wheels to help in movement.
• Two blue water flames representing water.
• Long ladder neck to help in accessing tall buildings.
Pyrratz Tribe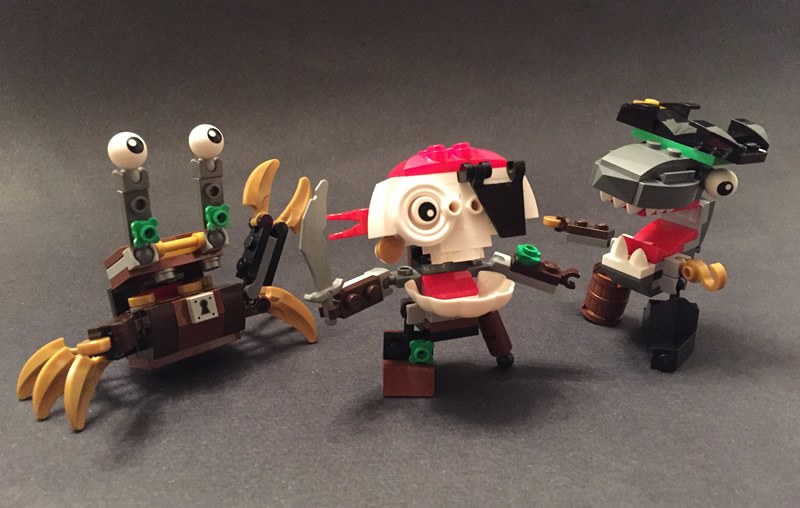 They are the pirate tribe with a unique brown color scheme. This tribe has Sharx, Skulzy and Lewt, the crab. They are the crew sailing with Sea Dawg ship docked in Mixopolis Wharf.
Sharx
Inarguably the most enthusiastic member of the Pyrratz tribe, is a shark headed mixel comes with lots of teeth. He loves to perform in the Pirates of Penzance style music show. He has the following:
• Shark head with lots of teeth.
• Buildable pirate hat.• Hook hand.
• A brown barrel leg for hiding treasure.
• Stands over 8 centimeters tall.
Skulzy
This mischievous mono eyed skull pirate has a gold earring and an eye patch on his left eye. The left eye socket is where he hides most of his stolen gold. He has a wooden style left leg.
• Large skull head.
• One right eye and an eye patch.
• Eye socket to hide stolen gold pieces.
• Cutlass weapon.
• Stands over 7 centimeters
Lewt
He is a treasure chest crab with plenty of gold coins. He likes relaxing at the waiting tables of the Pyrratz tribe Sea Dawg dinner theatre, as other pirates put more efforts to steal the jewels in his mouth.
• An opening treasure chest.
• Crab like pincers and legs.
• Eyes on posable stalks and golden silver elements symbolizing gold in his mouth.
• Stands over 6 centimeters tall.
Medix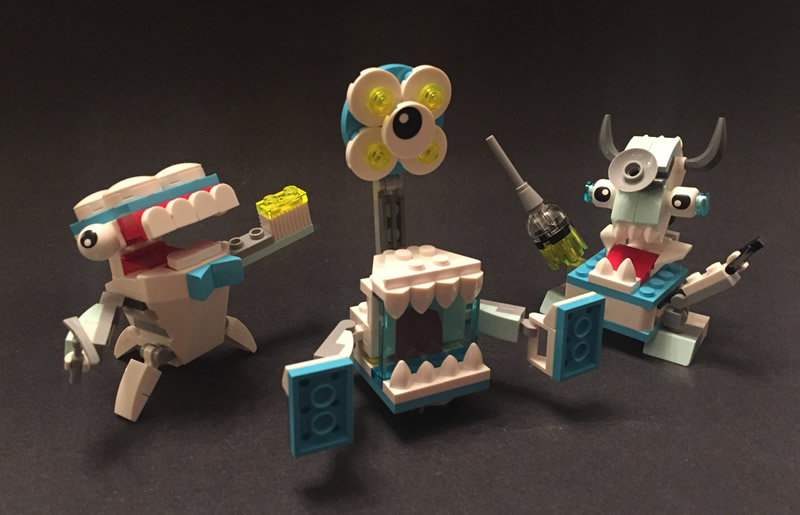 This tribe is charged with the medical emergencies in the City of Mixopolis. They come in great color scheme of white, light aqua and medium azure. This tribe consists of funny and interesting characters: Tuth, Surgeo and Skrubz.
Surgeo
The surgeon based at Mixopolis General Hospital, is always equipped and ready to perform a surgery on emergencies. He has a medical cabinet body and a syringe arm and is the most energetic medical personnel and leader of the Medix tribe.
• Turning head to show different expressions.
• An opening medical cabinet body.
• Syringe arm and posable joints.
• Reflex hammer element.
• Stands over 6 centimeters tall.
Skrubz
Undoubtedly the most reliable member of the Medix tribe is Skrubz, who features as a rolling emergency room medical kit. He plays a great role in bringing back to helath any mixel.However, due to the frequency of medical procedures in Mixopolis General Hospital, he feels sick after being the surgery room.
• Defibrillator style arms.
• Translucent operating light style elements just behind his one eye.
• 4 wheels and posable joints.
• Stands 9 centimeters tall.
Tuth
This is the dentist at Mixopolis General Hospital. He teaches the mixels on how to maintain their dental health while also extracting bad teeth from his patients.
He features:
• Big white teeth, toothbrush arm and posable joints.
• An extra tooth brush for extra play.
• Stands over 6 centimeters tall.
Verdict
If you are a brick fan, you definitely need to have this LEGO Mixels Series 8 and enjoy support from the LEGO community and follow the ongoing animated television show on Cartoon Network. They are also cheap and excellent toy monsters for kids who are always on travel as they are small and easily portable.
In addition, they can be assembled with much ease and players can come up with the three tribes from the 9 sets. You are also sure of not mixing up the parts thanks to the attention grabbing colors and looks of this mixels. Each of these three tribes has its own unique nixel.