Lego Ninjago movie Destiny's Bounty 70618
Every ninja needs a cool base from which they can harness their skills, convene with friends, and rest and recover after difficult missions. What better place than a massive ship to serve as a traveling home base?
Sail through the waters in the world of Ninjago with your friends by your side. The boat headquarters is fully loaded with ninja equipment that will be much needed in the days and weeks to come. After all, danger looms in the form of the evil Lord Garmadon, a fact that weighs heavily on you and your friend's minds.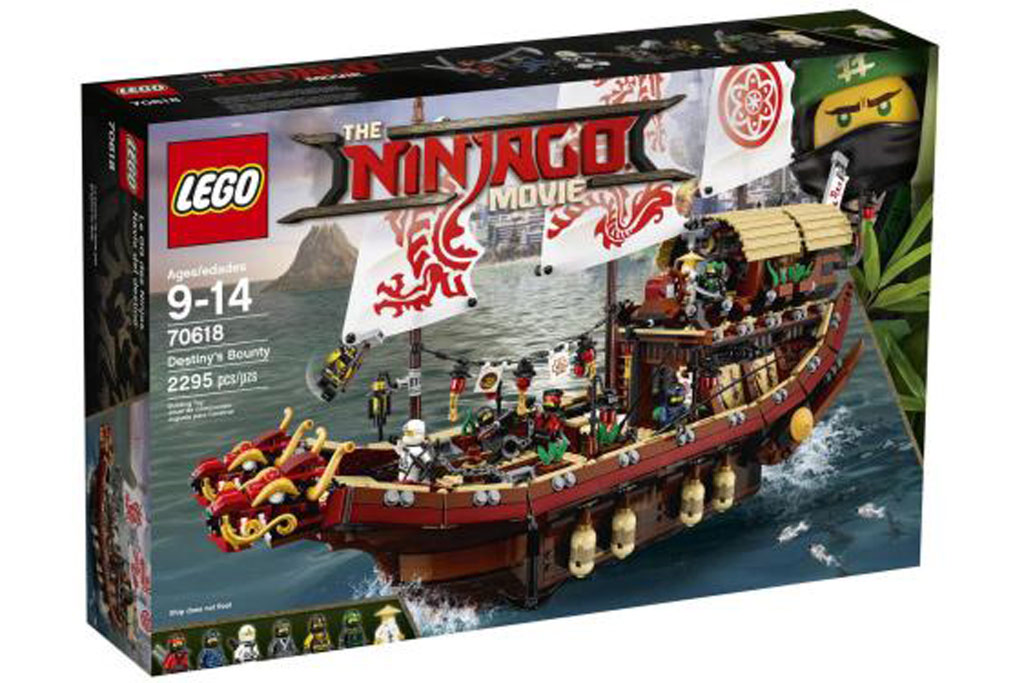 Saving the world is no small feat, so it helps to come prepared. The Destiny's Bounty makes for a beautiful, sleek headquarters from which you can plot your course and come up with the best way to overcome the lurking evil.
Ninjago movie Destiny's Bounty 70618 – What are included?
The best part is, you won't be alone. Your friends are aboard the Destiny's Bounty also, equally prepared to risk everything to save the world. Travel with Nya, Cole, Kai, Jay, Zane, Lloyd, and Master Wu knowing that your fate is in one another's hands.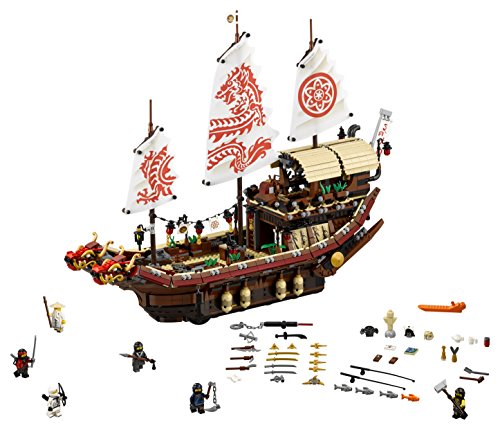 The task that you now face is going to be difficult—Lord Garmadon is no easy opponent, but together with your powerful vessel, standing beside your determined friends, anything is possible. And of course, they are armed with swords, staffs, and all other manner of ninja weapons to help with the combat that is sure to ensue. This is it. Time to use your training along with the tools that you have been given to save the world.
It's a little bit dramatic, I know but there is no way that that isn't the exact narrative going through the mind of every child (and let's face it, most adults) when they see this truly remarkable set.
All About Destiny's Bounty
The Destiny's Bounty is a vehicle to be featured in Lego's upcoming Ninjago film. In fact, in anticipation of the film's release Lego has put out quite a few sets that pertain to the movie. Each one allows you to recreate scenes from the comfort of your own home with striking detail and realism. This set is no different.
The ship really is beautiful. It's also a big one. At 2296 pieces it's definitely going to take a little bit of time to complete but once you finish you'll find that the effort was well worth it.
The Destiny's Bounty is actually on the surface quite homie and warm
, with plants placed here and there around the deck, ornate lights strung up along the masts, and a comfortable living quarters in the rear of the ship.
Of course, it also has its ferocious side. The sails are decorated with the image of a dragon, which is likewise the very same beast that fronts the bow of the boat. And of course, it also does not hurt that everyone on board is very well armed.
Even if you have never seen the ship in the context of the film you will probably appreciate the vivid attention to detail. It seems very much like a vessel that could appropriately be manned by a band of ninjas which makes it as great an option for play as it does for display.
About Ninjago Series and TV Show
Knowledge of the series that inspired the set will probably enhance enjoyment the same way a Star Wars Lego set is going to be more pleasing to a fan of the saga, but my personal opinion is that the Destiny's Bounty will apply to fans of Lego in general.
I'm a perfect example. I've never seen the show, it's not extremely likely that I will rush out to see the movie, but I do find this set stunning. If you are a collector of Lego's this set is going to look great on your shelf, and if you are a collector of Lego Ninjago sets in particular, it is also going to be compatible with the rest of your collection.
Kids can use the Destiny's Bounty as a place for the ninjas to go back after defeating Lord Garmadon and saving the world, or as somewhere for them to retreat to and regroup before going back to the battle.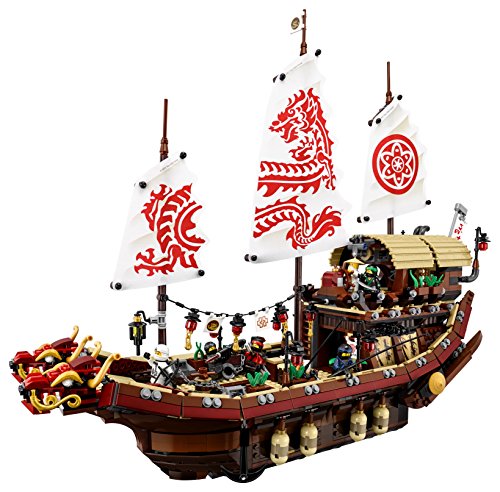 I'm very much of the opinion that Lego has only upped their game over the past few years and I think that this set certainly supports that opinion. It's intricate sleek, and has both tremendous display and play value making it a good buying option for anyone who likes the idea of a ninja pirate ship.
The Destiny's Bounty is a pretty intricate design
, and therefore recommended for children ages nine and older. Of course, if you are reading this, my guess is that that is you. If you are interested in sailing the seas on a boat packed with ninjas, or just in owning a set that that will look great with any collection, the Destiny's Bounty is definitely for you and great addition to your
Lego Ninjago Movie collection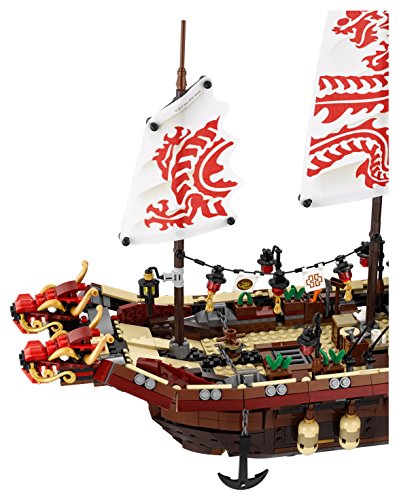 Check the Reviews and Price on Amazon