Lego Ninjago movie Green Ninja Mech Dragon 70612: Soar to New Heights
Lloyd, leader of our fearless ninjas is on a mission to defeat his dad, the evil Lord Garmadon and now kids everywhere can help him with the LEGO Ninjago Green Ninja Mech Dragon Set. Based on the upcoming Lego Ninjago movie, which is set to hit theaters in September, those young and old will marvel at this majestic dragon machine and all his awesome secret weapons. Those bad guys don't stand a chance and there's not a chance you won't be grabbing one of these sets.
Lego Ninjago's Lloyd: An Unlikely Hero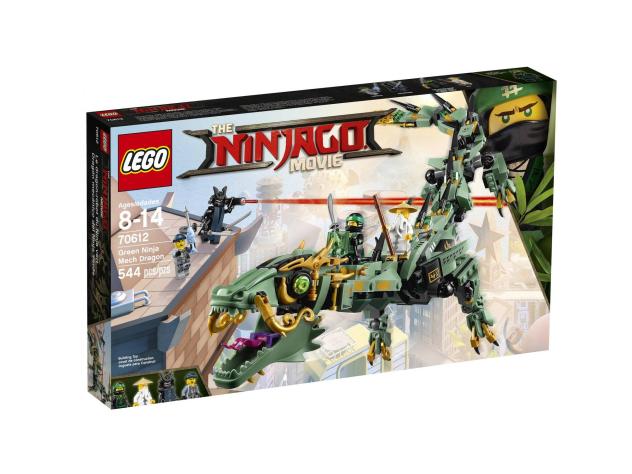 Lloyd, the unlikely hero of the Ninjago movie
and the star of this kit is a character kids will instantly fall in love with.  Naive, but brave, all he wants is for his absentee dad to love him and for the other kids to stop avoiding him. Too bad his dad is the diabolical Lord Garmadon, who is determined to destroy the city and leave Llyod without a friend in the world. He's also determined to drive him crazy, calling him La-Loyd (it has 2 LL's)
Garmadon's plotting and mispronunciation of his name leaves Lloyd no choice but to train with Master Wu and the other kids to become fearsome ninjas and destroy him once and for all. And that's just what they'll do! Lloyd will fight, becoming the Green Ninja and jump on his dragon to face his dad once and for all
Lego Ninjago movie Green Ninja Mech Dragon Set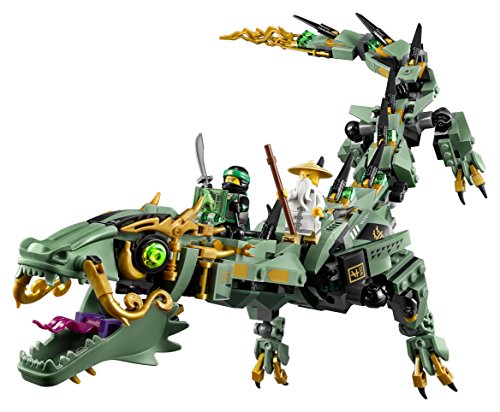 Ninjago is under attack! Evil lurks around every corner and people are running for their lives. Who will save the city and restore order? Well, with this new Lego set it's a pretty good bet Master Wu and Lloyd will; as long as all the kids help using this incredible kit. Featuring the Green Ninja Mech Dragon, Master Wu, Green Ninja, Garmadon and Charlie there is no limit to the battles boys and girls can have as they fight for control.
The Green Ninja Mech Dragon
is a sight to behold as he swoops in to save the day! Made with green, gold and black Lego bricks, it's long, tail is great for knocking the bad guys off their feet and the pointy scales that run along the top will stop anyone from getting too close. And kids will love the swooshing sound the tail makes, giving their play scenarios a more realistic feel.
They'll also love the realistic snapping jaw, which is perfect for grabbing and throwing anyone who tries to harm the ninjas. Children can put the mini figures in the cockpit and stomp around, posing the dragon as they go. The body is 100% movable, which means they can engage in realistic play with ease.
And if that's not enough there are plenty of hidden weapons built into the dragon for Wu and Green Ninja to use. There are 2 leg-mounted stud shooters and 2 pop-out thrusters in the dragon's front legs to blast Garmadon and his henchman in an instant! Boys and girls will spend hours shooting at the enemy and trying to win the battle for good.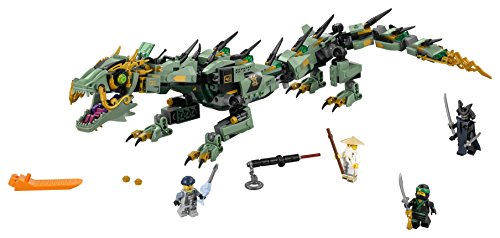 Best of all, kids get to build the dragon, improving their agility and sparking their creativity.
Of course, the dragon is not the key to winning this battle; that honor belongs to Lloyd, aka Green Ninja. The Green Ninja mini figure comes with a cool tasseled sword, perfect for keeping bad guys at bay when he's not taking lessons from Master Wu, who's here too! They must be careful though because the Garmadon mini figure comes with a laser pointer and 2 katanas.
Garmadon, along with henchman Charlie and his fishing spear will stop at nothing to get rid of Lloyd once and for all. Lloyd and Master Wu will need to duck from that deadly laser pointer and avoid Charlie's spear if they hope to survive and save the others.
Lego Ninjago: A World of Fun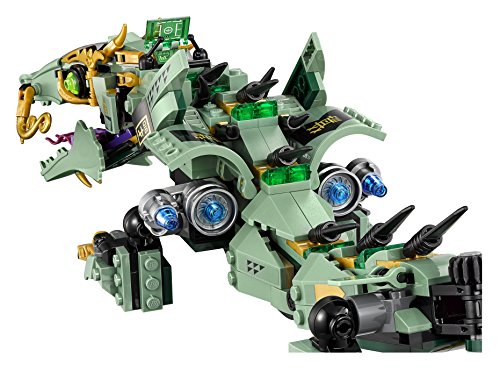 Kids will have a blast role-playing with the LEGO Ninjago Green Ninja Mech Dragon Set. Great for encouraging individual and group play, they can reenact their favorite scenes from the movie or invent their own. Children can really use their imaginations with Lego, and for Ninjago fans, this set will be a wonderful addition to their Ninjago Movie collections.
Either way, it will put a smile on their faces, and yours too as you watch them take to the sky to save Ninjago once and for all!