Best LEGO Elves Sets (2018): Take Emily Jones and her adventures Home
Looking for the best present to give your sister, niece or daughter? If so, this impressive, and most recent LEGO toy collection, the LEGO Elves, is a perfect choice! Lego is the king of building blocks, and they started the LEGO Elves franchise in 2015. It is a magical set, and regarded as one of the brand's best efforts, as it brings LEGO closer to the young female market.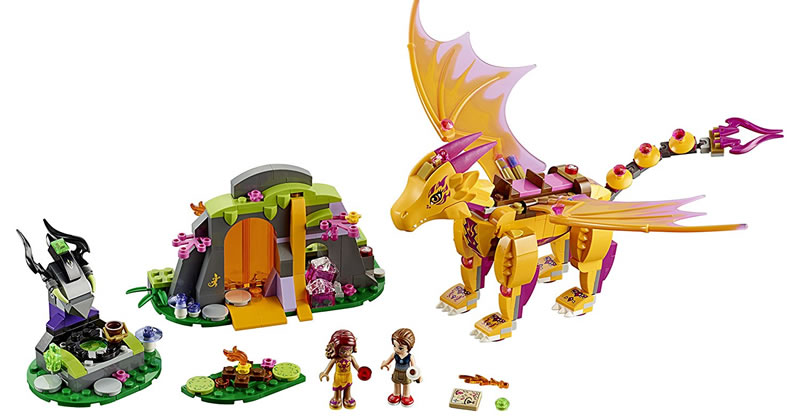 This LEGO toy collection revolves around Emily Jones and her adventures in the magical world of Elvendale. She was teleported to this world when she received an amulet shortly after the death of her grandmother. Then, she befriends four Elvendale elves who will attempt to assist her in her quest back home.
Follow along in this magical tale full of creatures, wonders and enchantments while having your very own Elvendale to build! Also, this season is the best time to grab your LEGO Elves Collection, as it is on sale!
Top Rated LEGO Elves Sets – Which one is the Best?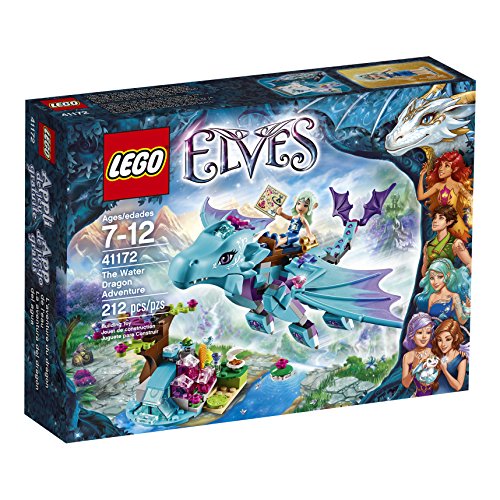 Go on an adventure in this magical quest with Naida, the courageous and caring water elf. Merina, the water dragon, will also join you in your fun adventure! Naida has the ability to control the water, and Merina loves the water, and of course, being with Naida! So, what are you waiting for? Set off on the adventure with them by getting this LEGO Elves The Water Dragon Adventure Collection today!
This LEGO Elves Collection has a water catapult feature and a space where you can hide treasures. Its accessories include a map, perfume bottle, binoculars, water lily and a brush. The collection also includes Naida and Merina mini-doll figures.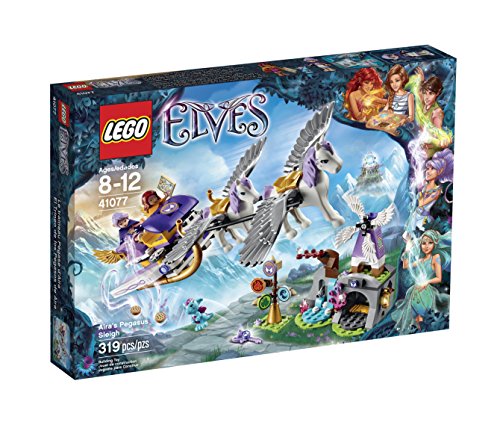 Aira, the lovable, jolly wind elf loves to aid those in need and she always puts a smile on our faces with her bubbly and goofy personality! In this LEGO Elves Collection, she will be accompanied by her trusty pegasus sleigh. Together, they will put a smile on your face while you play with them! Explore the cave and fly over the fishpond for hours  of fun.
This LEGO Elves Aira's Pegasus Sleigh Building Kit features a windmill, fishpond and a cave. Its accessories include a fish, map, lamp, 4 elements signpost, wind key, and 2 cookies.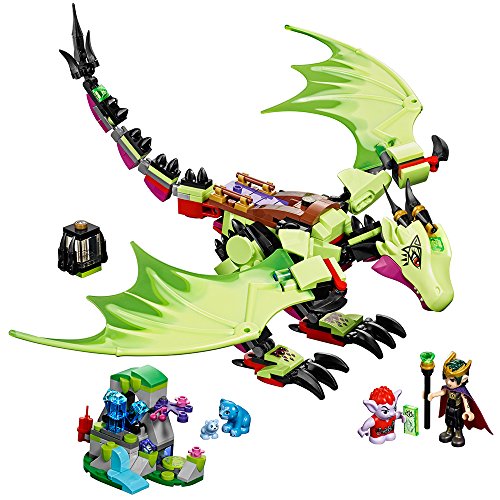 Elevendale is under attack from the Goblin King, Cronan Darkroot, and Ashwig the dragon and if no one stops him there will be no more precious crystals in all the land. Kids can build the King's cave/portal, which is powered by all the crystals he is stealing and even has a cool exploding feature that makes crystals.
The dragon is fierce and magnificent, with claws that can grip crystals or figures and a cage on it's back to hold all those gems. But don't worry, Lil Blu is here and he can stop them!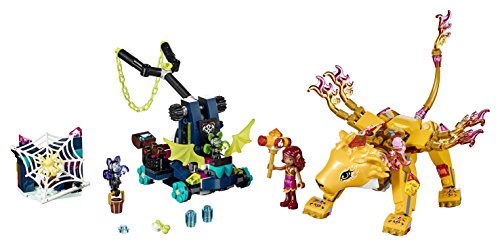 Rowan the Guardian Fire Lion, along with Azari need your help; the shadow bats are lurking, going to any lengths to steal the diamond atop the majestic Rowan's head. Children of all ages will delight in building and playing with the lion, which has movable limbs and a place for Azari to sit in him and soar across the skies.
But no matter how far they soar they must be careful as the shadow bats have a glider to swoop in on them; not to mention a capture vehicle to chain the lion and steal the gem! And if Azari, and you are brave enough, you can enter and explore the bats' cave- who knows, you may find the key to defeating them there.
Fighting evil is hard; thank goodness there's a place for our heroine and her friends to rest after battle and secretly watch and defend the forest. This mystical, magical treehouse is bursting with colors, inviting you in to see what healing elf Rosalyn Nightshade, along with her dragon, are up to.
With 2 levels of play, kids can create potions, heal others in the medical lab or play with the baby dragon. The tree's branches open up, so you can hide the place when evil is near and the larger dragon can fly Rosalyn and Nadia around to patrol the forest.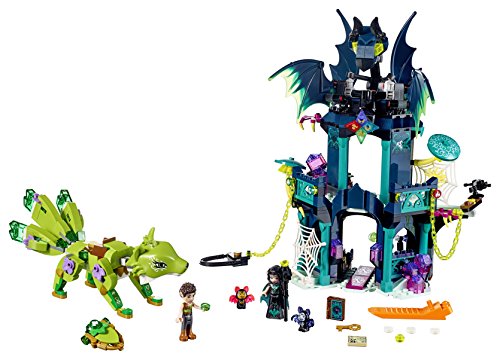 Noctura had the Guardian Earth Fox in her clutches, but with your help Farran can defeat her and set him free once and for all. But first you'll need to get into her looming fortress, which kids will get a kick out of putting together. Farran needs to avoid the spider's web, which will ensnare him, as he makes his way up the 2-levels of the structure, as well as the trap door.
Along the way he can find the hidden diamonds, which you can reveal with the turn of a knob, and once he finds the Earth Fox they can take off, as it's legs, wings and head all move! The cat and shadow figures may try to stop you, but the Fox can nab them with his mouth, stopping them from causing any more terror.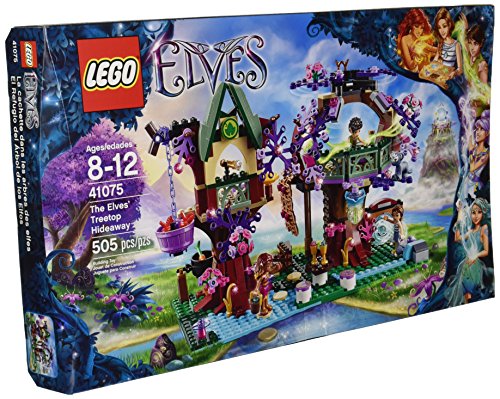 Every group of friends has to have their special, secret headquarters, just like superheros! Get to see the super secret hideout of the elves of Evendale, and help them plan out their next magical adventure in The Elves' Treetop Hideaway Collection!
This LEGO Elves Collection features a magic ladder bridge, leaf curtains, a sofa bed, table and a hidden compartment. Its accessories include carrot, letter, bag, 2 juices, 2 apples, and a magic potion.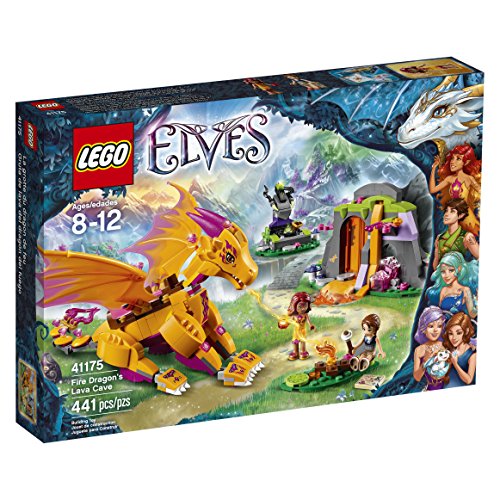 Join Emily Jones and Azuri the fire elf in their camp out at Zonya, the fire dragon's lava cave! Get cozy by the campfire with your best buddies while roasting a s'more. Talk about magical tales, adventure, and wonder. Also, don't be surprised when a dragon joins you during the camping activity!
This LEGO Elves Fire Dragon's Lava Cave Collection features sliding lava and shadow fountain features, campfire and moss beds. Its accessories include campfire, a map, marshmallow-on-stick, evil mask and cherries.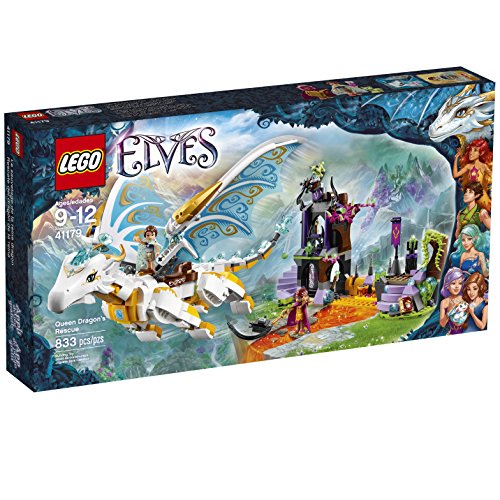 Oh no! Elandra the Queen Dragon has been captured! Emily Jones and Azuri the fire elf will need your help to rescue her from the dungeon! Onward young heroine! Elandra needs you!
This challenging LEGO Elves Queen Dragon'sRescue Building Kit features a dungeon gate, 2-story castle tower and chain as well as shackles. Its accessories include capes, hood, fish, hourglass, potion and the Book of Dragons.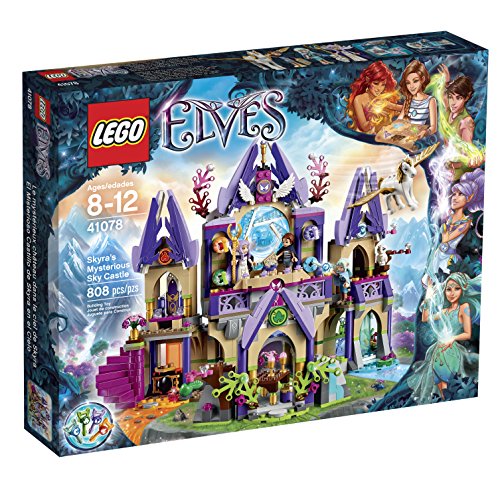 Step into the mysterious castle of Skyra, the wind witch who was part of the five mythological sisters that brought magic to the elve's world. Sit back, take a break, and bathe in the waterfalls of this magical palace with your elf friends! You can also use the magic keys and send Emily back to the world of humans til thenext adventure begins!
This LEGO Elves Skyra's Mysterious Sky Castle Building Kit includes a magic map, keys to 4 elements (earth, fire, water and wind), strawberry smoothies, fruit and cookies.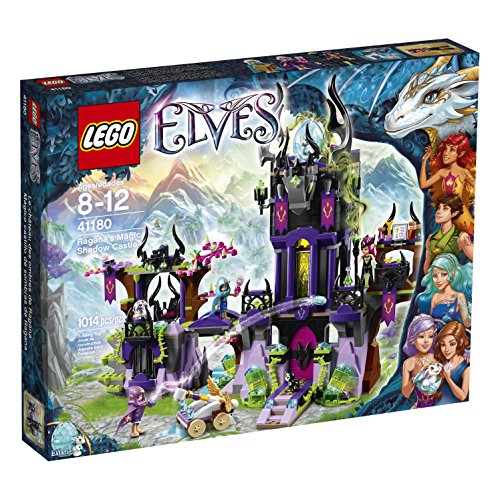 Known as a dark and shadowy place, the castle of Ragana is a place for you to step in and solve the mystery! Discover Ragana's new plots to stop peace and harmony in Elvendale! Who knows what evil plans she has in store? It's up to you to warn the elves and stop her from achieving her sinister plans! Make sure to check the dungeons too! Someone might be held as prisoner.
This LEGO Elves Ragana's Magic Shadow Castle Building Kit features a 3-story castle. Its accessories include an hourglass, capes, hood, cherries, map, bottles and the Book of Dragons.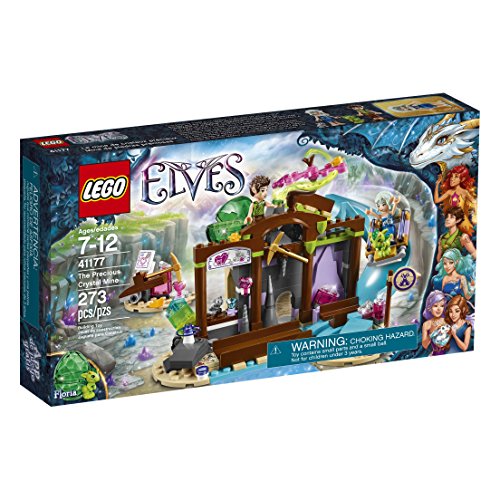 Elvendale might be a place of magic and fun, but there are also places where you can find some treasure! The Crystal Mine of Elvendale is a good place to look for all sorts of cool things such as diamonds, cheese and cookies! Explore the mine to discover these treasures, and don't forget to explore with the elves!
This fun LEGO Elves The Precious Crystal Mine Building Kit features a 2-story building, baby dragon mini figure, small cave, secret compartment and hidden treasure medium. Its accessories include a bed, cookie brick, diamond brick, a cherry, and a precious baby dragon egg.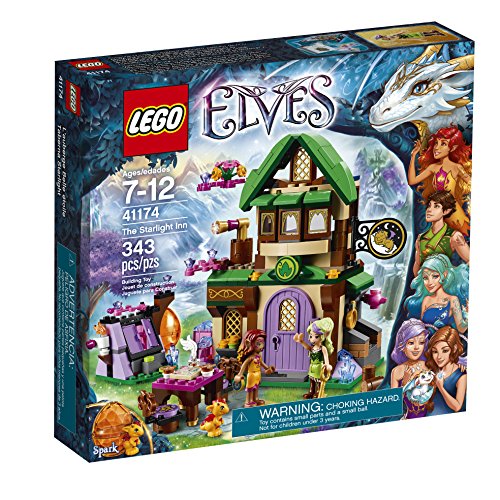 A favorite hangout spot of the elves of Elvendale is the Sarlight Inn, ran by Sira Copperbranch. Sira is an earth elf who would rather be in the air than the ground. Drop by and hang out with the elves! If they are not saving Elvendale, they're definitely hanging out at the Starlight Inn! Of course, even a hero needs a little break!
This LEGO Elves The Starlight Inn features a cellar, inn doors, drawer and secret key and staircase. Its accessories include a treasure map, teapot, table, seats, key, compass and dragon egg.
At the top of the snowy mountains of Elvendale lies the Dragon Sanctuary. It is the home of all the dragons. Here, you get to see where the dragons live and train the baby dragons on how to use their magic element. Help Gust the Wind Dragon teach these baby dragons a thing or two on how to be a cool and a strong dragon! With your help, they'll be racing the skies in no time!
Summary
The LEGO Elves Toy Collection is the best present to give your sister, niece or daughter for any occasion. It features different sets and kits to stimulate minds on how to solve the mysteries and problems. Desgned with girsl in mind, it will entrance and entice them, holding their interest every time they use them.
Also, playing this Elves Toy Collection is a great way to spend time with the family, especially with the kids! Own one or give one today while it's on big sale.