Spread Some Cheer With the LEGO Friends Heartlake Gift Delivery Set (41310)
It's birthday time in Heartlake City, and Stephanie has just been called to the post office because there are gifts to deliver around town. Excited and ready to go, Stephanie puts on her special delivery outfit and heads to the shop.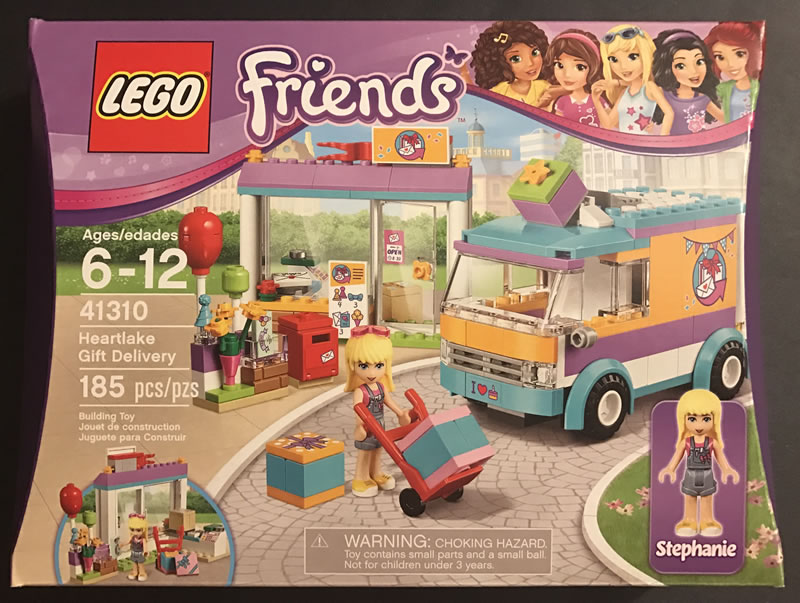 When she gets there, she sees there're lots to do. She needs to put some party hats into a gift box for her friend Andrea, who is having a birthday party. She realizes she'd better put in some invitations as well and maybe a couple of balloons too. There's also an order for some flowers to be delivered to the performance school for a special recital later that day  She loads the gifts, balloons, and flowers into the delivery van and gets ready to go.
Your daughter and her friends can help Stephanie make her deliveries with this cute Lego Heartlake Gift Delivery Set.
Complete with a post office, delivery van, and other goodies, this set is sure to delight all young girls who love Lego Friends.
What's In The Lego Heartlake Gift Delivery Set?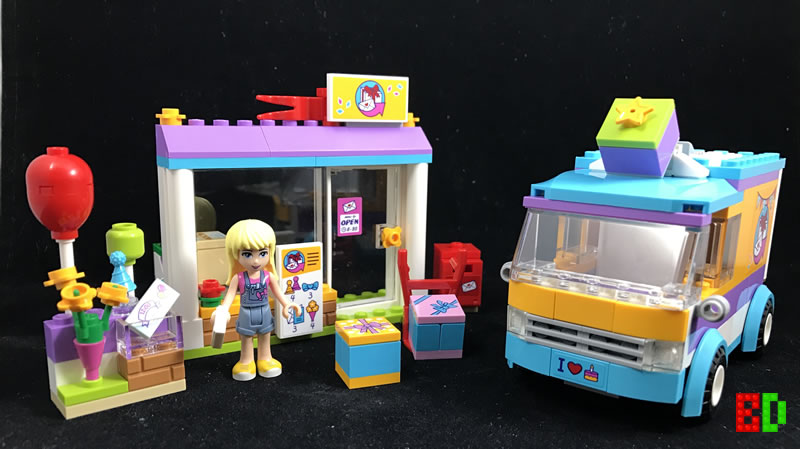 The building set consists of 185 pieces
, including all of the following items:
A post office shop facade: the post office front has a door opening that measures over 3 inches high, 3 inches wide and 1 inch thick so that characters can pass through. Inside the shop, there's a cute set of scales for weighing letters and parcels and a cash register to ring up customers.
 A very flash delivery van: the van is designed with bright colors and gift logos on each side.  Measuring over 3 inches high, 4 inches long and 1 inch wide,  the back doors open up, and there's plenty of room for kids to put a gift box and other goodies inside. To complete, the look, there is a postal number plate on the rear bumper.
A Stephanie mini figure: Stephanie is dressed for her delivery run in denim short overalls, a pink tank top and yellow sneakers. Her hands are designed to clip onto objects, like the gift boxes, for more imaginative play.
A red sack truck: The sack truck, or dolly, is used to carry gift boxes and can clip onto Stephanie's hands. It's perfect for taking boxes from the shop to the van.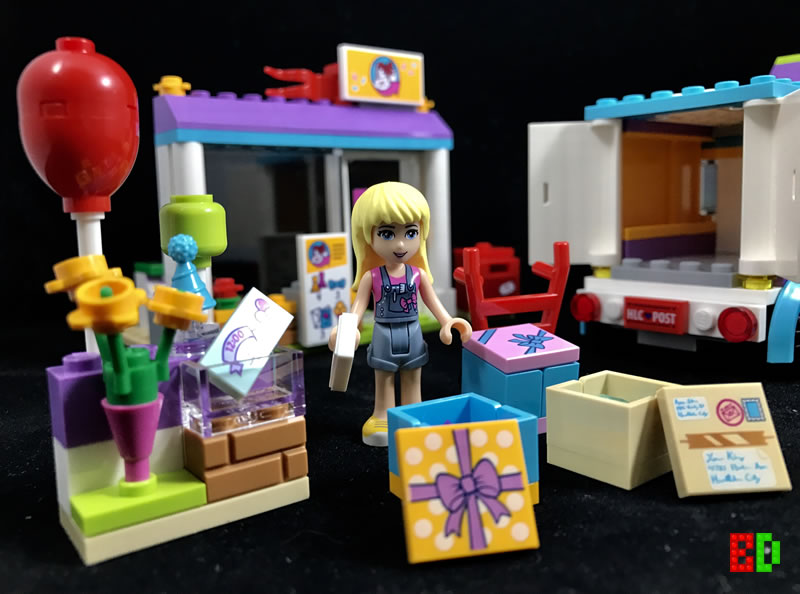 In addition to these pieces, the set also has a mini gift stand complete with balloons, flowers, and party hats; a red mailbox complete with front opening door and a slot for posting letters;  2 invitations, a bill, a coin, two gift boxes and a parcel.
And of course, there's a comprehensive instruction booklet for building the set and a set of stickers for decorating.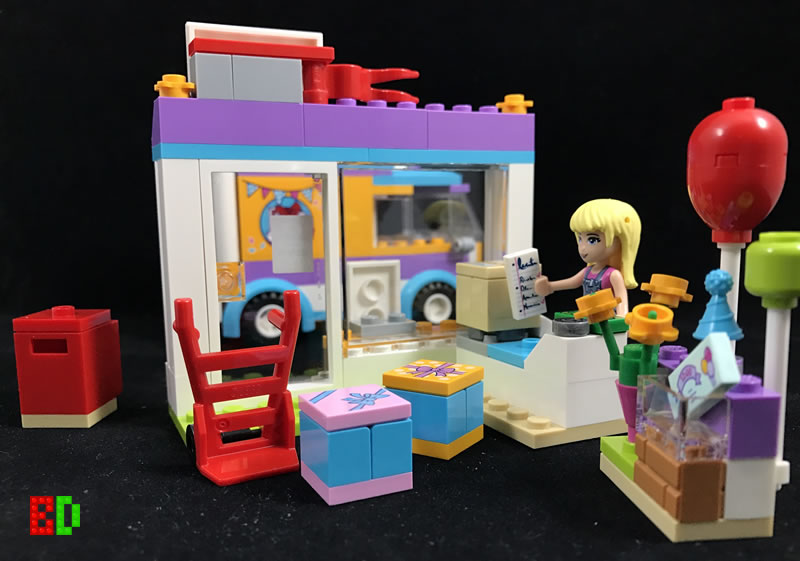 With this colorful Lego Heartlake Gift Delivery Set, Stephanie can select a mini gift from the gift stand, put it into a gift box, load it into the van using the sack truck and deliver it to the lucky recipient.
This gift delivery set is a great addition to any girl's Lego Friends collection. She will not only have fun putting the set together but also enjoy endless play activity delivering gifts all around Heartlake City.