Pamper Your Pups With the Lego Friends Heartlake Puppy Daycare (41124) Set
Playful pups Luna and Toffee love going to Heartlake City's Puppy Daycare center. There's so much for them to do, like running around the agility course in the garden or playing ball or fetch with Andrea and Mia. And after some boisterous fun in the backyard, they can head inside for a good wash in the bath and a brush and shampoo in the grooming station. Then it's time for some treats and a nap on their specially named beds.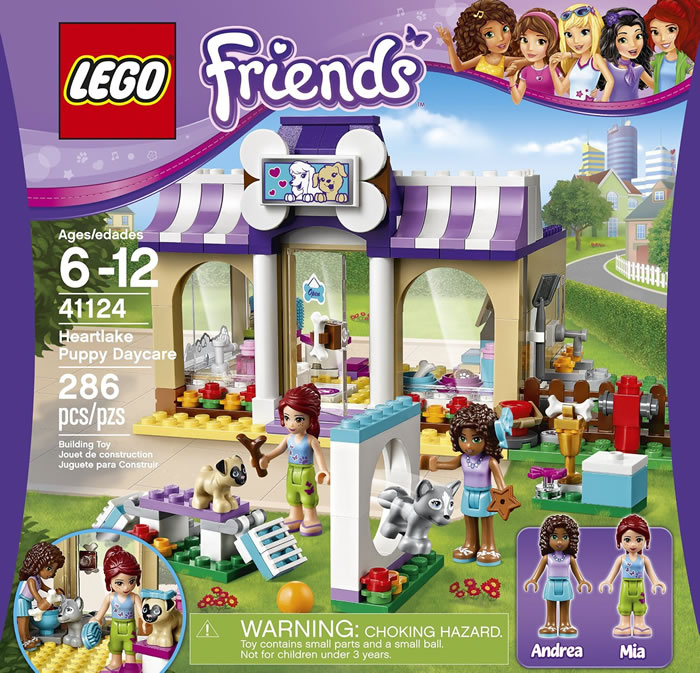 If your kids love puppies and love to build, then this Lego Friends Heartlake set will provide them with hours of fun.
 What's In The Lego Heartlake Puppy Daycare Building Set?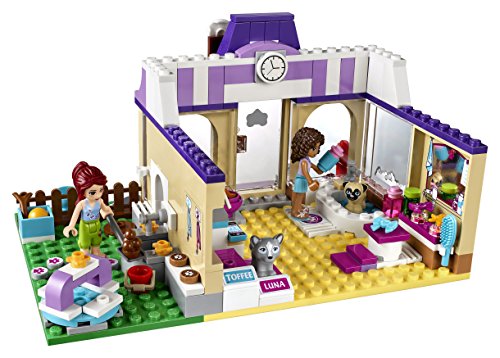 The set consists of 286 pieces and includes a building instruction booklet and stickers for decorating. It includes the following fun play pieces:
The puppy daycare building, which has a working door and big 'glass' windows. Inside there's a dog bath, grooming station, feeding station, 2 dog beds and an office area. There's also a special doggy door which leads out into the fenced garden.
The garden, featuring an agility course with 2 obstacles for puppy training sessions. There's also a roundabout which turns and a podium for rewarding good behavior. Of course, no outdoor puppy play area would be complete without a drinking fountain, toys, some snacks and a shovel for cleaning up puppy droppings. The shovel clips into its own holder beside the doggy door.
This set includes four mini-figures: Andrea and Mia, Luna the Husky and Toffee the Pug. The two friends, Andrea and Mia are dressed in puppy daycare outfits, can bend and move, and have grab hands which can hold onto things like brushes, bones and of course, the telephone. Luna has a hole in the tail to pop a bow into and Toffee has one on her head.
There are also lots of mini accessories in this pack, including a computer, phone, grooming brush, some dog shampoo, cute doggy hair bows,  feeding bowls and dog biscuits, bones, a bucket and shovel, a stick, a ball, a fire hydrant and a trophy.
The agility course has 2 obstacles for the pups to train and play. The first is a ramp the pups can run up and down on; The ends of the ramp are
completely movable using clever hinged pieces. The second obstacle is a brick 'hoop' for puppies to jump through.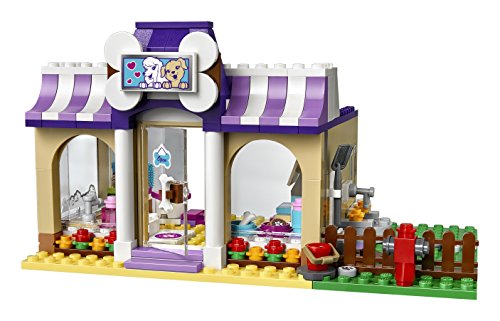 There's some amazing details added in this set, with paw print stepping stones, brightly colored red and yellow flowers in front of the shop front and a dog bone handle on the door. The two dog beds have name stickers to apply as well so that each puppy knows which bed is theirs.
There's even a clock on the inside wall, so Andrea and Mia know when it's time to get the puppies ready to go home.
This Lego Heartlake Puppy Daycare building set will provide hours of fun for your kids. From creating the daycare to running the puppies around the garden, there are endless play scenarios for little girls to enact. It also can be added to other Lego Friends Sets so that kids can create a whole other world of fun!